Today's Oracle takes us to the Aries weekly for January 23, 2017.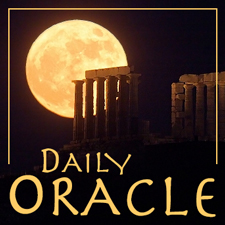 Some say it's safer not turning your fantasies into reality. The wisdom of tantra would say that you're only safe doing so, because the imagination is slippery and unwieldy until you focus your feelings on what's solid and verifiable. True, one takes various risks doing anything physical, though it would seem that's why we all incarnated in bodies. Why dream about art when you can make art? Why imagine how a photograph might look, when you can create that picture? Why pretend to know how good something might feel, when you can go explore the experience and find out? Well, there's a good reason. Entering a space of physical emotion means that you open yourself up to the full spectrum of feelings, including the potential for pain and fear. Many prefer to avoid those possibilities, or become nervous when things get a little too real. Yet you want and need to be real.
---
The Saturn-Pluto conjunction is upon us: it is exact on Jan. 12. While this event will happen two or three times in the lives of most people, this particular event is a moment of convergence and reckoning for the world and for us as individuals.
Eric has completed recording RESPECT, the 2020-2021 Planet Waves annual readings, to cover the momentous astrology of the coming year-plus. You can read more about the project, and order the readings for instant access, here.