Today's Oracle takes us to the Taurus weekly for March 8, 2013.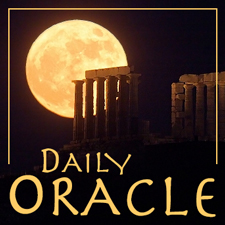 It's time to loosen up your perspective and your perception. You know all the times you were seeing the world in black and white, and then it turned out that you could see in many colors? That's where you are at right now. Yes, the spectrum of possibilities, of personalities, of what is simply interesting rather than being a moral issue, is more than most people think they can handle. However, your own sense of potential is directly linked to what you're able to perceive and be at peace with in the world around you. The more you embrace what is so, without any need to judge it, the more you will expand into who you are and what you're becoming. Most notions of right vs. wrong make no sense at all, and to some extent, we're all carrying around the residue of moralism. If you take even one step toward freedom, you're likely to feel like an anarchist. That's not really true; that sensation is just an indication of how wound up you were in the past, and how much you're letting go of today.
---
The Saturn-Pluto conjunction is upon us: it is exact on Jan. 12. While this event will happen two or three times in the lives of most people, this particular event is a moment of convergence and reckoning for the world and for us as individuals.
Eric has completed recording RESPECT, the 2020-2021 Planet Waves annual readings, to cover the momentous astrology of the coming year-plus. You can read more about the project, and order the readings for instant access, here.