THIS WEEK — Monday there is a spectacular New Moon in the sign Aquarius. Looking at the chart for this event (at 9:39 am EST or 14:39 UTC), the picture is one of connection, of purpose, and of easy access to the energy you need to fulfill your desires.
It's essential to take a dual approach, of passion and reason. Let your passion motivate you; let reason guide you. Maintain a balance and know when you're doing one or the other.
In a similar way, make use of both old and new approaches. You might be able to tap into a traditional method of doing something, rather than having to invent something new. But if the situation calls for it, your ingenuity should be running strong.
You might take as your motto, "Anything is possible," or if necessary, "There's no problem I can't solve if I put my mind to it." Make sure you describe any situation you face in a way that indicates it can be resolved. If you find yourself looking at something without a solution, seek a new description of the problem or issue.
This chart suggests a phase of time that favors deep thinking rather than superficial thinking, and doing things for a true purpose rather than for appearances.
Your horoscope for the week is below. Here is your long monthly reading for February and here is your short monthly reading as well. Here's your Monday Morning Horoscope from last week.
W/love

---
Astrology for the Life You Live — and the Life you Want
At long last, the Vision Quest audio readings are done and published, added to the written readings published a few weeks ago. On this page, you have links to samples of all 24 audio presentations for the signs — seven minutes of the 60-minute astrology readings, and seven minutes of the 30-minute rune/artifact readings.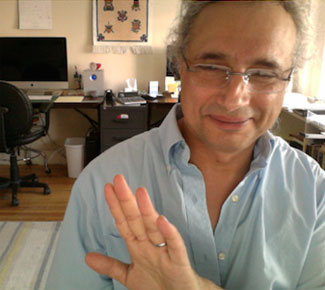 Eric Francis in Blue Studio.
These readings go to an unusual depth. They cross-reference, which gives you exponentially more potential to use them. But they are not for everyone.
They are for people not afraid to go deep; they are for people who take the art of relating as such — as an intimate art. They are for people who are seeking better things. They will help you if you are feeling stuck, or looking to open up a new horizon.
They are written with the ethics of therapy. I see my role as showing you the landscape and the possibilities, but not predicting your future or telling you what to do, or what to think.
If they are for you, your intuition will tell you that — and to help, I've provided a sufficiently thorough sample of the whole project, which I've given some 20 hours per sign.
Signup links are below each image. You may order by sign or receive all 12 signs here.
Navigate your reading samples by sign:
---
'Miracle Hour' Premieres on Planet Waves FM
Weekly Radio Program Based on A Course in Miracles
I want to tell you about a new radio program that premieres today, called Miracle Hour. It's a weekly program based on A Course in Miracles, and will usually publish Mondays on Planet Waves FM.
You might be familiar with the Course — a channeled work that came through starting in 1965, and which was published in 1976.
Since then it's gone through many printings, been translated into numerous languages, and been the mainstay of writers such as Marianne Williamson and Hugh Prather.
I began working with the Course in March 1986, and have taken it with me on my journey as an investigative reporter, astrologer and seeker. Until now I have not said much about it — though you might say I'm getting the guidance to open up about it and my experiences with it now.
In the first edition, you'll hear my overview of what the Course is, and how it came into my life. Because I look at things from many angles, my approach will do just that; considering a religious teaching from a theological standpoint, as well as describing my experiences and those of others who have worked with it.
If you'd like to hear the first episode, you can go to this direct link.
---
Aries (March 20-April 19) — Pay attention to what conditions you put onto people you might date or otherwise engage with. One might involve health. It's not healthy to count people as potential disease vectors, or to set a standard of purity. Yet it's also necessary to be aware and have open discussions about the topic, which happens way too rarely. Anxiety can burn up love and trust. Speaking openly has a way of fostering these things; so I suggest you pluck up the courage to have the conversation in a friendly way, not in bed. The kitchen table, a cafe or a walk in the park are much better locations for intimate and potentially sensitive discussions. Be open about your life and ask any questions you might have. This applies to any subject that truly matters to you. Honesty really is the best policy. It takes courage, but not as much as you may think.
Taurus (April 19-May 20) — Only you can set yourself free. This holds even if others convinced you of things that were not true. One revelation of the past week and of the upcoming few days is that you must determine what is relevant for you, from personal experience. To do that, it's necessary to question your values rather than assume they're true. You can ask, "Is this valid for me?" And once you have an answer, keep asking, because as you grow — which is accelerating right now — your perspective changes. As that happens, your concept of the future will evolve; and that, too, is transforming rapidly. You have old goals that you need to let go of, and new ones that are sprouting from the forest floor. Make sure they get light and water, because some are destined to be tall and mighty trees.
Gemini (May 20-June 21) — Monday's spectacular New Moon in your fellow air sign Aquarius is reminding you that you're the inventor of your own life. Now that you're free of certain commitments and entanglements, you can look toward your horizon and feel the potential that you have. It's true that in many ways, we live in hopeless times. But you have more than hope. You have intelligence, you have ideas and most of all, you have a talent for strategy. All these things are blossoming for you right now. What will help you the most is to have flexibility. What you're planning or seeing in your own future will take different forms once it manifests, and it will help if you're able to adapt your plans ongoing. If you encounter an obstacle, remember: you can go over, under, through or around.
Cancer (June 21-July 22) — You're in an excellent position to make long-term strategic moves where money and investments are concerned. Your solar chart describes you as mainly wanting one thing — financial stability. The best way to gain that is to remember that the only constant is change. Therefore, design something that has the ability to adapt rapidly to a world that never stays the same for a long time. I would remind you that one of your most valuable assets is collaboration. The group of people who now surround you are a rare and beautiful constellation of souls. What I suggest you tune into is a protective spirit that is present among those people — by which I mean protective of you. When someone demonstrates their willingness to look out for your best interests, respond in kind, and with gratitude.
Leo (July 22-Aug. 23) — Monday's New Moon in your opposite sign Aquarius is calling your attention to a relationship. But it may not be a relationship in the romantic sense. It could involve an organization or informal group with whom you are turning over a new leaf. While one-to-one encounters are vital to your way of life, there's a dimension of you that deeply needs and craves connection to community, with a purpose. It is this purpose that would guide your choices, and I suggest you keep an eye out for the feeling of actual meaning. In other words, this is not about going out or having a good time. It's about your tribe, your support network, your professional community, or an artistic community. You need to be part if it, and it needs to be part of you.
Virgo (Aug. 23-Sep. 22) — You are being pulled by an irresistible force in the direction of your true purpose. This may have the feeling of unfamiliarity or uncertainty, and if so, let that feeling be your best friend. You may not be accustomed to it; you may need a rational explanation, or the confidence that you have the answer key at the back of the book. What you have now is the opposite phenomenon. To make contact with a mystery is to open the potential for direct knowledge. As Mark Twain said, don't let your schoolin' get in the way of your learnin'. I would say: don't let spirituality get in the way of your spirit. When you find an idea that's compelling, apply it to your life holistically. Everything you learn allows you to reassess and question everything you've learned in the past.
Libra (Sep. 22-Oct. 23) — You may have family, partnership or joint financial concerns on your mind, but now is the time to celebrate. You can set all that other stuff aside for a while, and consider the most positive facets of your life. It's time to explore and to build and to open up some new territory in your creative and social facets of life. The way this will feel is like freedom, like potential opening up, like some inner horizon of who you want to create yourself to be. Regarding partnership, I would offer this: relationships need jobs, a purpose outside the 'you and me' theme. They also call for leadership. These two things — purpose and leadership — can help you refresh a relationship, and take some steps on a new phase of your journey. Apply this idea to new partnerships and you've got some special potential available.
Scorpio (Oct. 23-Nov. 22) — You want the right thing to happen. Your charts look like you're feeling protective of someone or something, and committed to a cause, whether it is deeply personal or a social issue. You can help make progress on this, though you will have to use your head. Let passion drive you, but keep your cool. Shift into strategy mode, which means first knowing what you want to happen. Then you need to understand where your real power lies, and break down the steps to your goal. If your scenario involves your family, or your partner's family, you might question the proper level of your involvement. Are you best positioned to be the front-line warrior, or perhaps better in more of a consultant role? Remember that the appropriateness of your role is the thing that only you can properly assess.
Sagittarius (Nov. 22-Dec. 22) — You cannot reason your way out of all fear. At a certain point you must address anxiety as its own subject. Because so few things that we fear actually go wrong, you can safely treat fear as an emotion, rather than as a prediction or premonition. This is a crucial distinction to make, because if fear has relevance, it's about the thing that you fear coming to pass. It looks like your concerns may center around control of some kind, such as over the behavior of a partner. If you find yourself keeping score, I would propose that this is not helpful. Ditto if you find yourself keeping secrets. I suggest that you would benefit from being honest with yourself — and then with intimate partners — about what is truly important to you. Right now, honesty and transparency are your best friends.
Capricorn (Dec. 22-Jan. 20) — Money flows toward structure. If you want to improve your financial position, create a structure that helps you account for your income and expenses, or update the one you have. I suggest you make a list of exactly how much you have, how much you owe, your expenses and your income. This will help you make a coherent strategy. Your strategy must be based on actual facts rather than on any form of wishful thinking. When in doubt, return to the numbers. If you set a goal, make sure you have some precedent for that thing being possible. In this way, you may grow incrementally toward the place that you want to be. It is, however, essential that you take one step at a time, and that you know what steps you're taking.
Aquarius (Jan. 20-Feb. 19) — Monday's New Moon in your sign seems designed to connect you with your true strength. It's as if you can make contact with all of your talents and skills at once. If you can identify a need, you can identify a resource to meet that need. Remind yourself that you have everything necessary; and if you don't, you can connect with it or acquire it. The real gift of this moment is to help you focus on your true purpose. If you know what it is, take the steps necessary to focus your energy on that goal. If you feel like you don't know, I can assure you that you don't need to look far to find it. It's the thing that you feel the most passionate about — no matter what everyone else may think. It's the thing you want to do for its own sake.
Pisces (Feb. 19-March 20) — If there seems to be some mysterious new source of energy powering your goals, be grateful for that, and keep doing what you're doing. We might call this phase of your life a period of achievement. This is working two ways. You have more freedom to establish yourself in the world around you. Your clarity and sense of purpose will have a way of clearing obstacles. Yet at the same time, these activities are squeezing the best of your talents and skills from you. You're discovering both abilities and confidence that you may not known you had, or which you lacked in the past. Stay a few steps ahead of yourself, and dream big. Gaze out toward the horizon, from as high a vantage point as you can find, and look where you want to be.