Links to today's show transcripts:
Nuclear Ban Group ICAN Wins Nobel Peace Prize as Trump Threatens to End Iran Deal & Nuke North Korea
The Nobel Peace Prize has been awarded to the International Campaign to Abolish Nuclear Weapons. The group, known as ICAN, is a coalition of nongovernmental organizations in more than a hundred countries. As the Nobel Committee made their announcement today in Oslo, Donald Trump is expected to "decertify" the landmark 2015 Iran nuclear deal next week.
Are Trump's Efforts to Sabotage Iran Nuclear Deal a Precursor for U.S. War with Iran?
Amid news of the Nobel Peace Prize being awarded to the International Campaign to Abolish Nuclear Weapons, this segment looks at whether President Donald Trump is trying to sabotage the Obama-brokered nuclear agreement with Iran and seek a war with Iran. According to The Washington Post, Trump is expected to announce next week the deal is not in the United States' national interest, and will move to "decertify" the deal. If this happens, Congress will decide whether or not to reinstate harsh economic sanctions against Iran, potentially tanking the landmark deal. The move comes despite the fact the Trump administration begrudgingly certified that Iran has complied with its obligations under the agreement earlier this year, as has the International Atomic Energy Agency, which closely monitors Iran's activities.
Will the NRA Use Regulation of "Bump Stocks" as Excuse to Avoid "Real Action" on Gun Control?
On Thursday, the National Rifle Association said it would support additional regulation on the gun accessory known as "bump stocks." Investigators believe the device was used in Sunday night's mass shooting in Las Vegas, in which Stephen Paddock, a 64-year-old white man, killed 59 people, including himself, and injured nearly 500 people. Authorities say Paddock bought at least 12 bump stocks, which allow semi-automatic rifles to act like machine guns, capable of firing hundreds of rounds a minute. But many say the "bump stocks" regulations do not go far enough to prevent future mass shootings.
Special Report: Puerto Ricans in Vieques Cope with Devastation & Fear Toxic Contamination from Maria
Doctors say Puerto Rico's health system remains crippled two weeks after Hurricane Maria hit the island, leaving more than 90 percent of the island without electricity and half of its residents without drinking water. That's at least according to statistics published by FEMA on Wednesday. But on Thursday, FEMA removed data about access to drinking water and electricity in Puerto Rico from its website. Democracy Now!'s Juan Carlos Dávila is on the ground in Puerto Rico, and this week he managed to make it to the island of Vieques to speak with residents of the area that the U.S. Navy used as a bombing range for decades. Since the 1940s, the Navy used nearly three-quarters of the island for bombing practice, war games and dumping old munitions. The bombing stopped after a campaign of nonviolent civil disobedience, but the island continues to suffer. The Navy says it will take until 2025 to remove all the environmental damage left by more than 60 years of target practice. Juan Carlos filed this report from Vieques in the aftermath of Hurricane Maria.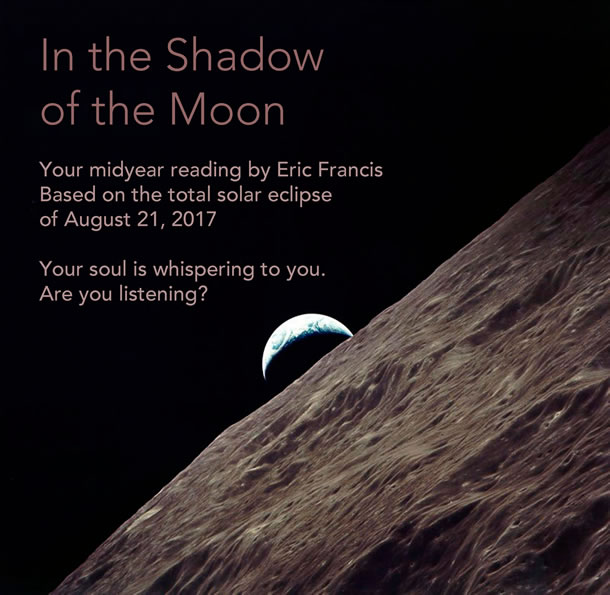 In the Shadow of the Moon, the exciting 2017 Midyear Reading by Eric Francis, is now published. Although the video readings for all 12 signs use the Great American Eclipse of Aug. 21 as a starting point,
Eric develops the themes through some of the most important astrological events you'll encounter in the remainder of 2017 and beyond
. We'll be increasing the price again very soon, so don't hesitate to
order your copy here
. You can also now choose your
individual signs here
.