When we try to pick out anything by itself, we find it hitched to everything else in the Universe.
— John Muir
Should your life be somewhere between intense and overwhelming right now, it's almost certainly not just you. If you also have a paradoxical sense of at least one shoe taking forever to drop, you are probably not the only one. Whether unresolved tension or unrelieved intensity is preponderate for you at this time, indications are that you are not alone.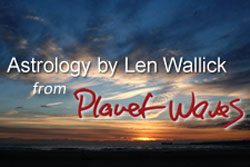 It's easy to feel alone when you have been too darn busy to stay in touch. Alternatively, you might feel isolated because you have retreated from engagement in order to take rest or nourishment. Either way, it's tempting to get down on yourself.
Rather than beating yourself up, however, take a moment to at least imagine the possibility that many (or even most of us) are faced with the same temptation.
Were it true that many people (if not most everybody) you know have been similarly unable to cover all their bases recently, you would know what to do. Your own experience would dictate that you show the same patience, compassion and tolerance you hope to receive. It would also assuage your concerns to hear assurances that things will get better one way or another, as opposed to being the recipient of pressure to do more than you can manage.
Interestingly, there is one motif unifying this moment in astrology that symbolically supports the notion that many of us really are in the same tippy canoe. It's the same tableau that implies an impending release or relief. It's a pattern currently being expressed by Mercury, Jupiter and retrograde Venus in Leo, along with Mars in Cancer and Saturn in Scorpio. All are moving through the final few (or 'anarectic') degrees of their respective signs this week.
The anaretic part of any sign represents intensity. It's not necessarily a bad thing. The energetic demands of the Sun, Moon or one of the planets so positioned can often be redeeming. However, with fully half of the sign rulers occupying the latter degrees of their respective signs at the same time, indications are that a sense of both extremity and some sort of strain are probably widespread.
By the same token, any experience concurrently shared by many (no matter how challenging) enhances the possibility of equally widespread understanding. In order for informed compassion to carry the day though, you have to break the icy grip of isolation and reach out to reassure others with words you long to hear and gestures you would be relieved to receive. 
Reassurance is the upside of a planet moving through the anaretic degrees in direct motion. For any such object is by definition on the cusp of entering a new sign. When you consider the palpable refreshment that often accompanies just one planetary ingress, you can easily imagine how several such changes in a short period of time might well correspond to a significant amount of solace.
Indeed, such changes are not long in coming. By this time next week the earthly archetypes of no less than three planets will be manifesting from entirely new fields of expression.
Mercury will move first, entering Virgo on Friday to ease your mind. Mars will follow on Saturday, shifting into Leo to quicken your consciousness and enliven you body. Then, Jupiter will end more than a year in energetic Leo next Tuesday to begin a trek equally as long through the modulated frequency of Virgo.
Finally, Saturn will complete nearly a year of transitioning from one sign to another next month by settling into Sagittarius for the long run of two years more.
If you can only manage to grasp one message from the astrology this week, it would be the proverbial advice that "this too will pass." Nonetheless, it would be helpful if you could venture a step or two further.
Whenever others express regret, it would soothe so much to simply reply with reassurance. Similarly, requite remorse with forgiveness, and healing will be the result. Responding with compassion for those who are contrite will likewise function to literally change the world for the people in question. 
Most of all, reach out to at least one of those who have withdrawn. Contact those unable or unwilling to either express their bewilderment or ask for pardon; let them know it's not just them, but all of us on the cusp of changes that promise to be as liberating as the world is now weighty. It's a promise that all of us (not just you) can act to make real.
Offered In Service
Len is available for astrology readings. You can contact him at lenwallick [at] gmail [dot] com.