By Amanda Painter
I don't remember exactly when I started listening to Democracy Now! I'm pretty sure it happened sometime during my first year of living alone in 2006; working evenings, and without a TV in my home, my local community radio station became the soundtrack of my life during the day and at night after work.
That radio station was (and is) WMPG. It broadcasts out of the USM campus in Portland, Maine. Its 24-7 programming is almost 100% locally produced, with the shining exception of Democracy Now!, which airs at noon Monday through Friday. Somewhere along the line I got in the habit of listening regularly to this news program that seemed to cover stories the flashy TV stations would never touch, and with a depth and humanity that corporate-owned media rarely attempt.
On a regular basis I've been outraged, inspired, awestruck, saddened and intrigued. Democracy Now! has moved me into action, and it has moved me to tears. One such memorable day featured a story about sexual assault in the U.S. military; in particular, a few U.S. servicewomen stationed in Iraq or Afghanistan had actually died from dehydration while serving their country, because they'd gotten in the habit of not drinking water after a certain time of day.
The reason? Going to the bathroom at night meant they'd likely get raped by their own platoon-mates. I vividly remember pacing back and forth in my living room, tears of anger and empathy streaming down my face as I listened.
I've also listened to Amy Goodman and Juan Gonzalez and their colleagues reporting on good news: thousands turning out for peaceful marches; wrongfully convicted prisoners finally released; interviews with brilliant, compassionate activists and scholars offering perspectives and information on complex issues in ways that can be understood and acted upon; profiles in tribute to people who have dedicated their lives to making the world more just, more humane, more beautiful.
For example, along with the usual headlines about bombings and political insanity, today's broadcast included the news that Puerto Rico's governor has declared a moratorium on a more than $400 million payment due today:
"We have asked Congress over and over again to approve the measures so that we can restructure our debts. We don't want a bailout, and we have not been offered a bailout. What we want is a restructuring process that will not cost the United States anything. We simply need the legal tools that will allow us to confront this crisis and assure that Puerto Rico will have a viable future."
Having visited Puerto Rico twice, I find myself concerned about its limbo status: it is neither its own country, nor a full-fledged U.S. state with voting rights. One misguided senator from Oklahoma has suggested re-opening the PR island of Vieques as a Navy bombing range to counter Puerto Rico's debt — as though its natural resources have no greater value or significance beyond providing a target for war games. To me, the U.S. basically has Puerto Rico in a hostage situation; something I'm pretty sure the Constitution does not provide for.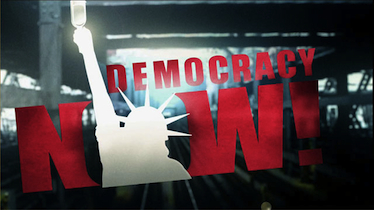 Or consider Democracy Now's several segments today in tribute to Father Daniel Berrigan, who died on Saturday, just short of his 95th birthday. A poet, pacifist, educator, social activist, playwright and lifelong resister to what he called "American military imperialism," Berrigan — along with his brother Phil, a fellow Jesuit priest — played an instrumental role in inspiring the antiwar and anti-draft movement during the late 1960s, as well as the movement against nuclear weapons.
The first priest to end up on the FBI's most wanted list, Berrigan's activist resume includes: traveling to North Vietnam with historian Howard Zinn to bring home three U.S. prisoners of war; taking 378 draft files from the draft board in Catonsville, Maryland, with his brother and seven others and then setting them on fire with homemade napalm to protest the Vietnam War; and breaking into the General Electric nuclear missile facility in King of Prussia, Pennsylvania, with his brother and six others, to vandalize nuclear warheads and files in an act that began the Plowshares Movement.
I was not familiar with Father Berrigan's story before he died. But hearing about him today, I was struck by how perfectly he embodied the Sixties. He was "Be the change you wish to see in the world" personified, and he turned the Catholic Church on its head in the process.
Father Daniel Berrigan shared my birthday; I can only aspire to share his conviction-in-action, the way he lived the political as a personal mission. And I'm grateful to Democracy Now! for dedicating an entire program to his remarkable life.
"We have chosen to be powerless criminals in a time of criminal power. We have chosen to be branded as peace criminals by war criminals." — Father Daniel Berrigan