More photos from Place de la Republique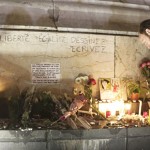 This is our second batch of photos from Paris-based photographer Danielle Voirin. These images are from Thursday night; the previous set is from Wednesday night. You're invited to share these links, which are available to everyone — no registration required.
These are from Thursday, just sent in by Danielle Voirin.