Moonshine Horoscope for Scorpio New Moon #1124 | By Len Wallick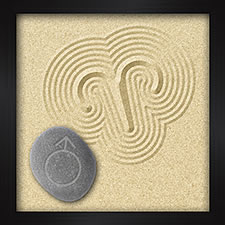 Aries (March 20-April 19) — Know thyself, especially in comparison to who and what you were at this time last year. If you are pretty much the same person you were 12 months ago — if your needs are being met and your life is going smoothly — you are in a position to demand substantial reward for risking any change to your good thing. If your personal evolution has been substantial enough to make change your primary need at this time, consider thinking differently. Instead of risk versus reward, think in terms of renegotiating any previously incurred contracts, responsibilities or obligations to do right by both your new self and your old relationships. — By Len Wallick. For your Eric Francis horoscope this week, please see this link.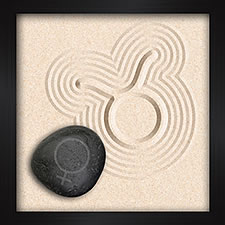 Taurus (April 19-May 20) — It would appear as though collaborations and artistic endeavors have long been a door through which new individuals have periodically entered your life. Now, it would seem to be that time again. This time around, any personality coming through that door could very well be the type of person you would not have considered working with in the past. The extent to which such an individual strikes you differently now will probably be a measure of how much your ongoing creative activities have in turn re-created you. Therefore, look twice where you would have previously looked away in order to better see yourself. — By Len Wallick. For your Eric Francis horoscope this week, please see this link.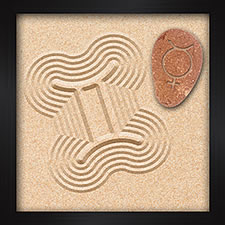 Gemini (May 20-June 21) — If it is at all possible, take at least one day to be all by yourself sometime soon. It's time to get reacquainted with who you are when separated from work and relationships. Let your special day alone be unstructured. Be rather than do. The possibilities are endless. Whether you stay inside or go outside does not matter so much, so long as you break routine. You could follow up on something that has been intriguing you — something you have not had time to investigate — so long as you do it on your own. Another viable alternative is to be utterly un-ambitious and simply remember how to enjoy your own company once again. — By Len Wallick. For your Eric Francis horoscope this week, please see this link.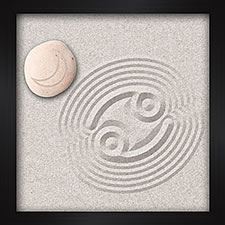 Cancer (June 21-July 22) — Even if being a caretaker is second nature for you, it's likely that you have a first nature that needs to be taken care of as well. Think of yourself as having roots — unseen but vital parts of yourself from which you derive both stability and nourishment. Then think about what you could do to water and fertilize those roots. In all likelihood, that's what you should be giving yourself permission to do more of now. It could be as simple as getting more comfortable with touching yourself intimately. If auto-erotica is something you have neglected or avoided, now is a good time to take a chance on taking better care of that need. — By Len Wallick. For your Eric Francis horoscope this week, please see this link.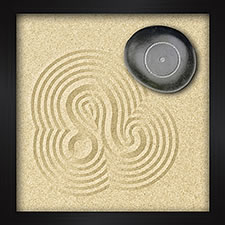 Leo (July 22-Aug. 23) — You could do far worse than make an effort to discover a new purpose about now. That's especially true if anything happens to free up some of your time and energy over the next month or so. The nature of this new reason to be will depend on who you are, but there are some guidelines you can follow to find it. First off, think less about satisfying others and more about what it would take to satisfy yourself. Next, be open to having at least two purposes — perhaps one for the short term and one for the long term. Finally, start looking where you already are, but don't be afraid of relocating (at least temporarily) if that's what it takes to find your new, true cause. — By Len Wallick. For your Eric Francis horoscope this week, please see this link.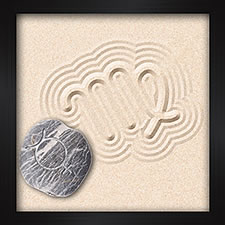 Virgo (Aug. 23-Sep. 22) — Don't be frustrated if others seem shortsighted. Be kind. Not everybody can see as far as you do right now. Also, be humble. Your foresight could very well be paired along with an inability to detect what's directly under or in front of your nose. As a matter of fact, now might be a good time to team up with somebody who can gently show you what you are missing, even as you carefully reveal to them what is coming. Ideally, this teammate would be somebody you have known for a long time, and with whom you have already developed strong bonds. If somebody who fits that description comes to mind, consider starting a conversation that begins with you pointing out that two heads are better than one. — By Len Wallick. For your Eric Francis horoscope this week, please see this link.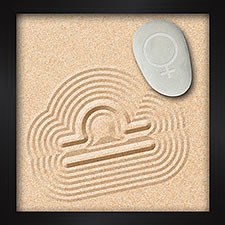 Libra (Sep. 22-Oct. 23) — Whatever you initiated at the beginning of October is almost certainly not coming to a close for you now. It is more likely that you have reached a point where you either need to step up or step back as regards to seeing things through to a conclusion. Before you do so, be aware that the process of finishing what you started could take as much as a year, and could result in your being a changed person. In all likelihood that change would be for the better, resulting in at least some of the balance you have sought in your life. First, however, you must answer an important question: do you really, truly want to change? If the answer is yes, take charge. If the answer is no, delegate the responsibility for closure to assure the best outcome for all concerned. — By Len Wallick. For your Eric Francis horoscope this week, please see this link.
2016-17 Scorpio Birthday Reading
Discover Your Inner Hidden Gem
The true calling card of Scorpio is its transformative ability: to bring shadow to the light, integrate it, and alchemize it into an expression of much higher vibration: creativity, passion, fearlessness, courage and the ability to heal deep wounds. That's a gem of a superpower when you learn how to use it well.
In a world that desperately needs these life-affirming qualities, your 2016-17 Scorpio Birthday Reading will help you to zero in on your gifts — including personal power tools masquerading as 'difficulties'.
"I re-listened a few times for the deeper nuance and messaging — a good thing because I discovered so many 'hidden gems' throughout the reading! This was definitely a worthwhile investment in money and time. Thank you!"
— Dee McCrorey
You can still secure the best price we offer, for yourself or as a gift — $19.97 for two segments of audio astrology and a video tarot reading, all of which you can experience as many times as you like. But the price will be increasing soon, and then will increase again when the audio segments publish (the tarot video will be released a little later, but is included in your purchase).
If you're new to Eric's readings or would like to review your past year and his accuracy, you're invited to listen to last year's reading here, as a gift from Planet Waves.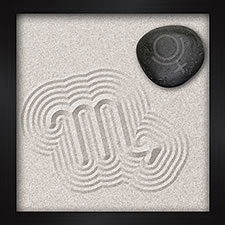 Scorpio (Oct. 23-Nov. 22) — Some of the issues you now face are about you. Some are not. Sorting out which is which will go a long way towards making your load feel lighter. To do so, you need time to think. Keep in mind that thinking is not the same as procrastination. Take care of any urgent situations and keep up with all that you absolutely have to get done in order to keep (and preferably increase) order in your life. Assuming you can organize your affairs to the point that you are no longer running as fast as you can to stay in the same place, you should find that you have more time to meditate at length on the subject of where others end and where you begin. — By Len Wallick. For your Eric Francis horoscope this week, please see this link.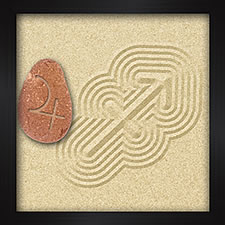 Sagittarius (Nov. 22-Dec. 22) — Assuming you are a licensed driver, now is a good time to look back and recall how it was when you were first learning how to operate an automobile. Odds are good you are now going through a similar learning curve, and dealing with its challenges will be a lot easier if you can remember how your motivations encountered your misgivings to result in your being both safe and comfortable behind the wheel. One thing you surely learned as a student driver is that fear is not helpful but deliberate caution is essential. The same is probably true for you now. Be alert, for sure. Be aware, of course. Just remember that there is no good reason to be afraid. — By Len Wallick. For your Eric Francis horoscope this week, please see this link.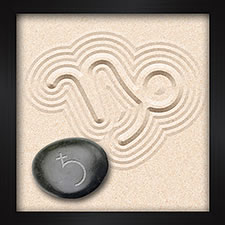 Capricorn (Dec. 22-Jan. 20) — For every problem, there is a solution. If you can remember just that one fact, you can head off any frustrations before they happen. As regards to any exasperating circumstances you may now be facing, remember two additional things. First, as the late, great astrologer Rachelle "Rockie" Gardiner so often reminded her readers: "Patience is the key to heaven." Second, you are rarely, if ever, alone with your concerns. Somewhere in your community of friends, peers and citizens there are almost certainly a number of people who share (or at least empathize with) the issues that are important to you. So long as you can make your needs known to those communities while also patiently participating in finding a remedy, contentment should ultimately be yours. — By Len Wallick. For your Eric Francis horoscope this week, please see this link.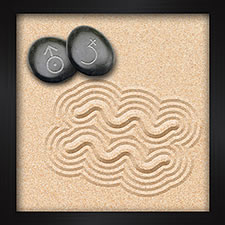 Aquarius (Jan. 20-Feb. 19) — Don't give up on your aspirations now. Even if you have had some discouraging experiences lately, there will be at least one door opening for each one that appears to have closed until at least this time next year. In addition to being optimistic, there are at least two other things you can do to encourage yourself. First, remember that there is a difference between being stubborn and being persistent. If you can't make that discernment right now, visualize the difference between digging in with your heels versus digging in with your toes. Let 'less heel and more toe' be your slogan. The second thing to keep in mind is that self-respect is contagious. Treat yourself with respect and others will not only return the favor, but also be inspired to emulate your example. — By Len Wallick. For your Eric Francis horoscope this week, please see this link.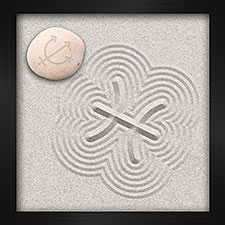 Pisces (Feb. 19-March 20) — Consider the term 'quantum leap'. In essence, that often-used but less-often-understood phrase alludes to how electrons evidently move from one energy level to another without ever being in between. Pertinent astrological indicators imply that there is some sort of quantum leap in store for you when it comes to whatever you are trying to create or otherwise manifest at this time. But it almost certainly won't happen by itself. You will need to participate. The good news is that your part will be simple. In essence, keep practicing consistently, and have faith that no effort will be wasted. If you can do just that, you will hasten the day when you wake up to find that you have suddenly left one metaphorical plateau behind for another one with a much nicer view. — By Len Wallick. For your Eric Francis horoscope this week, please see this link.