The three dimensions of space (height, width and length) function to define a lot of your reality. There is, for instance, only so much room in any given physical container. Contents are thus identified in part by both their proximity to each other and the nature of what holds them. You might say something of the same for any given amount of time.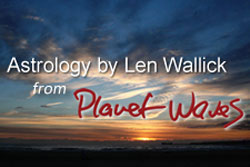 Time is not amenable to the same static measurements as the three dimensions of space. Even so, you have no doubt experienced a given period being defined by what you can (or can't) fit into it.
Additionally, the concept of fitting in goes beyond quantification of space and time to take other forms of identity. It is not unusual for you to be faced with the question of how or whether to fit in with a group of people, to cite just one example.
The same principles of how and whether or not things fit together is part of astrology's way of understanding the world. It so happens today's astrology combines representations of space, time and energy to indicate something of how you can affect the climate in which you are, and will be, living your life.
As regards to spatial considerations, the Sun and Moon come together in the same degree of Leo today shortly before 5 pm EDT (20:44:29 UTC) to define the prototypical conjunction aspect known as a New Moon.
When any two objects conjoin, they are essentially sharing the same space on the zodiac. In a way, then, the Sun and Moon become one today. Among other things, the two luminaries are astrologically emblematic of your conscious awareness (Sun) and unconscious understanding (Moon). Both exist alongside each other in your mind. Sometimes those two parts of your mind are not fully cognizant of each other, but when they are you can reasonably be said to have yourself together. That's an especially pertinent theme for a New Moon in Leo, where issues regarding the self are emphasized.
In addition to having the nature of their merger today defined by its Leo container, the Sun and Moon are also initiating a temporal container. That's because every New Moon is considered to be the end of one period called a lunation, and the beginning of the next one as well.
Lunations bequeathed the commonly used unit of time fittingly named after the Moon: a month. If you are at all typical, many of the cycles of your life complete and renew again on a monthly basis.
No two months are alike. Many of those differences can be traced to how each month begins. The same is true of lunations. Any events taking place at the same time or in spatial aspect to a New Moon are thus considered by astrologers to anticipate the array of possible environments defining the four or so weeks to come.
Today's Leo New Moon is taking place at about the same time Mars is returning to Sagittarius after a retrograde foray that took it back to Scorpio. Additionally, the merged luminaries will today be in a trine aspect to Saturn, which is also in Sagittarius.
When any object changes signs, its role in the astrological order changes as well. Among other things, Mars is, as Robert Hand put it, "an energy planet." It would be fair to say that the role of energy in your life is now subject to change precisely because Mars is changing signs. In addition, the concurrence of the Martian ingress to Sagittarius with today's New Moon would appear to be saying that energy's changing role could very well be a defining theme for you this month.
Saturn is the very essence of containers and definitions. Trine aspects are second only to conjunctions when it comes to representing things flowing together through the auspices of a common element. In the case of Leo (where the New Moon is) and Sagittarius (where both Mars and Saturn are), the common element is fire.
Fire is closely related to the energetic nature of Mars. The visible countenance of Mars is red like fire. In addition, Mars rules the third fire sign — Aries.
Combine the timing that today's Leo New Moon has with Mars and the spatial aspect it also has with Saturn, and you might reasonably draw a few conclusions about the life conditions you may well be able to co-create during August.
First off, this new month is likely to be a defining time. It is probable that you will participate in defining yourself, as well as who and what you do or don't fit in with.
The nature of your participation, in turn, will likely be determined by the amount, inclination and nature of energy you can bring to bear. Where, when and how you apply yourself will thus go a long way towards making not only this month, but you. The net result of today's astrology is thus an implied practice.
On the whole, the protocol indicated by the astrology today is the practice of asking yourself aloud where you want to put your energy on a daily basis. Based on the principle that what you put in is what you will get out, you should be able to shape not only yourself but your environment with greater efficacy than usual. The final result, however, will not be a matter of destiny so much as a matter of choice followed by action.
So act with care. Combine a conscious awareness of your intent with an understanding of your desires in order to invest your energies wisely. In essence, the implied outcome will be a significant chapter in your further evolution, that of your life, and how both fit into the world.
Offered In Service