On the whole, it's better to learn astrology from experience than just from a book. That's because you, as the astrologer, are part of the process. Just as modern science has realized, the observer is necessarily and unavoidably part of what is observed.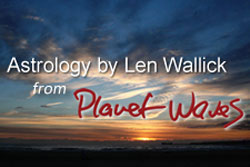 Even so, the observer's power to determine the nature of observations is not absolute. There would appear to be an underlying order to the universe which makes events decipherable, if not entirely predictable.
In recent generations, astrologers have come to understand that an observer's prejudices can actually interfere with understanding the cosmos. It is especially true that human perceptions of good and bad do not apply to events in the sky. As world-renowned astrological authority Robert Hand put it for the October/November 2014 issue of The Mountain Astrologer: "There are no benefics and no malefics." Even so, some very old biases persist, no matter how errant they may be.
Two planets still often burdened with the malefic (bad guy) label are Mars and Saturn. One way to approach the conjunction of Mars and Saturn in Sagittarius tomorrow is to for you to acknowledge your own involvement in either sustaining or overcoming ancient predilections as regards to those two objects.
You can begin by simply being aware that Mars and Saturn are briefly coming together to share the same degree of Sagittarius. Rather than bring any hand-me-down partiality to the occasion, look to flex the power of your intent by getting involved to affirm life rather than just letting things happen.
Affirming life is one demonstrable upside to Mars. It has to do with taking action so as to sustain life. Every time you act to take care of your wellbeing in response to challenges from your environment, Mars is manifesting through you.
The same can be said for any initiative aimed at helping another person to breathe easier. Additionally, either desire or decisiveness, followed by effort to attain results, serves to demonstrate what a good guy Mars can be.
Actually, it would be reasonable to say that Mars can evince in many ways, but passivity is not one of them. That's how it is appropriate for you to reject old stories that many passively accept about Mars, and go on to create some of your own. Saturn can help, especially when in the process of merging its own formidable energies with the red planet.
Among other things, Saturn is about giving things form. While not as bright in the sky or symbolically in your face as Mars often is, the ringed planet is every bit as empowering. Even though that power is commonly realized over time, the structural quality Saturn can be exercised to bring is like a long journey in that it must begin with a single step. Tomorrow's Sagittarius conjunction from Mars to Saturn would be an excellent time to take that step.
Therefore, even if you are not sure how far you are going or where you will end up, you would be well advised to get consciously and actively involved in some demonstrably supportive and substantial way with life and living tomorrow. Think of it as your chance to start making something more of astrology — and the world — than you have previously been told it can be. Sure beats just being along for another ride to where you would never have chosen to go on your own in the first place.
Offered In Service