Few things are as familiar as a Full Moon. Plausibly, somewhere in your genes (which, in effect, are the collective experience of life before your lifetime), an ancestral memory of a fully illuminated Moon dwells. It's also likely that your own first sighting of the Moon on the other side of the sky from the Sun was so long ago as to be lost from readily recoverable memory.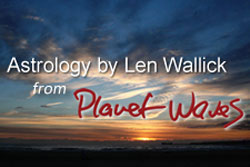 What goes with a Full Moon is also familiar. Night is as bright as it ever gets, as the side of the Moon facing Earth is not only fully lit, but also in the sky all night long. What's more, there's a subjective component that depends on who you are and "where" you are at.
Astrology's approach to a Full Moon provides a detached and emblematic perspective with the potential to enhance your personal, eyewitness experience by contributing to its context. If, for some reason, you're unable to witness any given Full Moon, astrology also helps you to anticipate what the correlating inner and outer climate are likely to be.
Something of the same might be said for a special case of Full Moon known as a lunar eclipse.
Lunar eclipses vary from solar eclipses (which take place during a New Moon, when the Sun and Moon are moving together in the same part of the sky) in two basic ways. First, solar eclipses tend to be measured in minutes and are visible to a comparative few. Lunar eclipses, on the other hand, are often measured in hours. In addition, lunar eclipses can (weather permitting) potentially be viewed by billions of people at once.
For those who can (and do) see it, tomorrow's total lunar eclipse will be a dark one. It will be a Full Moon very unlike itself. Hence, an unfamiliar experience. It is thus reasonable to expect that the subjective part of that experience will include something of the unfamiliar, and even the unexpected.
Dealing with the unfamiliar and unexpected is easier for some than it is for others. What is exhilarating for one person can very well be uncomfortable for another. In between (and, in effect, bridging) those two extremes is a perspective which takes interest, seeking to better understand.
Any enhanced understanding derived from an unfamiliar experience would, by definition, be something special — and potentially valuable. If you get to see tomorrow's Full Moon in Leo (with the Sun on the opposite side of the zodiac in Aquarius) during the lunar eclipse, keep that one principle in mind.
Even if you are not in the right place at the right time to actually see tomorrow's lunar eclipse, astrology can still prepare you to make the most of the experience. Intrinsically, the notion of unfamiliar (and possibly unexpected) still holds, but more in the context of your environment.
Even more specifically, you would be well advised to notice (and be curious about) any components of your climate tomorrow that have to do with collaborations and groups in your past.
Most of all, no matter what your subjective experience tomorrow, it is very likely that you will not be alone. Whether you are exhilarated or challenged, it is likely that you will have many in your company. For that reason alone, any endeavor to be good company is just as likely to pay dividends — and not just for you.

Offered In Service
---