The Only Thing Missing From This Almanac Is Your Daily Horoscope
Every day, you read the Four Winds report, to get a sense of the current energies. There's just one thing missing — your daily horoscope. Written for you, every day of the week, your Planet Waves daily horoscope is designed to give you the clue you need, that little edge to make your life go smoother.
One well-placed line from an astrologer can make all the difference in your life. We now have two editions of the Four Winds Report — one with, and one without your daily reading. You may be one of the readers who've waited for years for me to offer you this — and now you can have it. Horoscope Lover membership gets you direct mailing of each day's reading, plus the weekly reading on Sunday night, and the monthly reading the last Thursday of the month. Sign up at this link.
with love,


Today is Saturday, Sept. 9, 2017
Hebrew date is 18 Elul 5777
Islamic date is 18 Zul-Hijjah 1438
Mayan Tzolk'in Day is 11 Ak'b'al
Mayan Long Count is 13.0.4.14.3
Julian Day is 2458006
Today's Birthdays: Leo Tolstoy (1828-1910), James Hilton (1900-1954), Paul Goodman (1911-1972), Jane Greer (1924-2001), Elvin Jones (1927-2004), Otis Redding (1941-1967), Inez Foxx (1942), John McFee (1950), David A. Stewart (1952), Hugh Grant (1960), Kimberly Willis Holt (1960), Adam Sandler (1966), Julia Sawalha (1968), Gok Wan (1974), Michelle Williams (1980), Julie Gonzalo (1981).
"The vocation of every man and woman is to serve other people."
— Leo Tolstoy
Moon Phase: Moon is in Full phase and enters Disseminating (waning gibbous) phase today at 1:23 pm PDT / 4:23 pm EDT (20:23:11 UTC).
Next New Moon is in Virgo on Sept. 19-20 at 10:30 pm PDT / 1:30 am EDT (05:29:47 UTC).
Next Full Moon is in Aries on Oct. 5 at 11:40 am PDT / 2:40 pm EDT (18:40:02 UTC).
Moon Sign: Moon is in Aries and enters Taurus today at 9:22 am PDT / 12:22 pm EDT (16:22:28 UTC).
Sun Degree: 17-18 Virgo.
Planetary Stations and Sign Changes
Moon enters Taurus at 9:22 am PDT / 12:22 pm EDT (16:22:28 UTC).
Mercury enters Virgo at 7:52 pm PDT / 10:52 pm EDT (02:51:54 Sept. 10 UTC).
Interesting Selected Aspects | Data by Serennu
— Sun trine Pluto at 3:45 am PDT / 6:45 am EDT (10:45:15 UTC).
— Jupiter opposite Eris at 11:03 am PDT / 2:03 pm EDT (18:02:41 UTC).
— Venus square Echeclus at 6:56 pm PDT / 9:56 pm EDT (01:56:35 Sept. 10 UTC).
Planet Waves Daily Oracle for Sept. 9, 2017
Today's Oracle takes us to the Capricorn monthly for January 2011
When I was about 22, a friend took me to meet his guru. I had about five minutes with her. We sat down on a yoga mat in a big, empty room. She looked at me and said instantly, "You have maturity. You lack confidence." Your charts this year are all about gaining confidence that you may not know you lack. Maturity is something you've possessed very nearly forever and could frankly do with a little less of; confidence is a challenge in a world that always seems to have the upper hand. The basis of confidence is within, if we're to learn anything from the lives of people who have had absolute power but who were totally insecure.
You are having to learn this confidence as you go, even as you encounter experiences that keep shaking you up, rattling your sense of identity and in the end, serve to push you out of your shell. I suggest that you begin to associate confidence with vulnerability. I know that all the common 'wisdom' goes the opposite way, that the more piled on with defenses a person is, the more confident they seem (to some). Yet that's not actually true; it's an illusion, at best. True confidence arises from being close to your edge, and willing to stay there — and that is a vulnerable place. As you get to that spot where you realize you're not emotionally secure, slip into it like a hot bath. If you reach the spot where your concept of your identity is crumbling, allow the concept to fall away and your true self to come through.
When you find yourself tasked with a challenge that calls on you to take leadership but don't necessarily feel qualified, remember that most of leadership is about responding to an authentic calling, and listening to people as much as you might speak to them. As for being able to do with a bit less maturity: gradually as the years press on, you're figuring out that a deep element of the meaning of life is your ability to enjoy and appreciate each moment as it passes, each human encounter, each small step toward freedom. That's what we usually think maturity specifically denies. In the subtle words of the poet Ginsberg, remind yourself: I have become another child. I wake to see the world go wild.
The Oracle is a daily mini-reading divined from our extensive Horoscope Archive. You can research any Planet Waves horoscope published since 1999 at the Horoscope Archive and Oracle.
Subscribe to Planet Waves — sign up here | Visit Our Website at this link
If Your Birthday is Sept. 9
(The Day of Difficult Demand) | Virgo Birthday Reading | All Other Signs
Relationships may not go as planned this year, though will be rich with surprises. Any time you join your life with that of another person, you are in a sense spinning the wheel, uncertain what will happen. This factor can and indeed must work in your favor. Embrace the challenges that interesting, original people present, so long as they treat you kindly.
Written in the Planets
Mercury enters Virgo late tonight, working its way ever so slowly through its 'shadowlands'. When you get up tomorrow, notice whether your mind feels more ready to move a previously outlined plan forward in practical, precise ways. Today, with Jupiter in Libra opposite Eris in Aries, the bigger picture looks like your sense of what is 'fair' in relationships must confront the self-absorbed chaos running rampant on social media. What does it really mean to be independent and individual? How do you learn to judge someone's character accurately when everyone has a 'personal brand' they're promoting? Other aspects suggest that the most useful energy you can engage in today will be focused on inner evolution. Log off, unplug and dive in.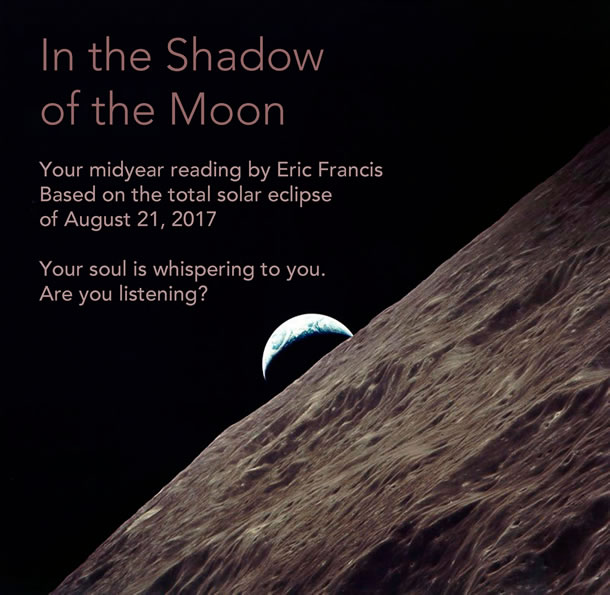 In the Shadow of the Moon, the exciting 2017 Midyear Reading by Eric Francis, is now published. The video readings for all 12 signs cover the Great American Eclipse of Aug. 21 and well beyond. We'll be increasing the price again very soon, so don't hesitate to
order your copy here
. You can also now choose your
individual signs here
.
How will you activate your potential and passion to grow and become? You can start by pre-ordering your Virgo Birthday Reading — at the lowest price we offer: just $33 for some of the clearest, most immediately useful astrology you can find on the internet, designed for anyone with a Virgo Sun, Virgo rising or Virgo Moon.