The Only Thing Missing From This Almanac Is Your Daily Horoscope
Every day, you read the Four Winds report, to get a sense of the current energies. There's just one thing missing — your daily horoscope. Written for you, every day of the week, your Planet Waves daily horoscope is designed to give you the clue you need, that little edge to make your life go smoother.
One well-placed line from an astrologer can make all the difference in your life. We now have two editions of the Four Winds Report — one with, and one without your daily reading. You may be one of the readers who've waited for years for me to offer you this — and now you can have it. Horoscope Lover membership gets you direct mailing of each day's reading, plus the weekly reading on Sunday night, and the monthly reading the last Thursday of the month. Sign up at this link.
with love,


Today is Friday, Sept. 8, 2017
Hebrew date is 17 Elul 5777
Islamic date is 17 Zul-Hijjah 1438
Mayan Tzolk'in Day is 10 Ik'
Mayan Long Count is 13.0.4.14.2
Julian Day is 2458005
Today's Birthdays: Marin Mersenne (1588-1648), Frederic Mistral (1830-1914), Maria Lassnig (1919-2014), Sid Caesar (1922-2014), Grace Metalious (1924-1964), Jacqueline Ceballos (1925), Peter Sellers (1925-1980), Patsy Cline (1932), Bernie Sanders (1941), Aziz Sancar (1946), Ann Beattie (1947), Marianne Wiggins (1947), Ruby Bridges (1954), Terry Tempest Williams (1955), Neko Case (1970), David Arquette (1971), Martin Freeman (1971), Pink (1979), Jonathan Taylor Thomas (1981), Wiz Khalifa (1987).
"It's not about having things figured out, or about communicating with other people, trying to make them understand what you understand. It's about a chicken dinner at a drive-in. A soft pillow. Things that don't need explaining."
— Ann Beattie
---
Looking Beyond the Devil in the Details
Dear Friend and Reader:
By now, whatever emotional energy peak you may have experienced with the Full Moon should be dissipating. And while you still might feel a little foggy or unsure about certain situations (thanks to Neptune's lingering influence), at least the mental shenanigans of Mercury are slowly beginning to sort themselves out. 'Easy does it' is still the mantra du jour, though.
That might even go double for any unexpected pieces of information that came to you as Mercury stationed direct Tuesday morning.
As Mercury traces its way back through the degrees of the zodiac where it was just retrograde, see if you can follow the trail of breadcrumbs back from whatever you've been reflecting on or reviewing. Even though Mercury is returning to the same slice of zodiac where it was on Aug. 12, all of the other planets have shifted (whether slightly or dramatically). Don't be surprised if, as you follow your breadcrumb trail back, you find yourself in a slightly different place, with slightly — or dramatically — different self-understanding or insight.
Saturday, Sept. 9, Mercury re-enters Virgo at 10:52 pm EDT (2:52 UTC Sunday), in direct motion. Waiting for it just inside the doorstep are the hypothetical point Transpluto at 2 degrees Virgo, and Mars at 4 degrees Virgo.
---
Moon Phase: Moon is in Full phase and enters Disseminating (waning gibbous) phase on Sept. 9 at 1:23 pm PDT / 4:23 pm EDT (20:23:11 UTC).
Next New Moon is in Virgo on Sept. 19-20 at 10:30 pm PDT / 1:30 am EDT (05:29:47 UTC).
Next Full Moon is in Aries on Oct. 5 at 11:40 am PDT / 2:40 pm EDT (18:40:02 UTC).
Moon Sign: Moon is in Aries and enters Taurus on Sept. 9 at 9:22 am PDT / 12:22 pm EDT (16:22:28 UTC).
Sun Degree: 16-17 Virgo.
Planetary Stations and Sign Changes
No changes today.
Interesting Selected Aspects | Data by Serennu
— Neptune square Altjira at 6:34 am PDT / 9:34 am EDT (13:34:24 UTC).
— Venus conjunct Praamzius at 3:11 pm PDT / 6:11 pm EDT (22:10:51 UTC).
— Venus square Deucalion at 6:46 pm PDT / 9:46 pm EDT (01:45:41 Sept. 9 UTC).
Subscribe to Planet Waves — sign up here | Visit Our Website at this link
If Your Birthday is Sept. 8
(The Day of the Puzzling Purist) | Virgo Birthday Reading | All Other Signs
You may feel tremendous energy and confidence, yet some uncertainty at what direction you really want to be going. Your astrology describes a scenario where you'll need to rely on your intuition. Yet the more honest with yourself you are, the more effectively you will orient yourself. Acknowledge what you know; use what you know; never pretend not to know.
Written in the Planets
Although the sky looks relatively quiet today as far as major, exact aspects go, that does not mean nothing is happening. For example, tomorrow the Virgo Sun makes a trine to Pluto in Capricorn. Although this aspect does not make contact with the recent eclipse degree, you can still think of it as one more way the universe is conspiring to help you move your life forward in ways you've recently become aware you need to pursue. Sun trine Pluto speaks of transformative energies you can tap into for your benefit. The key is to look within to discover what you need to do to evolve upward. Acting ruthlessly or selfishly is a sure way to drag yourself down in the long run.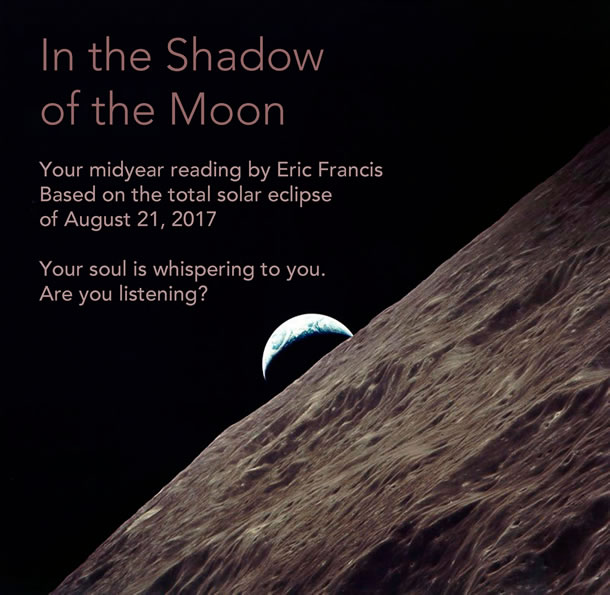 In the Shadow of the Moon, the exciting 2017 Midyear Reading by Eric Francis, is now published. The video readings for all 12 signs cover the Great American Eclipse of Aug. 21 and well beyond. We'll be increasing the price again very soon, so don't hesitate to
order your copy here
. You can also now choose your
individual signs here
.
How will you activate your potential and passion to grow and become? You can start by pre-ordering your Virgo Birthday Reading — at the lowest price we offer: just $33 for some of the clearest, most immediately useful astrology you can find on the internet, designed for anyone with a Virgo Sun, Virgo rising or Virgo Moon.