The Only Thing Missing From This Almanac Is Your Daily Horoscope
Every day, you read the Four Winds report, to get a sense of the current energies. There's just one thing missing — your daily horoscope. Written for you, every day of the week, your Planet Waves daily horoscope is designed to give you the clue you need, that little edge to make your life go smoother.
One well-placed line from an astrologer can make all the difference in your life. We now have two editions of the Four Winds Report — one with, and one without your daily reading. You may be one of the readers who've waited for years for me to offer you this — and now you can have it. Horoscope Lover membership gets you direct mailing of each day's reading, plus the weekly reading on Sunday night, and the monthly reading the last Thursday of the month. Sign up at this link.
with love,


Today is Thursday, Sept. 7, 2017
Hebrew date is 16 Elul 5777
Islamic date is 16 Zul-Hijjah 1438
Mayan Tzolk'in Day is 9 Imix'
Mayan Long Count is 13.0.4.14.1
Julian Day is 2458004
Today's Birthdays: Georges-Louis Lecler, Comte de Buffon (1707-1788), Grandma Moses (1860-1961), Elinor Morton Wylie (1885-1928), Kiyosi Ito (1915-2008), Laura Ashley (1925-1985), Samuel Goldwyn Jr. (1926-2015), Buddy Holly (1936-1959), Gloria Gaynor (1949), Julie Kavner (1950), Peggy Noonan (1950), Chrissie Hynde (1951), Diane Warren (1956), Jermaine Stewart (1957-1997), Jennifer Egan (1962), Eazy-E (1963-1995), Leslie Jones (1967), Evan Rachel Wood (1987).
"There are so many ways to go wrong. All we've got are metaphors, and they're never exactly right. You can never just Say. The. Thing."
— Jennifer Egan
Len Wallick | Not Too Soon
There's been a lot going on both above us and here below over the past few weeks. As the Leo New Moon and solar eclipse has waxed toward the Full Moon in Pisces, it's been busy. Even so, Len Wallick has a suggestion for you: take a break. It's not too soon to think about how the Full Moon to follow will not take place until after the Sun has flipped.
Moon Phase: Moon is in Full phase and enters Disseminating (waning gibbous) phase on Sept. 9 at 1:23 pm PDT / 4:23 pm EDT (20:23:11 UTC).
Next New Moon is in Virgo on Sept. 19-20 at 10:30 pm PDT / 1:30 am EDT (05:29:47 UTC).
Next Full Moon is in Aries on Oct. 5 at 11:40 am PDT / 2:40 pm EDT (18:40:02 UTC).
Moon Sign: Moon is in Pisces and enters Aries today at 5:01 am PDT / 8:01 am EDT (12:01:15 UTC).
Sun Degree: 15-16 Virgo.
Planetary Stations and Sign Changes
Ixion stations direct at 11:52 pm Sept. 6 PDT / 2:52 am EDT (06:52:38 UTC).
Moon enters Aries at 5:01 am PDT / 8:01 am EDT (12:01:15 UTC).
Interesting Selected Aspects | Data by Serennu
— Venus square Mors-Somnus at 10:56 pm Sept. 6 PDT / 1:56 am EDT (05:55:47 UTC).
— Chiron square Galactic Center at 1:56 am PDT / 4:56 am EDT (08:56:09 UTC).
— Jupiter conjunct Haumea at 4:05 pm PDT / 7:05 pm EDT (23:05:22 UTC).
— Mars square Huya at 7:42 pm PDT / 10:42 pm EDT (02:42:38 Sept. 8 UTC).
Subscribe to Planet Waves — sign up here | Visit Our Website at this link
If Your Birthday is Sept. 7
(The Day of Success Seekers) | Virgo Birthday Reading | All Other Signs
Sooner or later, you will learn not to judge yourself so harshly, or even at all. The problem with judgments is that they are not true; and worse, that they have an agenda other than improvement. Take a broad-minded view of your own existence. Go out of your way to treat yourself fairly, and give yourself the benefit of any doubt.
Written in the Planets
Mercury continues to move slowly following its station direct; it'd probably be worth likewise maintaining an easy pace and allowing matters to unfold in their own time. One potential spur might be the post-full Moon passing Chiron (which squares the Galactic Core) and entering Aries. That suggests a certain rejuvenation, and a turning of the emphasis toward action, a little like applying jumper cables to an engine. Finding a productive channel for energy could spare any agitation of which you might be aware.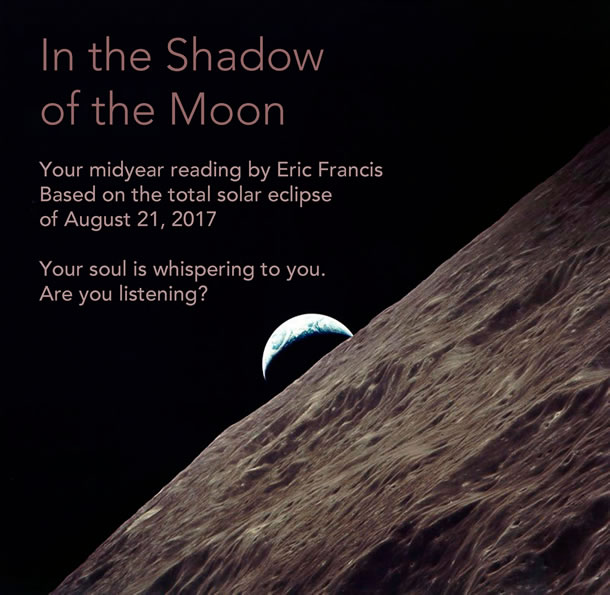 In the Shadow of the Moon, the exciting 2017 Midyear Reading by Eric Francis, is now published. The video readings for all 12 signs cover the Great American Eclipse of Aug. 21 and well beyond. We'll be increasing the price again very soon, so don't hesitate to
order your copy here
. You can also now choose your
individual signs here
.
How will you activate your potential and passion to grow and become? You can start by pre-ordering your Virgo Birthday Reading — at the lowest price we offer: just $33 for some of the clearest, most immediately useful astrology you can find on the internet, designed for anyone with a Virgo Sun, Virgo rising or Virgo Moon.