The Only Thing Missing From This Almanac Is Your Daily Horoscope
Every day, you read the Four Winds report, to get a sense of the current energies. There's just one thing missing — your daily horoscope. Written for you, every day of the week, your Planet Waves daily horoscope is designed to give you the clue you need, that little edge to make your life go smoother.
One well-placed line from an astrologer can make all the difference in your life. We now have two editions of the Four Winds Report — one with, and one without your daily reading. You may be one of the readers who've waited for years for me to offer you this — and now you can have it. Horoscope Lover membership gets you direct mailing of each day's reading, plus the weekly reading on Sunday night, and the monthly reading the last Thursday of the month. Sign up at this link.
with love,


Today is Tuesday, Sept. 5, 2017
Hebrew date is 14 Elul 5777
Islamic date is 14 Zul-Hijjah 1438
Mayan Tzolk'in Day is 7 Kawak
Mayan Long Count is 13.0.4.13.19
Julian Day is 2458002
Today's Birthdays: Amy Beach (1867-1944), Helen Creighton (1899-1989), Bob Newhart (1929), Claudette Colvin (1939), George Lazenby (1939), Raquel Welch (1940), Freddie Mercury (1946-1991), Michael Keaton (1951), Terry Ellis (1963), Thomas Mikal Ford (1964-2016), Rose McGowan (1973), Kat Graham (1989), Skandar Keynes (1991).
"I say, 'I could not move, because history had me glued to the seat.' And they say, 'How is that?' I say, 'Because it felt like Sojourner Truth's hands were pushing me down on one shoulder and Harriet Tubman's hands were pushing me down on another shoulder, and I could not move'."
— Claudette Colvin
Moon Phase: Moon is in Waxing Gibbous phase and enters Full phase on Sept. 6 at 12:03 am PDT / 3:03 am EDT (07:02:43 UTC).
Next Full Moon is in Pisces on Sept. 6 at 12:03 am PDT / 3:03 am EDT (07:02:43 UTC).
Corresponding New Moon in Virgo is on Sept. 19-20 at 10:30 pm PDT / 1:30 am EDT (05:29:47 UTC).
Moon Sign: Moon is in Pisces and enters Aries on Sept. 7 at 5:01 am PDT / 8:01 am EDT (12:01:15 UTC).
Sun Degree: 13-14 Virgo.
Planetary Stations and Sign Changes
Moon enters Pisces at 10:28 pm Sept. 4 PDT / 1:28 am EDT (05:28:13 UTC).
Mars enters Virgo at 2:34 am PDT / 5:34 am EDT (09:34:36 UTC).
Mercury stations direct at 4:29 am PDT / 7:29 am EDT (11:29:19 UTC).
Interesting Selected Aspects | Data by Serennu
— Sun opposite Neptune at 10:27 pm Sept. 4 PDT / 1:27 am EDT (05:27:29 UTC), and Teharonhiawako at 4:28 am PDT / 7:28 am EDT (11:28:16 UTC).
— Vesta square Chaos at 2:08 pm PDT / 5:08 pm EDT (21:08:02 UTC), and Ixion at 4:42 pm PDT / 7:42 pm EDT (23:42:04 UTC).
— Ceres square Haumea at 4:46 pm PDT / 7:46 pm EDT (23:46:12 UTC).
This Week's Horoscope for Virgo by Eric Francis Coppolino
In anything you may do, ask yourself whom you're serving. What is the cause that you're supporting? To what is your energy devoted? To be happy as a Virgo, what you do must transcend yourself. Yet Mars in your birth sign is strongly suggesting that you have to act in certain self-serving ways. You're approaching a point of maturity that's requiring you to find approaches to life that sustain your own cause and that serve the greater good. What you do must work for everyone on some level. There are times when you'll be called upon to make a sacrifice or to offer yourself in truly selfless service, though when you're in tune, this will always come back to you in the form of learning, knowledge or the opportunity for further participation. Don't be deterred by people who are in denial or committed to being lost; that's just a game, and it's one that you don't want or need to play.
You may read all 12 signs here.
Subscribe to Planet Waves — sign up here | Visit Our Website at this link
If Your Birthday is Sept. 5
(The Day of the Fanciful Sovereign) | Virgo Birthday Reading | All Other Signs
You're no longer bound by the fears that held you back in the past. You can now act on so much that you've wanted to do for so long. Yet don't try to do everything at once. Choose one or two items from your agenda that you've desired the very most, and give yourself the full experience. The only way to live passionately is to live one day at a time.
Written in the Planets
Between Mercury stationing direct in Virgo today and the buildup to tomorrow's Pisces Full Moon, today's astrology is asking you to pay attention. To what, exactly? To what your quiet voice of intuition is whispering to you; to any sign that someone might not be giving you complete information; to any task that requires your full focus. That said, Mars moving into Virgo today is a reminder that you'll get more done if you can keep one eye on the big picture no matter how much you want to focus on the details (and remember that not all details are equally important). See if you can stay present and aware enough to notice whether Mercury stationing direct offers a missing puzzle piece.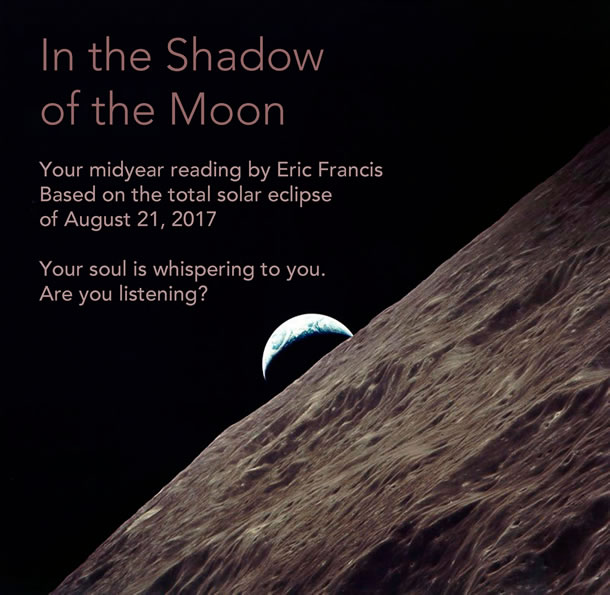 In the Shadow of the Moon, the exciting 2017 Midyear Reading by Eric Francis, is now published. The video readings for all 12 signs cover the Great American Eclipse of Aug. 21 and well beyond. We'll be increasing the price again very soon, so don't hesitate to
order your copy here
. You can also now choose your
individual signs here
.
How will you activate your potential and passion to grow and become? You can start by pre-ordering your Virgo Birthday Reading — at the lowest price we offer: just $33 for some of the clearest, most immediately useful astrology you can find on the internet, designed for anyone with a Virgo Sun, Virgo rising or Virgo Moon.