The Only Thing Missing From This Almanac Is Your Daily Horoscope
Every day, you read the Four Winds report, to get a sense of the current energies. There's just one thing missing — your daily horoscope. Written for you, every day of the week, your Planet Waves daily horoscope is designed to give you the clue you need, that little edge to make your life go smoother.
One well-placed line from an astrologer can make all the difference in your life. We now have two editions of the Four Winds Report — one with, and one without your daily reading. You may be one of the readers who've waited for years for me to offer you this — and now you can have it. Horoscope Lover membership gets you direct mailing of each day's reading, plus the weekly reading on Sunday night, and the monthly reading the last Thursday of the month. Sign up at this link.
with love,


Today is Monday, Sept. 4, 2017
Hebrew date is 13 Elul 5777
Islamic date is 13 Zul-Hijjah 1438
Mayan Tzolk'in Day is 6 Etz'nab'
Mayan Long Count is 13.0.4.13.18
Julian Day is 2458001
Today's Birthdays: Constantijn Huygens (1596-1687), Anton Bruckner (1824-1896), Mary Renault (1905-1983), Richard Wright (1908-1960), Joan Aiken (1924-2004), Merald "Bubba" Knight (1942), Khandi Alexander (1957), Damon Wayans (1960), Ione Skye (1971), Wes Bentley (1978), Max Greenfield (1980), Beyonce (1981).
"They want me to write differently. Certainly I could, but I must not. God has chosen me from thousands and given me, of all people, this talent. It is to Him that I must give account. How then would I stand there before Almighty God, if I followed the others and not Him?"
— Anton Bruckner
---
Mercury Direct and the Pisces Full Moon
As you enter this week, remember: much in the astrology is signaling that all may not be as it seems, in one way or another. Thankfully, you should not have to wait long for things to begin shaking out and clarifying. Even so, the theme for this week is taking things slowly and methodically — while keeping your eyes and ears sharp for unexpected but crucial details.
The overall tone is being set by two major events. The first is Mercury stationing direct in late Leo, in the same degree as the Aug. 21 eclipse, on Tuesday at 7:29 am EDT (11:29 UTC). The other is the Pisces Full Moon conjunct Neptune on Wednesday, exact at 3:03 am EDT (7:03 UTC).
Either of those events would warrant your attention. Together, they indicate the potential for a mix of emotional uncertainty that's building to a peak, combined with mental turbulence or distraction and a changing of gears (or change of direction). You might find that stressful. However, if you're involved in any kind of creative endeavor — especially if it does not rely on digital technology — this astrology could be very useful.
The more you can flow with your vision, muse or immediate environment, the easier things will likely be. Any situation where you must work against a metaphorical tide could prove challenging.
---
Moon Phase: Moon is in Waxing Gibbous phase and enters Full phase on Sept. 6 at 12:03 am PDT / 3:03 am EDT (07:02:43 UTC).
Next Full Moon is in Pisces on Sept. 6 at 12:03 am PDT / 3:03 am EDT (07:02:43 UTC).
Corresponding New Moon in Virgo is on Sept. 19-20 at 10:30 pm PDT / 1:30 am EDT (05:29:47 UTC).
Moon Sign: Moon is in Aquarius and enters Pisces tonight at 10:28 pm PDT / 1:28 am Sept. 5 EDT (05:28:13 UTC).
Sun Degree: 12-13 Virgo.
Planetary Stations and Sign Changes
No changes today.
Interesting Selected Aspects | Data by Serennu
— Ceres square Jupiter at 10:59 pm Sept. 3 PDT / 1:59 am EDT (05:58:57 UTC).
— Ceres conjunct Cyllarus at 7:27 am PDT / 10:27 am EDT (14:27:29 UTC).
— Jupiter square Cyllarus at 5:50 pm PDT / 8:50 pm EDT (00:49:40 Sept. 5 UTC).
— Sun square Altjira at 7:59 pm PDT / 10:59 pm EDT (02:59:23 Sept. 5 UTC).
Subscribe to Planet Waves — sign up here | Visit Our Website at this link
If Your Birthday is Sept. 4
(The Day of the Builder) | Virgo Birthday Reading | All Other Signs
It's obvious that you need more interesting, more fulfilling work, and you can create this if you want. You have all the ingredients you need: the talent, the devotion, and the confidence. Yet you may be clinging to familiar patterns, and needing a boost of courage so you can let them go. Only you can give yourself that, by taking action rather than by waiting.
Written in the Planets
Aspects involving Ceres and Jupiter may be suggesting that there is usually a variety of ways to approach a problem, or an opportunity. While Mercury is still in storm phase, it would seem the first step in any scenario is robust data gathering, not to mention fact-checking. Clarity will probably surface eventually; until then, keep your options open and make compassion a guiding principle.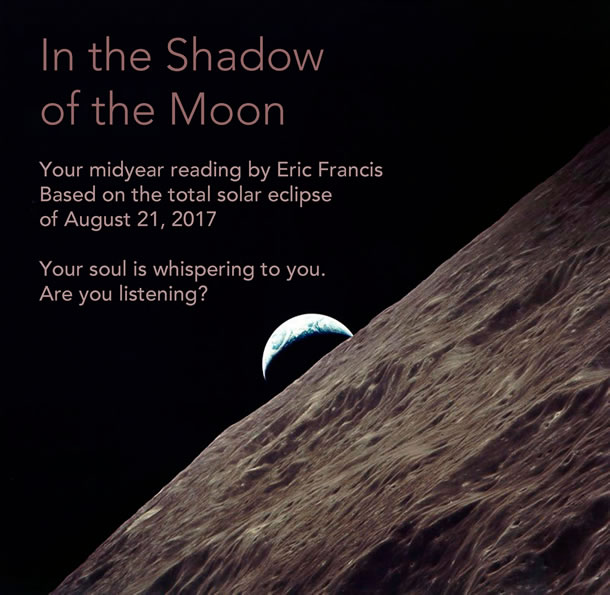 In the Shadow of the Moon, the exciting 2017 Midyear Reading by Eric Francis, is now published. The video readings for all 12 signs cover the Great American Eclipse of Aug. 21 and well beyond. We'll be increasing the price again very soon, so don't hesitate to
order your copy here
. You can also now choose your
individual signs here
.