The Only Thing Missing From This Almanac Is Your Daily Horoscope
Every day, you read the Four Winds report, to get a sense of the current energies. There's just one thing missing — your daily horoscope. Written for you, every day of the week, your Planet Waves daily horoscope is designed to give you the clue you need, that little edge to make your life go smoother.
One well-placed line from an astrologer can make all the difference in your life. We now have two editions of the Four Winds Report — one with, and one without your daily reading. You may be one of the readers who've waited for years for me to offer you this — and now you can have it. Horoscope Lover membership gets you direct mailing of each day's reading, plus the weekly reading on Sunday night, and the monthly reading the last Thursday of the month. Sign up at this link.
with love,


Today is Sunday, Sept. 3, 2017
Hebrew date is 12 Elul 5777
Islamic date is 12 Zul-Hijjah 1438
Mayan Tzolk'in Day is 5 kab'an
Mayan Long Count is 13.0.4.13.17
Julian Day is 24578000
Today's Birthdays: Nicola Amati (1596-1684), Paul Kane (1810-1871), James Joseph Sylvester (1814-1897), Sarah Orne Jewett (1849-1909), Ferdinand Porsche (1875-1951), Sally Benson (1897-1972), Loren Eiseley (1907-1977), Kitty Carlisle (1910-2007), Alan Ladd (1913-1964), Freddie King (1934-1976), Pauline Collins (1940), Al Jardine (1942), John Fugelsang (1969), Kiran Desai (1971), Redfoo (1975), OMI (1986).
"Only in America can you be Pro-Death Penalty, Pro-War, Pro-Unmanned Drone Bombs, Pro-Nuclear Weapons, Pro-Guns, Pro-Torture, Pro-Land Mines, AND still call yourself 'Pro-Life'."
— John Fugelsang
Planet Waves Daily Oracle for Sept. 3, 2017
You are breaking free finally and at long last. Um, free from what though? That IS the question. And you might want to answer that question so you don't get yourself caught up in whatever held you down before. In actual fact you have just as much responsibility on your shoulders. What you're doing differently is thinking of it differently. Correct? And if that alone is responsible for shifting your entire sense of burden and allowing you the feeling that this is your life which you are free to live then for the love of Venus — learn to think differently.
The Oracle is a daily mini-reading divined from our extensive Horoscope Archive. You can research any Planet Waves horoscope published since 1999 at the Horoscope Archive and Oracle.
Moon Phase: Moon is in Waxing Gibbous phase and enters Full phase on Sept. 6 at 12:03 am PDT / 3:03 am EDT (07:02:43 UTC).
Next Full Moon is in Pisces on Sept. 6 at 12:03 am PDT / 3:03 am EDT (07:02:43 UTC).
Corresponding New Moon in Virgo is on Sept. 19-20 at 10:30 pm PDT / 1:30 am EDT (05:29:47 UTC).
Moon Sign: Moon is in Aquarius and enters Pisces on Sept. 4-5 at 10:28 pm PDT / 1:28 am EDT (05:28:13 UTC).
Sun Degree: 11-12 Virgo.
Planetary Stations and Sign Changes
Bienor stations retrograde at 7:18 am PDT / 10:18 am EDT (14:18:20 UTC).
Interesting Selected Aspects | Data by Serennu
— Mercury conjunct Mars at 2:37 am PDT / 5:37 am EDT (09:37:35 UTC).
— Mercury trine Quaoar at 5:33 am PDT / 8:33 am EDT (12:33:13 UTC).
— Vesta sextile Cyllarus at 9:07 am PDT / 12:07 pm EDT (16:07:14 UTC).
Subscribe to Planet Waves — sign up here | Visit Our Website at this link
If Your Birthday is Sept. 3
(The Day of the Mold Breakers) | Virgo Birthday Reading | All Other Signs
It's said that might makes right, though there's an expression from martial arts that right makes might. Knowing who you are, being true to yourself, and living only for your truth, make you a powerful person. You have no need to surrender your strength by dancing with denial. Resolve today to live on the basis of your actual reality being all that matters.
Written in the Planets
Mercury retrograde conjoins Mars today in the same degree as the recent total eclipse. Things might well be a little tense, to say the least; especially if certain points are not clear, or a misunderstanding takes place. It would be worth allowing considerable room for error, or for not having all the relevant facts to hand. Make sure you have what you need to retain your equanimity; rush nothing; and try to keep a lid on any defensiveness or signs of a sharp tongue in your responses.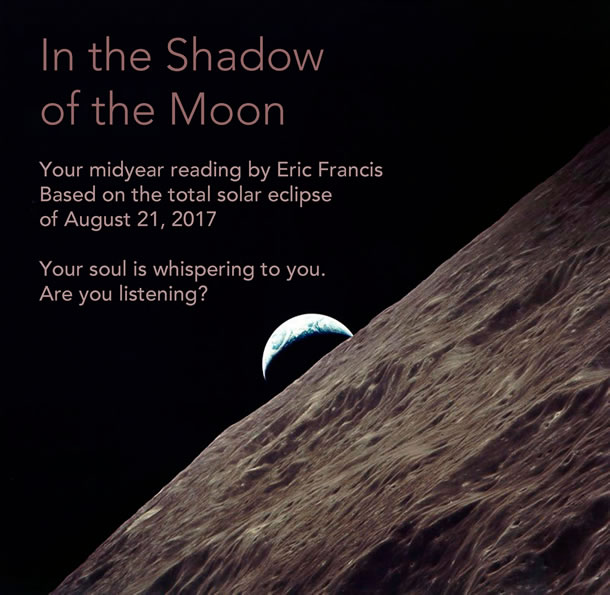 In the Shadow of the Moon, the exciting 2017 Midyear Reading by Eric Francis, is now published. The video readings for all 12 signs cover the Great American Eclipse of Aug. 21 and well beyond. We'll be increasing the price again very soon, so don't hesitate to
order your copy here
. You can also now choose your
individual signs here
.