The Only Thing Missing From This Almanac Is Your Daily Horoscope
Every day, you read the Four Winds report, to get a sense of the current energies. There's just one thing missing — your daily horoscope. Written for you, every day of the week, your Planet Waves daily horoscope is designed to give you the clue you need, that little edge to make your life go smoother.
One well-placed line from an astrologer can make all the difference in your life. We now have two editions of the Four Winds Report — one with, and one without your daily reading. You may be one of the readers who've waited for years for me to offer you this — and now you can have it. Horoscope Lover membership gets you direct mailing of each day's reading, plus the weekly reading on Sunday night, and the monthly reading the last Thursday of the month. Sign up at this link.
with love,


Today is Friday, Sept. 29, 2017
Hebrew date is 9 Tishrei 5778
Islamic date is 8 Muharram 1439
Mayan Tzolk'in Day is 5 Ak'b'al
Mayan Long Count is 13.0.4.15.3
Julian Day is 2458026
Today's Birthdays: Miguel de Cervantes (1547-1616), Caravaggio (1571-1610), Elizabeth Gaskell (1810-1865), Lilias Armstrong (1882-1937), Enrico Fermi (1901-1954), Greer Garson (1904-1996), Stanley Kramer (1913-2001), Madeline Kahn (1942-1999), Mike Post (1944), Bryant Gumbel (1948), Russell Peters (1970), Mackenzie Crook (1971), Zachary Levi (1980), Chrissy Metz (1980), Fatima Lodhi (1989), Halsey (1994).
"It is not the hand but the understanding of a man that may be said to write."
— Miguel de Cervantes
---
Countering Rose-Colored Glasses with Good Communication
Dear Friend and Reader:
We've been experiencing a week of highly charged, transformational astrology. And whether you've been experiencing it in acutely personal, direct ways or mainly watching it play out on the nightly news in frightening and heartbreaking events, chances are you've noticed the universe inviting you to pay attention and investigate with your full awareness.
But first things first: take a deep, slow breath; and another one. Take one more. There. I don't know about you, but it's been that kind of week for me.
Looking at the (hopefully) more manageable personal level of astrology, two main events catch my eye as we head toward the weekend. Both speak in one way or another about relationships and the act of relating.
The first is an opposition between Venus in Virgo and Neptune in Pisces, which is exact Friday but has been in effect for a while. This is just the latest in a series of oppositions to Neptune since about mid-August (Vesta, the Sun, Mercury, Mars and now Venus) that have perhaps contributed to peaks of confusion or uncertainty.
In the case of Venus-Neptune, that confusion plays out in the realm of relationships — particularly those involving 'romantic' love or sexual energy (or both, of course). This is the 'beware of rose-colored glasses' aspect. Neptune can make it incredibly difficult to see the object of your desire clearly — and that can contribute to setting expectations the other person cannot hope to fulfill (and likely are oblivious to).
---
Moon Phase: Moon is in First Quarter phase and enters Waxing Gibbous phase on Oct. 1-2 at 8:24 pm PDT / 11:24 pm EDT (03:24:34 UTC).
Next Full Moon is in Aries on Oct. 5 at 11:40 am PDT / 2:40 pm EDT (18:40:02 UTC).
Corresponding New Moon in Libra is on Oct. 19 at 12:12 pm PDT / 3:12 pm EDT (19:11:58 UTC).
Moon Sign: Moon is in Capricorn and enters Aquarius tonight at 9:40 pm PDT / 12:40 am Sept. 30 EDT (04:40:05 UTC).
Sun Degree: 7-8 Libra.
Planetary Stations and Sign Changes
Mercury enters Libra at 5:42 pm PDT / 8:42 pm EDT (00:42:02 Sept. 30 UTC).
Interesting Selected Aspects | Data by Serennu
— Mercury square Quaoar at 1:09 am PDT / 4:09 am EDT (08:09:09 UTC), and Orius at 2:38 pm PDT / 5:38 pm EDT (21:38:39 UTC).
— Jupiter conjunct Rhadamanthus at 6:29 am PDT / 9:29 am EDT (13:29:13 UTC).
— Venus opposite Neptune at 5:11 pm PDT / 8:11 pm EDT (00:11:28 Sept. 30 UTC).
Subscribe to Planet Waves — sign up here | Visit Our Website at this link
If Your Birthday is Sept. 29
(The Day of the Charged Reactor) | Libra Birthday Reading | All Other Signs
There are times when you must create the space for the right thing to happen, for you or for someone else. Before taking any specific action, be aware of what you know the right thing to be; then vigilantly stand guard, sidestepping your emotional responses and reactions as much as possible. Make the space for reality to enter, and it will.
Written in the Planets
As Amanda Painter writes above, tonight's opposition between Venus and Neptune has probably been blurring the lines between fantasy and reality. Keep a cool head and try to stick to objective facts when assessing a situation — unless you're creating a work of fiction or of art, in which case have at it with gusto; this is the perfect aspect for such endeavors.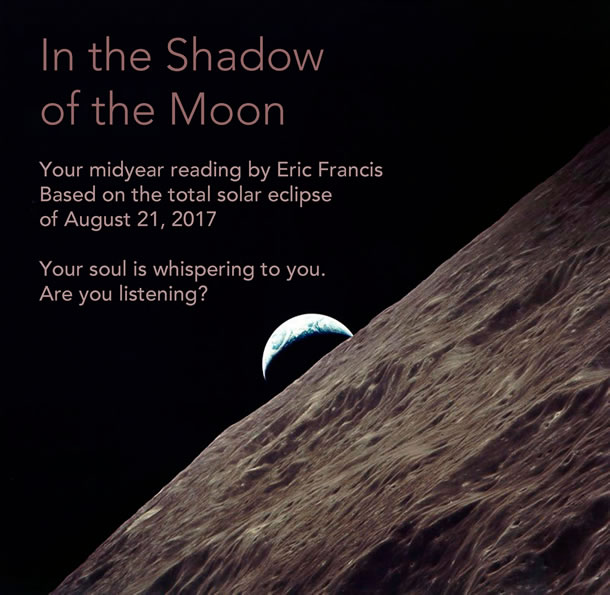 In the Shadow of the Moon, the exciting 2017 Midyear Reading by Eric Francis, is now published. Although the video readings for all 12 signs use the Great American Eclipse of Aug. 21 as a starting point,
Eric develops the themes through some of the most important astrological events you'll encounter in the remainder of 2017 and beyond
. We'll be increasing the price again very soon, so don't hesitate to
order your copy here
. You can also choose your
individual signs here
.
Pre-order your Libra audio reading today. Please use this link.