The Only Thing Missing From This Almanac Is Your Daily Horoscope
Every day, you read the Four Winds report, to get a sense of the current energies. There's just one thing missing — your daily horoscope. Written for you, every day of the week, your Planet Waves daily horoscope is designed to give you the clue you need, that little edge to make your life go smoother.
One well-placed line from an astrologer can make all the difference in your life. We now have two editions of the Four Winds Report — one with, and one without your daily reading. You may be one of the readers who've waited for years for me to offer you this — and now you can have it. Horoscope Lover membership gets you direct mailing of each day's reading, plus the weekly reading on Sunday night, and the monthly reading the last Thursday of the month. Sign up at this link.
with love,


Today is Tuesday, Sept. 26, 2017
Hebrew date is 6 Tishrei 5778
Islamic date is 5 Muharram 1439
Mayan Tzolk'in Day is 2 Ajaw
Mayan Long Count is 13.0.4.15.0
Julian Day is 2458023
Today's Birthdays: Johnny Appleseed (1774-1845), Ivan Pavlov (1849-1936), Lewis Hine (1874-1940), Edith Abbott (1876-1957), Alfred Cortot (1877-1962), T.S. Eliot (1888-1965), George Gershwin (1898-1937), Donna Douglas (1932-2015), Olivia Newton-John (1948), Carlene Carter (1955), Will Self (1961), Christina Milian (1981), Serena Williams (1981).
"Fortunate the man who, at the right moment meets the right friend; fortunate also the man who at the right moment meets the right enemy."
— T.S. Eliot
This Week's Horoscope for Libra by Eric Francis Coppolino
The astrology this week is so interesting, with so many things happening, that it's difficult to describe or even suss out. Yet the Sun newly placed in your sign is conjunct a meaningful asteroid called Vesta. That gives you clear direction: hold the space around you open, and observe what happens. You don't have to do much, or say much, or be anyone other than who you are. Your mere presence in any environment has an influence, and is a privilege that presents you with specific opportunities you would not have somewhere else. That's a cue to take advantage of any and every place and time in which you find yourself, and to work quietly with the assumption that you belong everywhere that you happen to be. You don't need to worry about final outcomes. At the moment the astrology is like a six-way cloverleaf with traffic moving in every direction. You can take the ride and see where you end up in a few days from now.
You may read all 12 signs here.
Moon Phase: Moon is in Waxing Crescent phase and enters First Quarter phase on Sept. 27-28 at 7:53 pm PDT / 10:53 pm EDT (02:53:27 UTC).
Next Full Moon is in Aries on Oct. 5 at 11:40 am PDT / 2:40 pm EDT (18:40:02 UTC).
Corresponding New Moon in Libra is on Oct. 19 at 12:12 pm PDT / 3:12 pm EDT (19:11:58 UTC).
Moon Sign: Moon is in Sagittarius and enters Capricorn on Sept. 27 at 9:24 am PDT / 12:24 pm EDT (16:23:58 UTC).
Sun Degree: 4-5 Libra.
Planetary Stations and Sign Changes
No changes today.
Interesting Selected Aspects | Data by Serennu
— Sun conjunct Logos at 11:25 pm Sept. 25 PDT / 2:25 am EDT (06:25:30 UTC), and Makemake at 11:52 pm Sept. 25 PDT / 2:52 am EDT (06:52:06 UTC).
— Mars trine Pallas at 6:30 am PDT / 9:30 am EDT (13:30:10 UTC).
— Mercury square Chaos at 9:02 am PDT / 12:02 pm EDT (16:02:24 UTC), and Ixion at 9:46 am PDT / 12:46 pm EDT (16:46:33 UTC).
— Mercury opposite Manwe at 9:55 am PDT / 12:55 pm EDT (16:55:12 UTC).
Subscribe to Planet Waves — sign up here | Visit Our Website at this link
If Your Birthday is Sept. 26
(The Day of Patient Practice) | Libra Birthday Reading | All Other Signs
Measure your words carefully, because they count. Take care of your community, because your efforts make a difference to many. Be true to your spiritual commitments, because your inner relationship dictates the course of every other facet of your life. Finally, recognize your need to do good work as one of your most basic purposes of living.
Written in the Planets
With such astrological fireworks in the sky (see Eric's Astrology Diary for the full run-down), you might be wondering how to harness all the energy — or even just how to hang onto the ride. Today, in the midst of it all, Mercury makes a T-square with the minor planet Chaos in Gemini and the centaur Ixion in Sagittarius. Here's one possible reading: If you're trying to decide what to do, and there seem to be two or more equally valid (and fertile) options, you might need to look more closely at them. Ixion's presence here is a reminder that you may be more capable of behaving unethically than you'd like to believe, and that urge may feel compelling. Choosing well could mean the difference between accessing the richest creative source available, and just making a mess.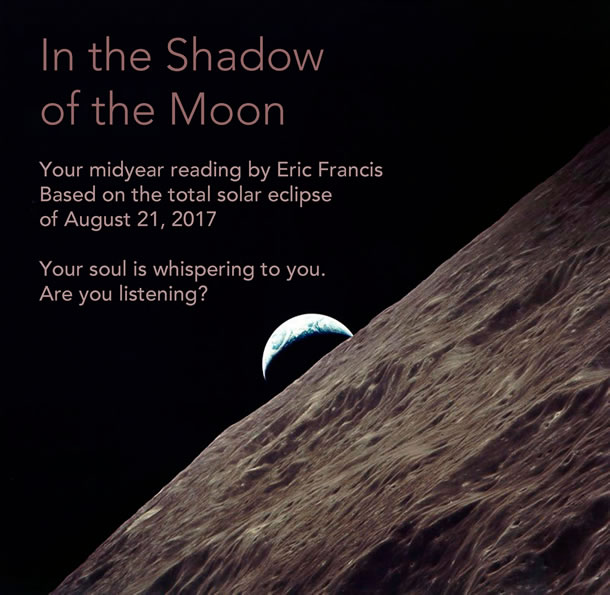 In the Shadow of the Moon, the exciting 2017 Midyear Reading by Eric Francis, is now published. Although the video readings for all 12 signs use the Great American Eclipse of Aug. 21 as a starting point,
Eric develops the themes through some of the most important astrological events you'll encounter in the remainder of 2017 and beyond
. We'll be increasing the price again very soon, so don't hesitate to
order your copy here
. You can also choose your
individual signs here
.