Watch live, commercial-free coverage of the debate on Democracy Now!

Hello Planet Waves Reader
— The Four Winds Report was originally created as a source of dependable astrology for the tribal elders at the Standing Rock protest in North Dakota [
read more here
]. Now it's available to everyone. We'll post the almanac here each morning, or if you would like to get on board, you may
sign up at this link
. Please share this newsletter with your friends. Thank you! — the PW Editors
Today is Monday, Sept. 26, 2016
Hebrew date is 23 Elul 5776
Islamic date is 24 Dhul Hijjah 1437
Mayan Tzolk'in Day is 1 Men
Mayan Long Count is 13.0.3.14.15
Julian Day is 2457658
Today's Birthdays: T.S. Eliot (1888-1965), Martin Heidegger (1889-1976), George Gershwin (1898-1937), Olivia Newton-John (1948), Serena Williams (1981).
"Poetry is not a turning loose of emotion, but an escape from emotion; it is not the expression of personality, but an escape from personality. But, of course, only those who have personality and emotions know what it means to want to escape from these things."
— T.S. Eliot
Special Comment: Sun conjunct Jupiter
Once each year, the Sun aligns in a conjunction with Jupiter, and that happens today. Jupiter entered Libra on Sept. 9, with plenty of other events distracting our attention (Mercury retrograde in Virgo, a series of eclipses and the last Saturn square Neptune).
With this conjunction we can finally get a feeling of the potential of Jupiter in Libra, which seems like a metaphor for refreshing the energy of your relationships and outlook toward them; there is a reminder of our need for fairness, which is born of wisdom; and a reflection of how Libra in any form is about elegance and beauty, both of which are essential to human happiness. Then there's a symbol of balance. We live in an era where it seems the best we can do is get accustomed to being stretched, pushed and maximized at every moment, though I have faith we can do better.
Astrology of Monday Night's Big Debate
Monday night is the first square-off in a live debate between Hillary Clinton and Donald Trump. This is perfectly suited for Sun conjunct Jupiter, aligned with the Aries Point (the early degrees of Libra are opposite the first degree of Aries). That kind of energy on the Aries Point is the setup for a huge audience. People are interested, and for good reason.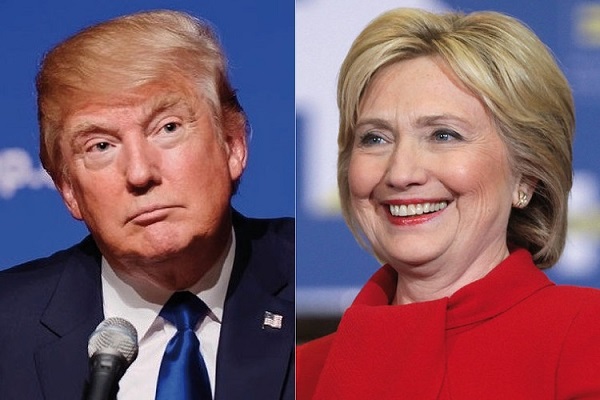 This chart comes down to Venus and Mars. Taurus is rising and Scorpio is on the 7th house cusp (the relationship angle, or 'the other'), and it seems like Clinton is represented by Venus in Scorpio and that Trump is represented by Mars in Sagittarius.
If that is true, Trump will be Trump and Clinton will be Clinton, which means that the former senator from New York and former secretary of state has a clear advantage. It's almost as if the two candidates will be addressing different countries, and speaking from entirely different realities. Clinton will feel grounded and Trump may seem like a nutter, despite the best efforts of Roger Ailes.
Mars dangling right at the end of Sagittarius describes Trump having a hard time reining it in, and possibly losing control of his presentation at least once. Clinton will seem shrewd, well-prepared and perhaps a bit proud of herself, but will be the clear winner. The debate, expected to be seen by some 100,000,000 people, takes place at 9 pm at Hofstra University on Long Island, near New York City. There will be live, commercial-free coverage on Planet Waves FM's affiliate station Democracy Now!
Moon Phase: Moon is in Last Quarter phase until 6:38 pm PDT / 9:38 pm EDT (01:38:10 9/27 UTC). Next New Moon is Sept. 30 in Libra.
Moon Sign: Moon is in Leo; enters Virgo Monday at 2:43 pm PDT / 5:43 pm EDT (21:42:42 UTC) on Sept. 27.
Sun Degree: 04-05 Libra.
Planetary Stations and Sign Changes
Pluto stations direct at 8:01 am PDT / 11:01 am EDT (15:01:31 UTC).
Urania enters Libra at 2:41 pm PDT / 5:41 pm EDT (21:41:24 UTC).
Interesting Selected Aspects
— Vesta square Uranus, 11:19 pm 9/25 PDT / 2:19 am EDT (06:19:28 UTC); and Eris 11:56 pm 9/25 PDT / 2:56 am EDT (06:56:11 UTC): Who or what you're devoted to may surprise you. Consistent, steadily offered respect is a revolutionary act. Stick to what you care about, and you'll know by what you feel.
— Sun square Chariklo, 11:39 pm 9/25 PDT / 2:39 am EDT (06:39:28 UTC): In myth, Chariklo was the wife of Chiron and also a companion of Athena. Chariklo is about devotion to relationships through thick and thin. Zane Stein notes its prominence related to the science fiction genre of books.
— Sun conjunct Jupiter, midnight PDT / 3:00 am EDT (06:59:40 UTC): this has the feeling of the dawning of a new era, particularly when combined with yesterday's exact conjunction of Uranus and Eris.
— Venus opposite Ceres, 1:06 am PDT / 4:06 am EDT (08:05:50 UTC): this explores the relationships between love, beauty, nourishment and nurture.
If Your Birthday is Sept. 26
(The Day of Patient Practice) | Get Your Birthday Reading
Devote yourself to your own freedom more than anything else. Your life is not exclusively about other people (though sometimes it feels that way), and if you want to have dependable relationships, you must hold open space for you to be yourself at all times.
Written in the Planets
Vesta's square from Cancer to the Uranus-Eris conjunction links the ongoing social mysteries regarding personal identity and the internet with the question of what is meant by home. Vesta signifies the hearth and the flame of devotion, which can at times become a powerful searchlight. Today also marks the exact conjunction between the Sun and Jupiter. However things are going for you just now, this aspect hopefully has something good to offer, even if that's simply a new perspective.