The Only Thing Missing From This Almanac Is Your Daily Horoscope
Every day, you read the Four Winds report, to get a sense of the current energies. There's just one thing missing — your daily horoscope. Written for you, every day of the week, your Planet Waves daily horoscope is designed to give you the clue you need, that little edge to make your life go smoother.
One well-placed line from an astrologer can make all the difference in your life. We now have two editions of the Four Winds Report — one with, and one without your daily reading. You may be one of the readers who've waited for years for me to offer you this — and now you can have it. Horoscope Lover membership gets you direct mailing of each day's reading, plus the weekly reading on Sunday night, and the monthly reading the last Thursday of the month. Sign up at this link.
with love,


Today is Monday, Sept. 25, 2017
Hebrew date is 5 Tishrei 5778
Islamic date is 4 Muharram 1439
Mayan Tzolk'in Day is 1 Kawak
Mayan Long Count is 13.0.4.14.19
Julian Day is 2458022
Today's Birthdays: Thomas Hunt Morgan (1866-1945), William Faulkner (1897-1962), Dmitri Shostakovich (1906-1975), Sam Rivers (1923-2011), Barbara Walters (1929), Shel Silverstein (1930-1999), Michael Douglas (1944), Cecil Womack (1947-2013), Mark Hamill (1951), bell hooks (1952), Christopher Reeve (1952-2004), Luanne Rice (1955), Heather Locklear (1961), Will Smith (1968), Catherine Zeta-Jones (1969), Donald Glover (1983).
"When the light turns green, you go. When the light turns red, you stop. But what do you do when the light turns blue with orange and lavender spots?"
— Shel Silverstein
---
Exuberant Astrology, With a Note of Caution
This week offers yet another interesting and complex round of astrology, all on the heels of the Libra equinox. Here in the Northern Hemisphere, the scales of that sign have tipped in the direction of night being longer than day. This also begins a new season, with the attendant surge of power coming from the Earth, in all hemispheres.
The new Libra Sun is distinguished this year by a long conjunction to Vesta, the brightest asteroid. The Sun has been gradually aligning with Vesta, which will be exact at 10:17 am on Wednesday, Sept. 27.
Libra is generally held to be the sign of relationships, of "you and me." The presence of the mighty Vesta in this scene is holding open the space for the kinds of relationships that are usually considered taboo, inappropriate or the result of seeming failure.
Vesta is the sigil of spiritual growth dictating the form of relationship rather than life revolving around devotion to the concept of a partner. (Autocorrect substituted the word "parent" for my original mistyping of "partner," which is accurate: partnerships that are based on parental relationships.)
In any event, Vesta holds space; whether we're talking about the hearth, which is a tribute to her, or the presence of the Vestal priestesses at all Roman government functions in the days of the empire. There was some understanding in that time that the ever-devoted Vestals provided protection for the empire, and that it would be vulnerable should their order of priestesses ever end; that turned out to be true (another story).
---
Moon Phase: Moon is in Waxing Crescent phase and enters First Quarter phase on Sept. 27-28 at 7:53 pm PDT / 10:53 pm EDT (02:53:27 UTC).
Next Full Moon is in Aries on Oct. 5 at 11:40 am PDT / 2:40 pm EDT (18:40:02 UTC).
Corresponding New Moon in Libra is on Oct. 19 at 12:12 pm PDT / 3:12 pm EDT (19:11:58 UTC).
Moon Sign: Moon is in Sagittarius and enters Capricorn on Sept. 27 at 9:24 am PDT / 12:24 pm EDT (16:23:58 UTC).
Sun Degree: 3-4 Libra.
Planetary Stations and Sign Changes
Moon enters Sagittarius at 9:01 pm Sept. 24 PDT / 12:01 am EDT (04:00:48 UTC).
Chaos stations retrograde at 1:10 am PDT / 4:10 am EDT (08:09:59 UTC).
Interesting Selected Aspects | Data by Serennu
— Mars opposite Teharonhiawako at 4:01 am PDT / 7:01 am EDT (11:01:11 UTC).
— Mars square Altjira at 4:23 am PDT / 7:23 am EDT (11:23:13 UTC).
— Mercury square Saturn at 7:35 am PDT / 10:35 am EDT (14:35:39 UTC).
— Hylonome square Elatus at 8:50 am PDT / 11:50 am EDT (15:49:46 UTC).
— Chiron square Pholus at 4:58 pm PDT / 7:58 pm EDT (23:58:09 UTC).
Subscribe to Planet Waves — sign up here | Visit Our Website at this link
If Your Birthday is Sept. 25
(The Day of the Symbiotic Satirist) | Libra Birthday Reading | All Other Signs
Honesty is the best policy because the truth always comes out. Being real with others keeps your power in your hands, to express your reality your way in your time, rather than being forced to. In doing so, you will have an impact on others, and that would seem to be the real issue. Be not afraid to use your power, and change the world.
Written in the Planets
Mercury in its home sign of Virgo squares Saturn in Sagittarius. Meanwhile, Chiron forms another exact contact with Pholus (also in Sagittarius) as part of their long-term square. This might in one sense address the importance of skepticism and discernment in deciding what to believe. If you're inclined to accept a particular point of view without question, try to understand why. More than anything else, this is about doing your intelligence justice by thinking things through. You can reach your own opinion from the facts.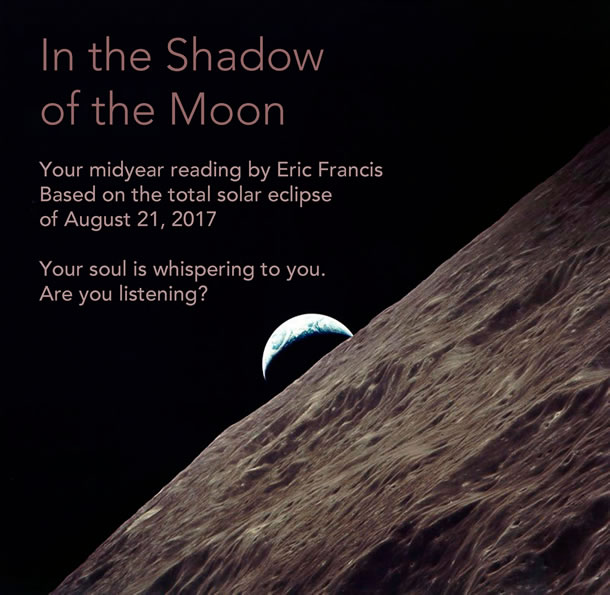 In the Shadow of the Moon, the exciting 2017 Midyear Reading by Eric Francis, is now published. Although the video readings for all 12 signs use the Great American Eclipse of Aug. 21 as a starting point,
Eric develops the themes through some of the most important astrological events you'll encounter in the remainder of 2017 and beyond
. We'll be increasing the price again very soon, so don't hesitate to
order your copy here
. You can also choose your
individual signs here
.