The Only Thing Missing From This Almanac Is Your Daily Horoscope
Every day, you read the Four Winds report, to get a sense of the current energies. There's just one thing missing — your daily horoscope. Written for you, every day of the week, your Planet Waves daily horoscope is designed to give you the clue you need, that little edge to make your life go smoother.
One well-placed line from an astrologer can make all the difference in your life. We now have two editions of the Four Winds Report — one with, and one without your daily reading. You may be one of the readers who've waited for years for me to offer you this — and now you can have it. Horoscope Lover membership gets you direct mailing of each day's reading, plus the weekly reading on Sunday night, and the monthly reading the last Thursday of the month. Sign up at this link.
with love,


Today is Sunday, Sept. 24, 2017
Hebrew date is 4 Tishrei 5778
Islamic date is 3 Muharram 1439
Mayan Tzolk'in Day is 13 Etz'nab'
Mayan Long Count is 13.0.4.14.18
Julian Day is 2458021
Today's Birthdays: F. Scott Fitzgerald (1896-1940), Howard Florey (1898-1968), Theresa Merritt (1922-1998) John Moffatt (1922-2012), Fats Navarro (1923-1950), Jim Henson (1936-1990), Linda McCartney (1941-1998), Harriet Walter (1950), Peter Halley (1953), Kevin Sorbo (1958), Nia Vardalos (1962), Robert Irvine (1965), Jessica Lucas (1985), Ben Platt (1993).
"It was pleasant to drive back to the hotel in the late afternoon, above a sea as mysteriously colored as the agates and cornelians of childhood, green as green milk, blue as laundry water, wine dark."
— F. Scott Fitzgerald
Moon Phase: Moon is in Waxing Crescent phase and enters First Quarter phase on Sept. 27-28 at 7:53 pm PDT / 10:53 pm EDT (02:53:27 UTC).
Next Full Moon is in Aries on Oct. 5 at 11:40 am PDT / 2:40 pm EDT (18:40:02 UTC).
Corresponding New Moon in Libra is on Oct. 19 at 12:12 pm PDT / 3:12 pm EDT (19:11:58 UTC).
Moon Sign: Moon is in Scorpio and enters Sagittarius tonight at 9:01 pm PDT / 12:01 am Sept. 25 EDT (04:00:48 UTC).
Sun Degree: 2-3 Libra.
Planetary Stations and Sign Changes
Ceres enters Leo at 10:41 pm Sept. 23 PDT / 1:41 am EDT (05:41:15 UTC).
Interesting Selected Aspects | Data by Serennu
— Venus trine Juno at 9:11 pm Sept. 23 PDT / 12:11 am EDT (04:11:14 UTC).
— Venus opposite Nessus at 11:07 pm Sept. 23 PDT / 2:07 am EDT (06:07:32 UTC).
— Venus conjunct Rhiphonos at 5:20 am PDT / 8:20 am EDT (12:19:47 UTC).
— Mars opposite Neptune at 12:49 pm PDT / 3:49 pm EDT (19:49:03 UTC).
— Mercury opposite Borasisi at 6:07 pm PDT / 9:07 pm EDT (01:07:04 Sept. 25 UTC).
Subscribe to Planet Waves — sign up here | Visit Our Website at this link
If Your Birthday is Sept. 24
(The Day of the Wanderer) | Libra Birthday Reading | All Other Signs
Libra is the sign of relationships, and yours will take their own unique form this year. This is unlikely to be the typical manifestation of romance. You are on call to be a facilitator in the lives of others, as they grow and change. For a while, you may need to put the needs of others above your own, in return for extraordinary experiences of learning and healing.
Written in the Planets
With Venus and Mars both making rather tricky oppositions today, it's probably best to take things cautiously and gently. If you're experiencing a little more nervous energy than you'd like, it's worth taking the time to find the most constructive outlet possible. Writing may be a useful tool, especially if any challenging emotions make an appearance. Getting things out on paper, even by and for yourself, can be an enormous relief and may also help you explore fresh conceptual ground.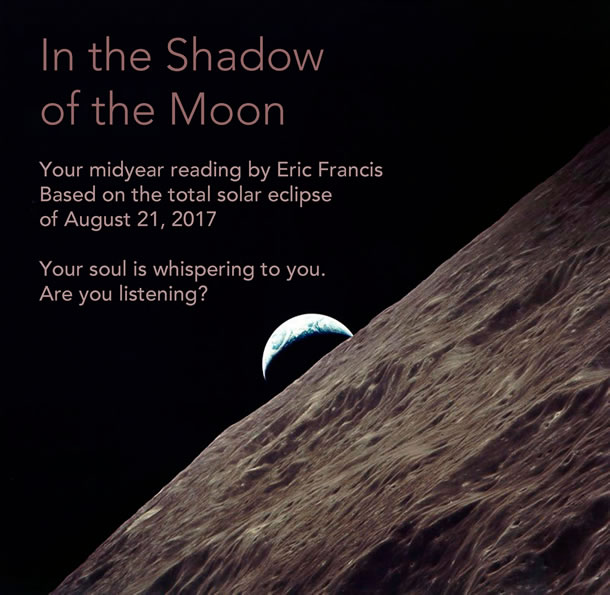 In the Shadow of the Moon, the exciting 2017 Midyear Reading by Eric Francis, is now published. Although the video readings for all 12 signs use the Great American Eclipse of Aug. 21 as a starting point,
Eric develops the themes through some of the most important astrological events you'll encounter in the remainder of 2017 and beyond
. We'll be increasing the price again very soon, so don't hesitate to
order your copy here
. You can also choose your
individual signs here
.
Pre-order your Libra audio reading today. Please use this link.