The Only Thing Missing From This Almanac Is Your Daily Horoscope
Every day, you read the Four Winds report, to get a sense of the current energies. There's just one thing missing — your daily horoscope. Written for you, every day of the week, your Planet Waves daily horoscope is designed to give you the clue you need, that little edge to make your life go smoother.
One well-placed line from an astrologer can make all the difference in your life. We now have two editions of the Four Winds Report — one with, and one without your daily reading. You may be one of the readers who've waited for years for me to offer you this — and now you can have it. Horoscope Lover membership gets you direct mailing of each day's reading, plus the weekly reading on Sunday night, and the monthly reading the last Thursday of the month. Sign up at this link.
with love,


Today is Saturday, Sept. 23, 2017
Hebrew date is 3 Tishrei 5778
Islamic date is 2 Muharram 1439
Mayan Tzolk'in Day is 12 kab'an
Mayan Long Count is 13.0.4.14.17
Julian Day is 2458020
Today's Birthdays: Victoria Woodhull (1838-1927), Ellen Hayes (1851-1930), Mary Church Terrell (1863-1954), Walter Pidgeon (1897-1984), Clifford Shull (1915-2001), Mickey Rooney (1920-2014) John Coltrane (1926-1967), Ray Charles (1930-2004), Julio Iglesias (1943), Mary Kay Place (1947), Neal Smith (1947), Dan Grolnick (1947-1996), Bruce Springsteen (1949), Ani DiFranco (1970), Jermain Dupri (1972), Layzie Bone (1975), Anthony Mackie (1978).
"I believe in that step of not just making revolutionary music but making it in a way that challenges the system, Especially in this day and age when the tools for producing and distributing are more and more accessible to the average Joe and Josephine. The possibility of emancipation and control and independence is so much greater now."
— Ani DiFranco
October 2017 Monthly Horoscope for Libra by Eric Francis
For the past 12 months, Jupiter has been in your sign, revealing the many possibilities of your life. You may have also experienced certain problems or issues being magnified, though now at least you can see in detail what they are, and what you might do about them. In the first of many new developments influencing you during the coming 12 months, Jupiter enters your neighboring sign Scorpio, which means that it's time to invest in yourself, your goals and your vision for your life. It's a message that self-esteem is the basis of all success in the world, in your relationships with others, and in your sense of belonging on the planet. This is the first of many upcoming changes directly influencing your sign. To name two others: later this year, Saturn enters Capricorn, one of the most important transits that you can experience, representing an extended phase of shoring up your foundations, cleaning your roots and resolving long-enduring problems. Then Chiron enters your house of relationships, where it will stay for about nine years. This will emphasize healing processes within partnerships of all kinds. The upshot of these transits is that — whether immediately or over the long haul — you will be transforming all of the most significant facets of your existence. Your awareness will be called where it truly matters. You will learn to stand on your own, which is the prerequisite for freedom.
You may read all 12 signs here.
Moon Phase: Moon is in New phase and enters Waxing Crescent phase tonight at 5:47 pm PDT / 8:47 pm EDT (00:47:11 Sept. 24 UTC).
Next Full Moon is in Aries on Oct. 5 at 11:40 am PDT / 2:40 pm EDT (18:40:02 UTC).
Corresponding New Moon in Libra is on Oct. 19 at 12:12 pm PDT / 3:12 pm EDT (19:11:58 UTC).
Moon Sign: Moon is in Scorpio and enters Sagittarius on Sept. 24-25 at 9:01 pm PDT / 12:01 am EDT (04:00:48 UTC).
Sun Degree: 1-2 Libra.
Planetary Stations and Sign Changes
No changes today.
Interesting Selected Aspects | Data by Serennu
— Mercury square Varda at 2:42 am PDT / 5:42 am EDT (09:42:36 UTC), and Asbolus at 4:50 am PDT / 7:50 am EDT (11:50:03 UTC).
— Sun opposite Salacia at 5:50 pm PDT / 8:50 pm EDT (00:49:48 UTC).
— Uranus opposite Rhadamanthus at 5:53 pm PDT / 8:53 pm EDT (00:52:57 UTC).
Subscribe to Planet Waves — sign up here | Visit Our Website at this link
If Your Birthday is Sept. 23
(The Day of the Breakthrough) | Birthday Readings: Virgo | Libra | Others
Stand back and look out at the world. Know that, on some level, everything you see is related to your responses to it. This is a challenging lesson for many people, who would feel better if everything was 'out there' rather than 'in here'. You, though, are ready to take a more sincere approach to what is in truth a spiritual matter. As you change the world will change.
Written in the Planets
We're in the midst of a bunch of inner planet sign changes. This might be considered a preview of the outer planet changes starting later in the year; over the next several months, Jupiter, Saturn, Chiron and Uranus will all enter new signs. Watch carefully as this week unfolds, and see what patterns you pick up: there could be some valuable clues in terms of where you might direct your energies.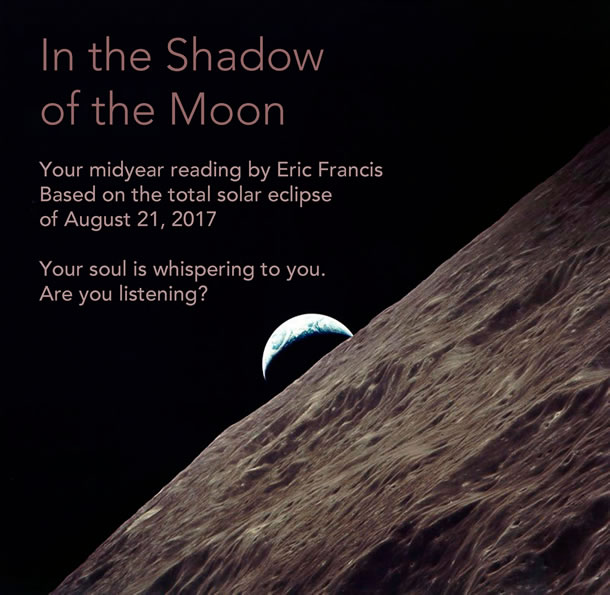 In the Shadow of the Moon, the exciting 2017 Midyear Reading by Eric Francis, is now published. Although the video readings for all 12 signs use the Great American Eclipse of Aug. 21 as a starting point,
Eric develops the themes through some of the most important astrological events you'll encounter in the remainder of 2017 and beyond
. We'll be increasing the price again very soon, so don't hesitate to
order your copy here
. You can also choose your
individual signs here
.
How will you activate your potential and passion to grow and become? You can start by ordering your Virgo Birthday Reading — recently published and currently at just $44 for some of the clearest, most immediately useful astrology you can find on the internet, designed for anyone with a Virgo Sun, Virgo rising or Virgo Moon.