The Only Thing Missing From This Almanac Is Your Daily Horoscope
Every day, you read the Four Winds report, to get a sense of the current energies. There's just one thing missing — your daily horoscope. Written for you, every day of the week, your Planet Waves daily horoscope is designed to give you the clue you need, that little edge to make your life go smoother.
One well-placed line from an astrologer can make all the difference in your life. We now have two editions of the Four Winds Report — one with, and one without your daily reading. You may be one of the readers who've waited for years for me to offer you this — and now you can have it. Horoscope Lover membership gets you direct mailing of each day's reading, plus the weekly reading on Sunday night, and the monthly reading the last Thursday of the month. Sign up at this link.
with love,


Today is Friday, Sept. 22, 2017
Hebrew date is 2 Tishrei 5778
Islamic date is 1 Muharram 1439
Mayan Tzolk'in Day is 11 Kib'
Mayan Long Count is 13.0.4.14.16
Julian Day is 2458019
Happy Birthday, Four Winds!
Today is the anniversary of the first ever Four Winds page! Thank you so much to all of you who have taken this exciting journey along with us.
On top of the information provided here, members of Planet Waves receive daily, weekly and monthly horoscopes, plus thoughtful, original articles and other goodies. We have a number of different membership options, starting at just 27 cents per day. You're invited to sign up here.
Today's Birthdays: Michael Faraday (1791-1867), Alma Thomas (1891-1978), Uri Zvi Greenberg (1896-1981), Esphyr Slobodkina (1908-2002), Hans Scholl (1918-1943), David Sive (1922-2014), James Lawson (1928), Paul Hoffert (1943), Andrea Bocelli (1958), Joan Jett (1958), Saul Perlmutter (1959), Scott Baio (1960), Sue Perkins (1969), Mystikal (1970), Elizabeth Bear (1971), Billie Piper (1982), Tom Felton (1987).
"Life is strong and fragile. It's a paradox…It's both things, like quantum physics: It's a particle and a wave at the same time. It all exists all together."
— Joan Jett
---
Great American Eclipse: Looking Back, Looking Forward
Dear Friend and Reader:
Astrology may be the most objective means of studying the world, since it's inherently meaningless. Every experiment needs a control of some kind, and astrology, removed as it is from any known law of cause and effect, provides the perfect null value.
The charts and other tools used by astrologers provide information about the timing of celestial events, but no information whatsoever about their relevance to mundane life, with the exception of information about the seasons changing (good for farming) and the lunar phases (good for hunting and for farming).
We bring all the meaning astrology has, through our stories, myths, observations, speculation and the ability to "read" a chart, which is a different form of reading from reading a book. It's still a form of literacy, though it uses entirely different capacities of the mind. So in this sense, astrology is also the most subjective means of studying the world. We see what we see, and assign meaning as a willful act.
Keeping that in mind, I'm here today to evaluate what has happened in the wake of the Great American Eclipse of Aug. 21, 2017. This was the first eclipse in U.S. history to move from coast to coast, and where totality was over the American continent itself rather than over the ocean. In a video presentation that came out shortly before the event, astrologer Dale O'Brien gave the history of eclipses that have cast shadows over the United States, and described the timing of what happened in the months after they occurred (a Google search for "Eclipse Paths" and the author's name will get you to the right video).
To sum up Dale's excellent research and presentation, there are always cascades of history-changing events after eclipses touch our country. However, they usually take slightly longer to manifest, around a month to six months.
If you study old astrology textbooks, eclipses (like comets) have a terrible reputation, and are usually associated with pestilences and disasters. Leo eclipses in particular are associated with extreme weather patterns, and Leo itself is associated with flooding events. (Hurricane Floyd, the first of what I would call the global warming hurricanes to arrive in the Northeast, happened right after an unusual Leo total solar eclipse. Hurricanes Rita and Katrina happened shortly after Saturn entered Leo in 2005.)
---
Moon Phase: Moon is in New phase and enters Waxing Crescent phase on Sept. 23-24 at 5:47 pm PDT / 8:47 pm EDT (00:47:11 UTC).
Next Full Moon is in Aries on Oct. 5 at 11:40 am PDT / 2:40 pm EDT (18:40:02 UTC).
Corresponding New Moon in Libra is on Oct. 19 at 12:12 pm PDT / 3:12 pm EDT (19:11:58 UTC).
Moon Sign: Moon is in Libra and enters Scorpio today at 10:40 am PDT / 1:40 pm EDT (17:39:52 UTC).
Sun Degree: 30 Virgo-1 Libra.
Planetary Stations and Sign Changes
Moon enters Scorpio at 10:40 am PDT / 1:40 pm EDT (17:39:52 UTC).
Sun enters Libra at 1:02 pm PDT / 4:02 pm EDT (20:01:42 UTC).
Interesting Selected Aspects | Data by Serennu
— Sun square Orius at 3:47 am PDT / 6:47 am EDT (10:47:38 UTC).
— Jupiter sextile Pholus at 8:03 am PDT / 11:03 am EDT (15:03:24 UTC).
— Mercury trine Pluto at 11:01 am PDT / 2:01 pm EDT (18:01:03 UTC).
Subscribe to Planet Waves — sign up here | Visit Our Website at this link
If Your Birthday is Sept. 22
(The Day of Restless Drive) | Birthday Readings: Virgo | Libra | Others
All good things are possible, if you keep a positive outlook. Negativity is often justified on the basis of being real, though it's just as real to look for the opportunity in every situation, to focus on learning and to see the best in others. Real is what you say is real, and you can take a chance on expressing that in a creative and adventurous way.
Written in the Planets
The Sun enters Libra today, marking the Northern fall equinox (spring in the Southern Hemisphere). The equinoxes are pretty special moments: for this short space of time, day and night are of pretty much equal length anywhere on the planet, energetically linking the whole species together. This is something well worth keeping in mind: at root, our differences are tiny, and our common ground is far more real and substantial. Offer some love to your fellow beings today.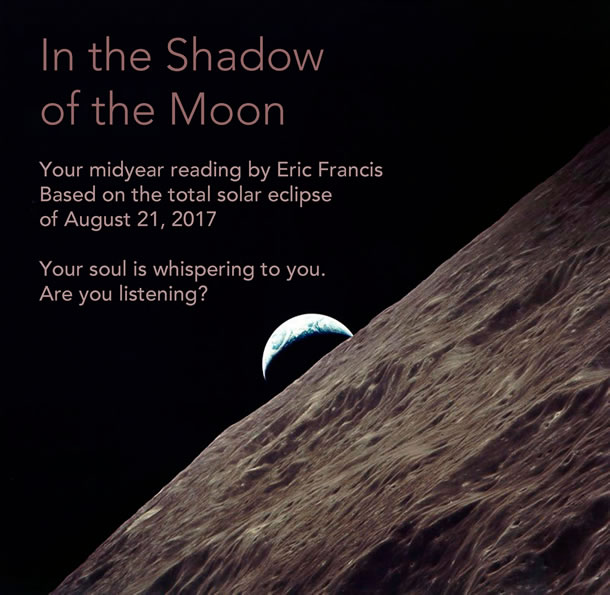 In the Shadow of the Moon, the exciting 2017 Midyear Reading by Eric Francis, is now published. Although the video readings for all 12 signs use the Great American Eclipse of Aug. 21 as a starting point,
Eric develops the themes through some of the most important astrological events you'll encounter in the remainder of 2017 and beyond
. We'll be increasing the price again very soon, so don't hesitate to
order your copy here
. You can also choose your
individual signs here
.
How will you activate your potential and passion to grow and become? You can start by ordering your Virgo Birthday Reading — recently published and currently at just $44 for some of the clearest, most immediately useful astrology you can find on the internet, designed for anyone with a Virgo Sun, Virgo rising or Virgo Moon.