The Only Thing Missing From This Almanac Is Your Daily Horoscope
Every day, you read the Four Winds report, to get a sense of the current energies. There's just one thing missing — your daily horoscope. Written for you, every day of the week, your Planet Waves daily horoscope is designed to give you the clue you need, that little edge to make your life go smoother.
One well-placed line from an astrologer can make all the difference in your life. We now have two editions of the Four Winds Report — one with, and one without your daily reading. You may be one of the readers who've waited for years for me to offer you this — and now you can have it. Horoscope Lover membership gets you direct mailing of each day's reading, plus the weekly reading on Sunday night, and the monthly reading the last Thursday of the month. Sign up at this link.
with love,


Today is Thursday, Sept. 21, 2017
Hebrew date is 1 Tishrei 5778
Islamic date is 30 Zul-Hijjah 1438
Mayan Tzolk'in Day is 10 Men
Mayan Long Count is 13.0.4.14.15
Julian Day is 2458018
Today's Birthdays: Barbara Longhi (1552-1638), H.G. Wells (1866-1946), Allen Lane (1902-1970), Leonard Cohen (1934-2016), Agnivesh (1939), Fannie Flagg (1944), Kay Ryan (1945), Stephen King (1947), Marsha Norman (1947), Bill Murray (1950), Ethan Coen (1957), Faith Hill (1967), Anne Burnell (1969), Alfonso Ribeiro (1971), Luke Wilson (1971), Taral Hicks (1974), Doc Brown (1977), Maggie Grace (1983), Wale (1984), Jason Derulo (1989).
"Melancholic and lovable is the trick, right? You've got to be able to show that you have these feelings. In the game of life, you get these feelings and how you deal with those feelings. What you do when you are trying to deal with a melancholy. A melancholy can be sweet. It's not a mean thing, but it's something that happens in life — like autumn."
— Bill Murray
Recently on Democracy Now!
In Mexico, a massive 7.1-magnitude quake struck 100 miles southeast of Mexico City Tuesday, collapsing dozens of buildings around the capital city and trapping schoolchildren, workers and residents beneath the rubble. At least 217 people are dead, and hundreds more are missing.
View this and other Democracy Now! posts here. We feature this informative show as part of our affiliation with the Pacifica Network.
Moon Phase: Moon is in New phase and enters Waxing Crescent phase on Sept. 23-24 at 5:47 pm PDT / 8:47 pm EDT (00:47:11 UTC).
Next Full Moon is in Aries on Oct. 5 at 11:40 am PDT / 2:40 pm EDT (18:40:02 UTC).
Corresponding New Moon in Libra is on Oct. 19 at 12:12 pm PDT / 3:12 pm EDT (19:11:58 UTC).
Moon Sign: Moon is in Libra and enters Scorpio on Sept. 22 at 10:40 am PDT / 1:40 pm EDT (17:39:52 UTC).
Sun Degree: 29-30 Virgo.
Planetary Stations and Sign Changes
No changes today.
Interesting Selected Aspects | Data by Serennu
— Mercury square Great Attractor at 9:56 pm Sept. 20 PDT / 12:56 am EDT (04:56:22 UTC).
— Sun square Quaoar at 5:12 am PDT / 8:12 am EDT (12:11:43 UTC).
— Juno conjunct Hylonome at 7:15 am PDT / 10:15 am EDT (14:15:31 UTC).
— Venus square Huya at 9:29 am PDT / 12:29 pm EDT (16:29:06 UTC).
— Sun sextile Ceres at 5:45 pm PDT / 8:45 pm EDT (00:44:47 Sept. 22 UTC).
Subscribe to Planet Waves — sign up here | Visit Our Website at this link
If Your Birthday is Sept. 21
(The Day of Current Taste) | Virgo Birthday Reading | All Other Signs
So often, it seems that how we feel about ourselves depends on how intimate partners, friends and the wide world feel about us. The key to true emotional freedom is to liberate yourself from this and, in the process, to feel good about yourself all the time. This calls for detachment and self-awareness, which open the potential for a whole different kind of love.
Written in the Planets
As the saying goes, "Divide and conquer." Set two groups at loggerheads, and you can gain power over them both. This tactic is being applied to its height in these turbulent days; yet, as aspects from Mercury and the Sun imply, you need not fall for it. As Eric has said in recent pieces, try to find common ground instead. We are all human beings; that's somewhere to start. We only have the one planet. Furthermore, we are a social species and we depend on each other. This is unfashionable thinking; yet it's the truth, and the more people are willing to admit it, the better.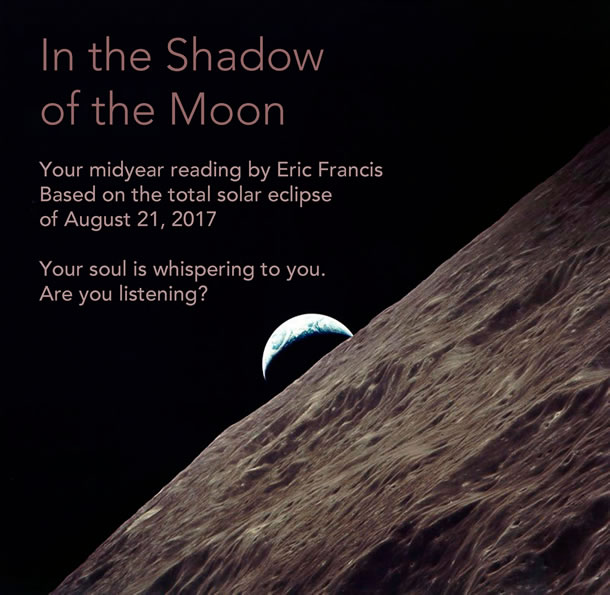 In the Shadow of the Moon, the exciting 2017 Midyear Reading by Eric Francis, is now published. Although the video readings for all 12 signs use the Great American Eclipse of Aug. 21 as a starting point,
Eric develops the themes through some of the most important astrological events you'll encounter in the remainder of 2017 and beyond
. We'll be increasing the price again very soon, so don't hesitate to
order your copy here
. You can also choose your
individual signs here
.
How will you activate your potential and passion to grow and become? You can start by ordering your Virgo Birthday Reading — recently published and currently at just $44 for some of the clearest, most immediately useful astrology you can find on the internet, designed for anyone with a Virgo Sun, Virgo rising or Virgo Moon.