The Only Thing Missing From This Almanac Is Your Daily Horoscope
Every day, you read the Four Winds report, to get a sense of the current energies. There's just one thing missing — your daily horoscope. Written for you, every day of the week, your Planet Waves daily horoscope is designed to give you the clue you need, that little edge to make your life go smoother.
One well-placed line from an astrologer can make all the difference in your life. We now have two editions of the Four Winds Report — one with, and one without your daily reading. You may be one of the readers who've waited for years for me to offer you this — and now you can have it. Horoscope Lover membership gets you direct mailing of each day's reading, plus the weekly reading on Sunday night, and the monthly reading the last Thursday of the month. Sign up at this link.
with love,


Today is Wednesday, Sept. 20, 2017
Hebrew date is 29 Elul 5777
Islamic date is 29 Zul-Hijjah 1438
Mayan Tzolk'in Day is 9 Ix
Mayan Long Count is 13.0.4.14.14
Julian Day is 2458017
Today's Birthdays: Kate Harrington (1831-1917), Sidney Olcott (1872-1949), Upton Sinclair (1878-1968), Anne Meara (1929-2015), Sophia Loren (1934), Rajinder Puri (1934-2015), Andrew Davies (1936), George R.R. Martin (1948), Gary Cole (1956), Debbi Morgan (1956), Lisa Bloom (1961), Kristen Johnston (1967), Van Jones (1968), Asia Argento (1975), Aldis Hodge (1986), Jack Lawless (1987).
"There are many different kinds of writers, I like to use the analogy of architects and gardeners. There are some writers who are architects, and they plan everything, they blueprint everything, and they know before they drive the first nail into the first board what the house is going to look like and where all the closets are going to be, where the plumbing is going to run, and everything is figured out on the blueprints before they actually begin any work whatsoever. And then there are gardeners who dig a little hole and drop a seed in and water it with their blood and see what comes up, and sort of shape it. They sort of know what seed they've planted — whether it's an oak or an elm, or a horror story or a science fiction story, but they don't how big it's going to be, or what shape it's going to take. I am much more a gardener than an architect."
— George R. R. Martin
Planet Waves FM | This is the Whole Problem, and it Always Was
In tonight's edition of Planet Waves FM [play program here], Eric focuses exclusively on Trump's threat to wage nuclear war against North Korea. Putting the nuclear arsenal into Trump's hands was the whole problem with having him be president. Well, it was one of the problems, but it's the genuinely existential threat. Nobody should have the power to detonate a nuclear bomb, and certainly not this person, who casually asked the generals why nuclear bombs were not used more often.
Moon Phase: Moon is in New phase and enters Waxing Crescent phase on Sept. 23-24 at 5:47 pm PDT / 8:47 pm EDT (00:47:11 UTC).
Next Full Moon is in Aries on Oct. 5 at 11:40 am PDT / 2:40 pm EDT (18:40:02 UTC).
Corresponding New Moon in Libra is on Oct. 19 at 12:12 pm PDT / 3:12 pm EDT (19:11:58 UTC).
Moon Sign: Moon is in Virgo and enters Libra today at 3:06 am PDT / 6:06 am EDT (10:05:54 UTC).
Sun Degree: 28-29 Virgo.
Planetary Stations and Sign Changes
Typhon enters Scorpio at 10:49 pm Sept. 19 PDT / 1:49 am EDT (05:49:32 UTC).
Moon enters Libra at 3:06 am PDT / 6:06 am EDT (10:05:54 UTC).
Interesting Selected Aspects | Data by Serennu
— Mercury square Altjira at 1:17 am PDT / 4:17 am EDT (08:17:25 UTC).
— Mercury opposite Teharonhiawako at 2:12 am PDT / 5:12 am EDT (09:11:52 UTC).
— Vesta opposite Salacia at 12:14 pm PDT / 3:14 pm EDT (19:14:22 UTC).
— Mercury trine Pallas at 6:22 pm PDT / 9:22 pm EDT (01:21:50 Sept. 21 UTC).
Subscribe to Planet Waves — sign up here | Visit Our Website at this link
If Your Birthday is Sept. 20
(The Day of the Managers) | Virgo Birthday Reading | All Other Signs
You can never really change for the sake of another person, but you certainly can change because of them. Let others have their liberating influence on you. Be open-minded and as flexible as you can be. Mostly that means letting go of any attachment to your self-concept, and seeing what you discover about your actual self. Spontaneity will help a lot.
Written in the Planets
Today's New Moon in Virgo is the first New Moon since the Aug. 21 total solar eclipse. Many people have been feeling the reverberations of that event quite palpably, both in their personal lives and in our collective experience. Today's New Moon brings one phase of this experience to a close, and opens up the next stage. (Eric's Astrology Diary for this week has a more detailed reading of the New Moon chart.) Also today: Mercury in Virgo (finally out of shadow phase) opposes Neptune in Pisces. Although this might seem to mimic some of the mental fuzziness of the recent retrograde, it's also possible to experience great spiritual awareness of what's usually below surface level. How do you know whether you're perceiving deep truths or are just confused? Wait a few days, and see how things sort themselves out.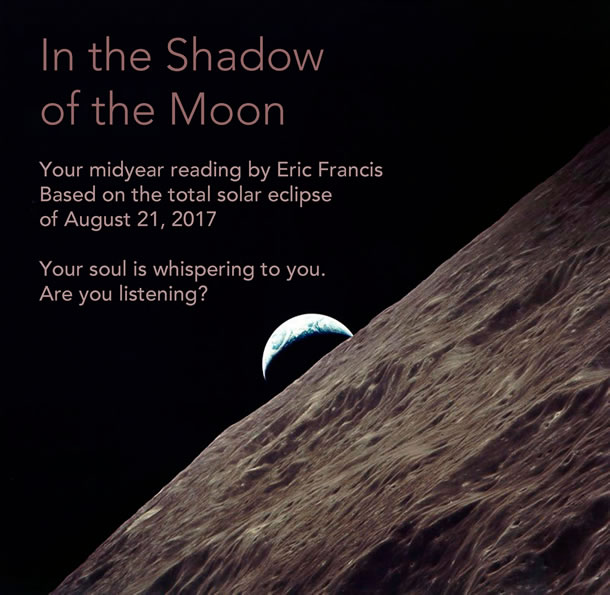 In the Shadow of the Moon, the exciting 2017 Midyear Reading by Eric Francis, is now published. Although the video readings for all 12 signs use the Great American Eclipse of Aug. 21 as a starting point,
Eric develops the themes through some of the most important astrological events you'll encounter in the remainder of 2017 and beyond
. We'll be increasing the price again very soon, so don't hesitate to
order your copy here
. You can also choose your
individual signs here
.
How will you activate your potential and passion to grow and become? You can start by ordering your Virgo Birthday Reading — recently published and currently at just $44 for some of the clearest, most immediately useful astrology you can find on the internet, designed for anyone with a Virgo Sun, Virgo rising or Virgo Moon.