The Only Thing Missing From This Almanac Is Your Daily Horoscope
Every day, you read the Four Winds report, to get a sense of the current energies. There's just one thing missing — your daily horoscope. Written for you, every day of the week, your Planet Waves daily horoscope is designed to give you the clue you need, that little edge to make your life go smoother.
One well-placed line from an astrologer can make all the difference in your life. We now have two editions of the Four Winds Report — one with, and one without your daily reading. You may be one of the readers who've waited for years for me to offer you this — and now you can have it. Horoscope Lover membership gets you direct mailing of each day's reading, plus the weekly reading on Sunday night, and the monthly reading the last Thursday of the month. Sign up at this link.
with love,


Today is Saturday, Sept. 2, 2017
Hebrew date is 11 Elul 5777
Islamic date is 11 Zul-Hijjah 1438
Mayan Tzolk'in Day is 4 k'ib'
Mayan Long Count is 13.0.4.13.16
Julian Day is 2457999
Today's Birthdays: Esteban Echeverria (1805-1851), Lucretia Hale (1820), Ruth Bancroft (1908), Romare Bearden (1911-1988), Cleveland Amory (1917-1997), Horace Silver (1928-2014), Hal Ashby (1929-1988), Rosalind Ashford (1943), Billy Preston (1946), Christa McAuliffe (1948-1986), Lynne Kosky (1958-2014), Eugenio Derbez (1962), Keanu Reeves (1964), Salma Hayek (1966), Katt Williams (1971).
"It suddenly dawned on me one day, when I was reading in the paper about a woman wrestler, that being a curmudgeon was the last thing in the world that a man can be that a woman cannot be. Women can be irritating — after all, they are women — but they cannot be curmudgeons."
— Cleveland Amory
Len Wallick | Evident and Otherwise
Neptune is hard to know. In recent days, as Len Wallick reads correlations from above to below, Neptune seems to be making itself better known. Based on what history has to say, such an emergence corresponds to a special time you can plausibly participate with to define the future in ways both evident and otherwise.
Moon Phase: Moon is in First Quarter phase and enters Waxing Gibbous phase today at 3:34 am PDT / 6:34 am EDT (10:34:35 UTC).
Next Full Moon is in Pisces on Sept. 6 at 12:03 am PDT / 3:03 am EDT (07:02:43 UTC).
Corresponding New Moon in Virgo is on Sept. 19-20 at 10:30 pm PDT / 1:30 am EDT (05:29:47 UTC).
Moon Sign: Moon is in Capricorn and enters Aquarius today at 1:06 pm PDT / 4:06 pm EDT (20:06:16 UTC).
Sun Degree: 10-11 Virgo.
Planetary Stations and Sign Changes
Echeclus stations retrograde at 7:51 am PDT / 10:51 am EDT (14:51:28 UTC).
Moon enters Aquarius at 1:06 pm PDT / 4:06 pm EDT (20:06:16 UTC).
Interesting Selected Aspects | Data by Serennu
— Venus opposite Okyrhoe at 10:51 pm Sept. 1 PDT / 1:51 am EDT (05:51:05 UTC).
— Mars trine Uranus at 5:13 am PDT / 8:13 am EDT (12:13:15 UTC).
— Sun trine Hermes at 10:15 am PDT / 1:15 pm EDT (17:15:24 UTC).
Subscribe to Planet Waves — sign up here | Visit Our Website at this link
If Your Birthday is Sept. 2
(The Day of the Businesslike Attitude) | Virgo Birthday Reading | All Other Signs
Most of our lives, we're told we cannot be the person we really are. This is enforced by all kinds of conditioning, from dress codes to rules of appropriateness to the presumed responsibility for keeping the peace. What if none of that mattered? What if the heat and momentum of your consciousness could burn or push through all of that padding? Well, you can.
Written in the Planets
Today's trine between Mars in Leo and Uranus in Aries favors trying what's new and exciting. Although, this seems to come with a caveat, regarding identifying too closely with your ideas and your ego's stake in things. Mars and retrograde Mercury are moving into a conjunction in Leo, exact tomorrow. What are your true concerns? What is honestly a matter of integrity, and what is not? Both Mars aspects are activating the recent eclipse degree; between that and Mercury's retrograde state, it seems some reflection and connecting of the dots is in order. Watch also for defensiveness — your own, or in projected form — and handle it with care, from the heart.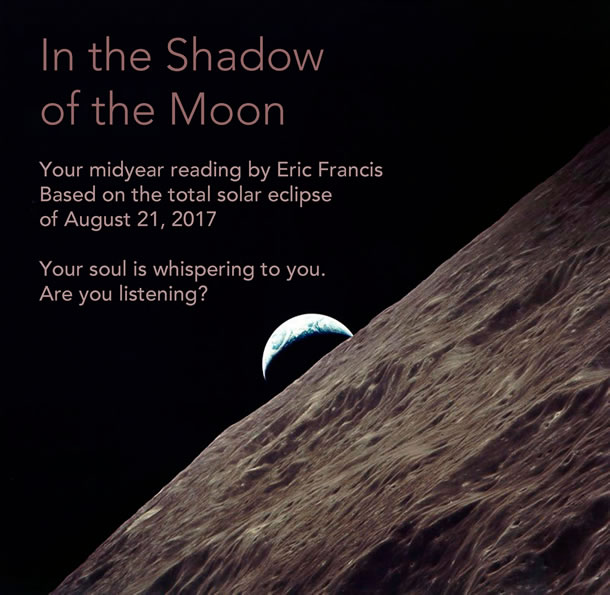 In the Shadow of the Moon, the exciting 2017 Midyear Reading by Eric Francis, is now published. The video readings for all 12 signs cover the Great American Eclipse of Aug. 21 and well beyond. We'll be increasing the price again very soon, so don't hesitate to
order your copy here
. You can also now choose your
individual signs here
.