The Only Thing Missing From This Almanac Is Your Daily Horoscope
Every day, you read the Four Winds report, to get a sense of the current energies. There's just one thing missing — your daily horoscope. Written for you, every day of the week, your Planet Waves daily horoscope is designed to give you the clue you need, that little edge to make your life go smoother.
One well-placed line from an astrologer can make all the difference in your life. We now have two editions of the Four Winds Report — one with, and one without your daily reading. You may be one of the readers who've waited for years for me to offer you this — and now you can have it. Horoscope Lover membership gets you direct mailing of each day's reading, plus the weekly reading on Sunday night, and the monthly reading the last Thursday of the month. Sign up at this link.
with love,


Today is Tuesday, Sept. 19, 2017
Hebrew date is 28 Elul 5777
Islamic date is 28 Zul-Hijjah 1438
Mayan Tzolk'in Day is 8 B'en
Mayan Long Count is 13.0.4.14.13
Julian Day is 2458016
Today's Birthdays: William Kirby (1759-1850), Mabel Vernon (1883-1975), Sarah Louise Delany (1889-1999), William Golding (1911-1993), Billy Ward (1921-2002), Adam West (1928-2017), Brian Epstein (1934-1967), Cass Elliot (1941-1974), Jeremy Irons (1948), Nile Rodgers (1952), Mario Batali (1960), Sunita Williams (1965), Victor Williams (1970), Sanaa Lathan (1971), Jimmy Fallon (1974), Tegan and Sara Quin (1980).
"We question free will, doubt it, dismiss it, experience it. We declare our own triviality on a small speck of dirt circling a small star at the rim of one countless galaxies and ignore the heroic insolence of the declaration. We have diminished the world of God and man in a universe ablaze with all the glories that contradict that diminution."
— William Golding
This Week's Horoscope for Virgo by Eric Francis Coppolino
With Mercury, Mars and the Sun moving through your birth sign, and the New Moon approaching, you're likely to be feeling the heat. That might be in the form of life being busier than even you are comfortable with, though with the lurking pressure to get it all done. Here is a clue. You only have to get certain things done — not everything. Be selective; use boundaries such as time and money, and consider your priorities from a spiritual perspective. Then do the most important things first, one at a time, and the others will follow in the momentum that you create. Wednesday's New Moon may come with some unexpected and potentially positive financial news, though you will want to review offers, contracts, and tax documents carefully. If a partner is involved, make sure they understand the scenario and have a voice in making any decisions, which can wait until after the Sun changes signs on Friday.
You may read all 12 signs here.
Moon Phase: Moon is in Balsamic (waning crescent) phase and enters New phase tonight on Sept. 19-20 at 10:30 pm PDT / 1:30 am Sept. 20 EDT (05:29:47 UTC).
Next Full Moon is in Aries on Oct. 5 at 11:40 am PDT / 2:40 pm EDT (18:40:02 UTC).
Corresponding New Moon in Libra is on Oct. 19 at 12:12 pm PDT / 3:12 pm EDT (19:11:58 UTC).
Moon Sign: Moon is in Virgo and enters Libra on Sept. 20 at 3:06 am PDT / 6:06 am EDT (10:05:54 UTC).
Sun Degree: 27-28 Virgo.
Planetary Stations and Sign Changes
Mercury leaves shadow phase at 9:01 am PDT / 12:01 pm EDT (16:00:45 UTC).
Venus enters Virgo at 6:15 pm PDT / 9:15 pm EDT (01:15:14 Sept. 20 UTC).
Interesting Selected Aspects | Data by Serennu
— Sun opposite Chiron at 12:32 am PDT / 3:32 am EDT (07:32:17 UTC).
— Sun trine Sedna at 4:39 am PDT / 7:39 am EDT (11:39:18 UTC).
— Mars conjunct Orcus at 10:23 am PDT / 1:23 pm EDT (17:23:32 UTC).
— Mars trine Chariklo at noon PDT / 3:00 pm EDT (18:59:59 UTC).
— Sun square Galactic Center at 1:47 pm PDT / 4:47 pm EDT (20:46:40 UTC).
— Haumea opposite Eris at 8:41 pm PDT / 11:41 pm EDT (03:41:38 Sept. 20 UTC).
— Mercury opposite Neptune at 8:49 pm PDT / 11:49 pm EDT (03:49:25 Sept. 20 UTC).
Subscribe to Planet Waves — sign up here | Visit Our Website at this link
If Your Birthday is Sept. 19
(The Day of Fine Appearance) | Virgo Birthday Reading | All Other Signs
If you want the freedom to begin a new phase of your life, it will help if you tie up the loose ends from prior phases. Fresh starts are based on being unimpeded by the past: done with your commitments, emotional attachments released and, most of all, your mind in the present, looking ahead. You now have the perfect leverage to make all of this real.
Written in the Planets
If you're one of the people for whom the shadow periods on either side of Mercury's recent retrograde have been more challenging than the actual retrograde, some relief should come today. Mercury finally leaves the section of the zodiac where it has ambled back and forth, and enters new territory in mid-Virgo. Take a deep breath, and take a new step. In addition, Venus enters Virgo today. You can think of this as a reminder to be intentional about offering warmth and compassion to others. It's rare that being critical of loved ones serves anything other than the speaker's need to project their own pain or insecurity onto someone else. If you hear a call to service, heed it with a touch of humility and grace.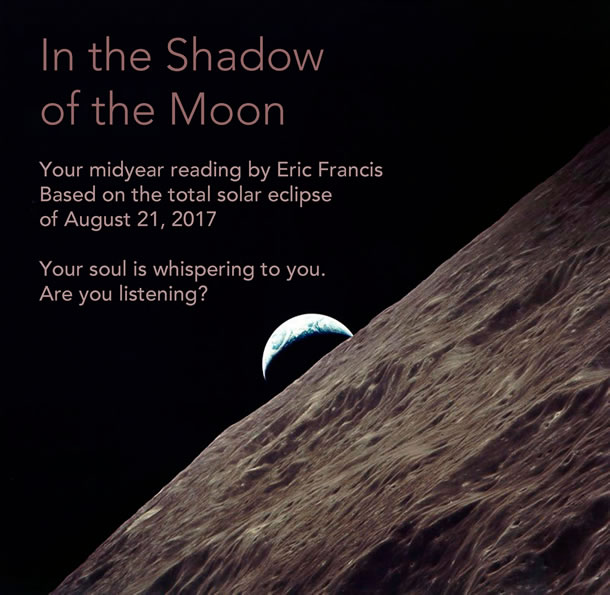 In the Shadow of the Moon, the exciting 2017 Midyear Reading by Eric Francis, is now published. Although the video readings for all 12 signs use the Great American Eclipse of Aug. 21 as a starting point,
Eric develops the themes through some of the most important astrological events you'll encounter in the remainder of 2017 and beyond
. We'll be increasing the price again very soon, so don't hesitate to
order your copy here
. You can also choose your
individual signs here
.
How will you activate your potential and passion to grow and become? You can start by ordering your Virgo Birthday Reading — recently published and currently at just $44 for some of the clearest, most immediately useful astrology you can find on the internet, designed for anyone with a Virgo Sun, Virgo rising or Virgo Moon.