The Only Thing Missing From This Almanac Is Your Daily Horoscope
Every day, you read the Four Winds report, to get a sense of the current energies. There's just one thing missing — your daily horoscope. Written for you, every day of the week, your Planet Waves daily horoscope is designed to give you the clue you need, that little edge to make your life go smoother.
One well-placed line from an astrologer can make all the difference in your life. We now have two editions of the Four Winds Report — one with, and one without your daily reading. You may be one of the readers who've waited for years for me to offer you this — and now you can have it. Horoscope Lover membership gets you direct mailing of each day's reading, plus the weekly reading on Sunday night, and the monthly reading the last Thursday of the month. Sign up at this link.
with love,


Today is Sunday, Sept. 17, 2017
Hebrew date is 26 Elul 5777
Islamic date is 26 Zul-Hijjah 1438
Mayan Tzolk'in Day is 6 Chuwen
Mayan Long Count is 13.0.4.14.11
Julian Day is 2458014
Today's Birthdays: Marquis de Condorcet (1743-1794), Edgar Wayburn (1906-2010), Hank Williams (1923-1953), Dorothy Loudon (1925-2003), Anne Bancroft (1931-2005), Ken Kesey (1935-2001), Gail Carson Levine (1947), John Ritter (1948-2003), Kyle Chandler (1965), Doug E. Fresh (1966), Cheryl Strayed (1968), Bobby Lee (1971), Mirah (1974), Flo Rida (1979), Danielle Brooks (1989), Ella Purnell (1996).
"I'm for mystery, not interpretive answers… The answer is never the answer. What's really interesting is the mystery. If you seek the mystery instead of the answer, you'll always be seeking. I've never seen anybody really find the answer, but they think they have. So they stop thinking. But the job is to seek mystery, evoke mystery, plant a garden in which strange plants grow and mysteries bloom. The need for mystery is greater than the need for an answer."
— Ken Kesey
Len Wallick | One Step, One Stitch at a Time
It is always important to be present in the moment, but often it is also helpful to be aware of where you are over a longer span of time. Today, Len Wallick offers both a look back and a glimpse ahead so that you can better appreciate this moment as well as your place in it.
Moon Phase: Moon is in Balsamic (waning crescent) phase and enters New phase on Sept. 19-20 at 10:30 pm PDT / 1:30 am EDT (05:29:47 UTC).
Next New Moon is in Virgo on Sept. 19-20 at 10:30 pm PDT / 1:30 am EDT (05:29:47 UTC).
Next Full Moon is in Aries on Oct. 5 at 11:40 am PDT / 2:40 pm EDT (18:40:02 UTC).
Moon Sign: Moon is in Leo and enters Virgo tonight at 9:52 pm PDT / 12:52 am Sept. 18 EDT (04:52:13 UTC).
Sun Degree: 25-26 Virgo.
Planetary Stations and Sign Changes
Chariklo stations direct at 2:53 am PDT / 5:53 am EDT (09:53:22 UTC).
Interesting Selected Aspects | Data by Serennu
— Venus square Sedna at 1:57 am PDT / 4:57 am EDT (08:56:53 UTC).
— Vesta square Orius at 3:34 am PDT / 6:34 am EDT (10:34:24 UTC).
— Juno square Elatus at 12:52 pm PDT / 3:52 pm EDT (19:52:34 UTC).
— Ceres square Uranus at 3:24 pm PDT / 6:24 pm EDT (22:24:13 UTC).
— Mercury conjunct Orcus at 5:36 pm PDT / 8:36 pm EDT (00:36:05 Sept. 18 UTC).
Subscribe to Planet Waves — sign up here | Visit Our Website at this link
If Your Birthday is Sept. 17
(The Day of Perseverance) | Virgo Birthday Reading | All Other Signs
It's been an interesting few years, with barely a dull moment. Yet your real process of transformation is just getting going. You are being challenged by the universe to be yourself and only yourself at all times. Ultimately this is your only option, though it will come as a relief when you throw out anything but your actual being and reality.
Written in the Planets
As Amanda Painter discussed in her Thursday article, Ceres squaring Uranus today might serve as a reminder to consider (or reconsider) your habits around eating, nutrition and health. It might also draw attention to how the disembodying effect of the internet has influenced our relationship to food and to the planet itself. Cooking a good meal from scratch, getting out among lots of growing green entities or simply doing something kind are all useful ways of grounding, should you need it.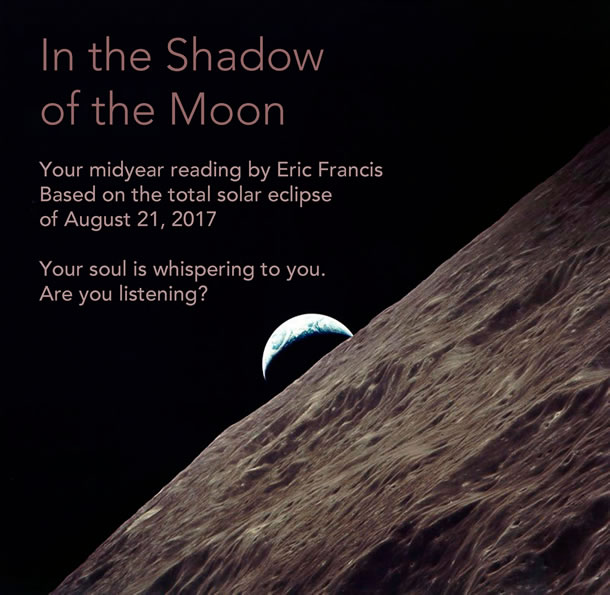 In the Shadow of the Moon, the exciting 2017 Midyear Reading by Eric Francis, is now published. Although the video readings for all 12 signs use the Great American Eclipse of Aug. 21 as a starting point,
Eric develops the themes through some of the most important astrological events you'll encounter in the remainder of 2017 and beyond
. We'll be increasing the price again very soon, so don't hesitate to
order your copy here
. You can also now choose your
individual signs here
.
How will you activate your potential and passion to grow and become? You can start by ordering your Virgo Birthday Reading — recently published and currently at just $44 for some of the clearest, most immediately useful astrology you can find on the internet, designed for anyone with a Virgo Sun, Virgo rising or Virgo Moon.