The Only Thing Missing From This Almanac Is Your Daily Horoscope
Every day, you read the Four Winds report, to get a sense of the current energies. There's just one thing missing — your daily horoscope. Written for you, every day of the week, your Planet Waves daily horoscope is designed to give you the clue you need, that little edge to make your life go smoother.
One well-placed line from an astrologer can make all the difference in your life. We now have two editions of the Four Winds Report — one with, and one without your daily reading. You may be one of the readers who've waited for years for me to offer you this — and now you can have it. Horoscope Lover membership gets you direct mailing of each day's reading, plus the weekly reading on Sunday night, and the monthly reading the last Thursday of the month. Sign up at this link.
with love,


Today is Saturday, Sept. 16, 2017
Hebrew date is 25 Elul 5777
Islamic date is 25 Zul-Hijjah 1438
Mayan Tzolk'in Day is 5 Ok
Mayan Long Count is 13.0.4.14.10
Julian Day is 2458013
Today's Birthdays: Angelo Maria Amorevoli (1716-1798), Anna Kingsford (1846-1888), T.E. Hulme (1883-1917), Jon Hendricks (1921), Lauren Bacall (1924-2014), B.B. King (1925-2015), John Knowles (1926-2011), James Alan McPherson (1943-2016), Ed Begley Jr. (1949), Vince Bell (1951), David Copperfield (1956), Richard Marx (1963), Molly Shannon (1964), Marc Anthony (1968), Amy Poehler (1971), Musiq Soulchild (1977), Flo Rida (1979), Fan Bingbing (1981), Alexis Bledel (1981), Katie Melua (1984), Nick Jonas (1992).
"It seemed clear that wars were not made by generations and their special stupidities, but that wars were made instead by something ignorant in the human heart."
— John Knowles (A Separate Peace)
Planet Waves Daily Oracle for Sept. 16, 2017
Today's Oracle takes us to the Libra monthly for December 2012.
Are you feeling confident, or afraid that the ground is going to drop out beneath you? Is it time to embrace the people in your life, or are you making more excuses to keep them at arm's length? What you're going through is certainly deep, and it's stirring up some old questions, some fear and many of your old reasons to keep people at a distance. That said, I don't think there is a time when we're actually 'ready' to be close to others. Rather, I would say there may be a time when we understand that everyone is a work in progress. Part of that progress is the willingness to accept your insecurities, not as a permanent part of who you are but rather something you experience.
To accept your insecurities implies revealing them in intimate situations, which in turn implies giving people power over you. Here's the problem with this point of view: if you see your life as a power dynamic, you're living in the world of politics rather than human emotions. Part of your Libra karma is to understand what one professor at my university called 'the politics of love', which includes the politics of your early-childhood environment. That may have been a rigid world, based more on expectations than on compassion. You have the awareness and determination to see the implications of the past on your life today, and to work them out. I would ask: what's that inside your velvet glove? Is it an iron fist, or a warm, loving hand?
The Oracle is a daily mini-reading divined from our extensive Horoscope Archive. You can research any Planet Waves horoscope published since 1999 at the Horoscope Archive and Oracle.
Moon Phase: Moon is in Last Quarter phase and enters Balsamic (waning crescent) phase on Sept. 16 at 9:32 am PDT / 12:32 pm EDT (16:32:33 UTC).
Next New Moon is in Virgo on Sept. 19-20 at 10:30 pm PDT / 1:30 am EDT (05:29:47 UTC).
Next Full Moon is in Aries on Oct. 5 at 11:40 am PDT / 2:40 pm EDT (18:40:02 UTC).
Moon Sign: Moon is in Leo and enters Virgo on Sept. 17-18 at 9:52 pm PDT / 12:52 am EDT (04:52:13 UTC).
Sun Degree: 24-25 Virgo.
Planetary Stations and Sign Changes
No changes today.
Interesting Selected Aspects | Data by Serennu
— Sun square Chaos at 6:19 am PDT / 9:19 am EDT (13:19:13 UTC), and Ixion at 6:33 am PDT / 9:33 am EDT (13:33:29 UTC).
— Mercury conjunct Mars at 12:01 pm PDT / 3:01 pm EDT (19:01:19 UTC).
— Sun opposite Manwe at 1:03 pm PDT / 4:03 pm EDT (20:03:32 UTC).
— Venus trine Pholus at 3:15 pm PDT / 6:15 pm EDT (22:15:10 UTC).
— Venus square Bienor at 8:14 pm PDT / 11:14 pm EDT (03:13:57 Sept. 17 UTC).
Subscribe to Planet Waves — sign up here | Visit Our Website at this link
If Your Birthday is Sept. 16
(The Day of Spirited Energies) | Virgo Birthday Reading | All Other Signs
There's a limit to the extent you can shape your life to the will of another person. You have your own agenda, and you've set aside many plans for the sake of others. If your own free will or any unusual circumstances liberate you to fulfill your dreams, take that opportunity. To share your life with others, it must first be your own.
Written in the Planets
Today's square between the Virgo Sun and Ixion in Sagittarius looks like a clear reminder to remember the Golden Rule. Or, even better, a modified version: treat others as they would like to be treated, and remember that you'll feel best about yourself if you're ethical, honest and compassionate about it. Meanwhile, Mercury and Mars make their conjunction in Virgo today. Are you hearing an echo or a continuation from something that happened on Sept. 3, when they last conjoined — particularly something that relates to the Aug. 21 eclipse? Notice how closely your ego is identified with non-essentials, and see if you can channel all this mental and physical stamina into serving a greater need or project.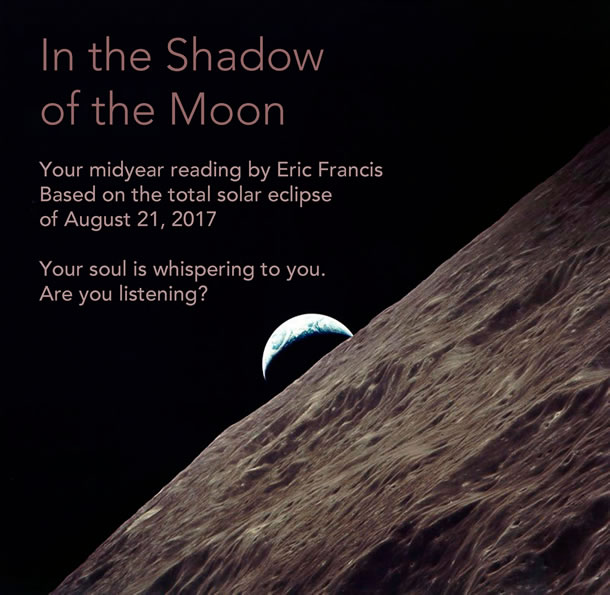 In the Shadow of the Moon, the exciting 2017 Midyear Reading by Eric Francis, is now published. Although the video readings for all 12 signs use the Great American Eclipse of Aug. 21 as a starting point,
Eric develops the themes through some of the most important astrological events you'll encounter in the remainder of 2017 and beyond
. We'll be increasing the price again very soon, so don't hesitate to
order your copy here
. You can also now choose your
individual signs here
.
How will you activate your potential and passion to grow and become? You can start by pre-ordering your Virgo Birthday Reading — at the lowest price we offer: just $33 for some of the clearest, most immediately useful astrology you can find on the internet, designed for anyone with a Virgo Sun, Virgo rising or Virgo Moon.