The Only Thing Missing From This Almanac Is Your Daily Horoscope
Every day, you read the Four Winds report, to get a sense of the current energies. There's just one thing missing — your daily horoscope. Written for you, every day of the week, your Planet Waves daily horoscope is designed to give you the clue you need, that little edge to make your life go smoother.
One well-placed line from an astrologer can make all the difference in your life. We now have two editions of the Four Winds Report — one with, and one without your daily reading. You may be one of the readers who've waited for years for me to offer you this — and now you can have it. Horoscope Lover membership gets you direct mailing of each day's reading, plus the weekly reading on Sunday night, and the monthly reading the last Thursday of the month. Sign up at this link.
with love,


Today is Wednesday, Sept. 13, 2017
Hebrew date is 22 Elul 5777
Islamic date is 22 Zul-Hijjah 1438
Mayan Tzolk'in Day is 2 Manik'
Mayan Long Count is 13.0.4.14.7
Julian Day is 2458010
Today's Birthdays: Constantin Caratheodory (1873-1950), Amelie Beese (1886-1925), J. B. Priestley (1894-1984), Claudette Colbert (1903-1996), Bill Monroe (1911-1996), Roald Dahl (1916-1990), Mel Torme (1925-1999), Robert Indiana (1928), Don Bluth (1937), Mildred D. Taylor (1943), Jacqueline Bisset (1944), Nell Carter (1948-2003), Jeff Lowe (1950), Jean Smart (1951), Don Was (1952), Anne Geddes (1956), Tyler Perry (1969), Fiona Apple (1977), Swizz Beatz (1978), Molly Crabapple (1983).
"A person is a fool to become a writer. His only compensation is absolute freedom."
— Roald Dahl
Planet Waves FM | Our American Disasters, and of 'Liberal' and 'Conservative'
In tonight's Planet Waves FM [play program here], Eric looks at the recent disasters in our era of consequences. He considers the astrology of our moment, and recent events as an outgrowth or physical representation of the eclipse. He also gives a talk on the concepts "liberal" and "conservative," and how these notions are completely convoluted and even reversed at this time.
Moon Phase: Moon is in Last Quarter phase and enters Balsamic (waning crescent) phase on Sept. 16 at 9:32 am PDT / 12:32 pm EDT (16:32:33 UTC).
Next New Moon is in Virgo on Sept. 19-20 at 10:30 pm PDT / 1:30 am EDT (05:29:47 UTC).
Next Full Moon is in Aries on Oct. 5 at 11:40 am PDT / 2:40 pm EDT (18:40:02 UTC).
Moon Sign: Moon is in Gemini and enters Cancer today at 3:12 pm PDT / 6:12 pm EDT (22:12:16 UTC).
Sun Degree: 21-22 Virgo.
Planetary Stations and Sign Changes
Altjira stations retrograde at 10:35 pm Sept. 12 PDT / 1:35 am EDT (05:35:03 UTC).
Moon enters Cancer at 3:12 pm PDT / 6:12 pm EDT (22:12:16 UTC).
Interesting Selected Aspects | Data by Serennu
— Sun opposite Borasisi at 11:58 am PDT / 2:58 pm EDT (18:58:19 UTC).
— Mars opposite Nessus at 4:06 pm PDT / 7:06 pm EDT (23:06:36 UTC).
— Mercury trine Juno at 7:22 pm PDT / 10:22 pm EDT (02:22:11 Sept. 14 UTC).
— Sun square Saturn at 7:58 pm PDT / 10:58 pm EDT (02:58:18 Sept. 14 UTC).
Subscribe to Planet Waves — sign up here | Visit Our Website at this link
If Your Birthday is Sept. 13
(The Day of Passionate Care) | Virgo Birthday Reading | All Other Signs
Your mind is moving at a remarkable speed, though you must slow down your process of making decisions. It's essential that you check carefully with what you've learned from past experiences. Then you must ask yourself what you really and truly want. If you combine these two methods, you'll see your options for what they are — and that's when to consider choosing.
Written in the Planets
Today brings the last quarter Moon. This marks the last phase of the lunar cycle that began with the Aug. 21 solar eclipse and New Moon. So although the eclipse effects will continue to ripple out and develop on the macro level, on the more immediate or micro level, something seems to be winding down. What project will you bring to completion in the next week? The sky offers additional questions today. An opposition between Mars in Virgo and centaur planet Nessus in Pisces seems to be asking where your industriousness or eagerness to serve is being confronted by emotional patterns that get in your way. By facing them, you have a chance to stop the proverbial buck. At the same time, the Virgo Sun is square Saturn in Sagittarius. You may feel like you have to choose between self-gratification and fulfilling your duties to others. The best way to find out if you're really as restricted as you think you are is to ask; don't assume. Have an adult-to-adult conversation with the person 'in charge', and channel any impatience into self-discipline.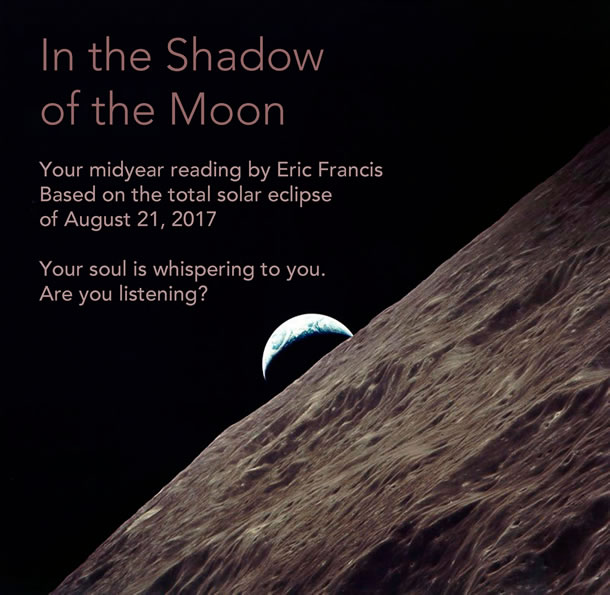 In the Shadow of the Moon, the exciting 2017 Midyear Reading by Eric Francis, is now published. Although the video readings for all 12 signs use the Great American Eclipse of Aug. 21 as a starting point,
Eric develops the themes through some of the most important astrological events you'll encounter in the remainder of 2017 and beyond
. We'll be increasing the price again very soon, so don't hesitate to
order your copy here
. You can also now choose your
individual signs here
.
How will you activate your potential and passion to grow and become? You can start by pre-ordering your Virgo Birthday Reading — at the lowest price we offer: just $33 for some of the clearest, most immediately useful astrology you can find on the internet, designed for anyone with a Virgo Sun, Virgo rising or Virgo Moon.