The Only Thing Missing From This Almanac Is Your Daily Horoscope
Every day, you read the Four Winds report, to get a sense of the current energies. There's just one thing missing — your daily horoscope. Written for you, every day of the week, your Planet Waves daily horoscope is designed to give you the clue you need, that little edge to make your life go smoother.
One well-placed line from an astrologer can make all the difference in your life. We now have two editions of the Four Winds Report — one with, and one without your daily reading. You may be one of the readers who've waited for years for me to offer you this — and now you can have it. Horoscope Lover membership gets you direct mailing of each day's reading, plus the weekly reading on Sunday night, and the monthly reading the last Thursday of the month. Sign up at this link.
with love,


Today is Sunday, Sept. 10, 2017
Hebrew date is 19 Elul 5777
Islamic date is 19 Zul-Hijjah 1438
Mayan Tzolk'in Day is 12 K'an
Mayan Long Count is 13.0.4.14.4
Julian Day is 2458007
Today's Birthdays: Hannah Webster Foster (1758-1840), Alice Brown Davis (1852-1935), Georgia Douglas Johnson (1880-1966), Hilda "H.D." Doolittle (1886-1961), Adele Astaire (1896-1981), Roy Brown (1920-1981), Mary Oliver (1935), Jared Diamond (1937), Alison Bechdel (1960), Colin Firth (1960), Big Daddy Kane (1968), Guy Ritchie (1968), Ryan Philippe (1974), Melanie Pullen (1975), Misty Copeland (1982).
"'The environment has to be balanced against the economy.' This quote portrays environmental concerns as a luxury, views measures to solve environmental problems as incurring a net cost, and considers leaving environmental problems unsolved to be a money-saving device. This one-liner puts the truth exactly backwards. Environmental messes cost us huge sums of money both in the short run and in the long run; cleaning up or preventing those messes saves us huge sums in the long run, and often in the short run as well. In caring for the health of our surroundings, just as of our bodies, it is cheaper and preferable to avoid getting sick than to try to cure illnesses after they have developed."
— Jared Diamond
Len Wallick | What's Going On
To recover your power and reduce the risk of speculation, you must start by verifying information. As Len Wallick interprets the astrology and corresponding events of the recent past, once your data is no longer subject to question, you can do even more. You can question the ongoing.
Moon Phase: Moon is in Disseminating (waning gibbous) phase and enters Last Quarter phase on Sept. 12-13 at 11:25 pm PDT / 2:25 am EDT (06:24:56 UTC).
Next New Moon is in Virgo on Sept. 19-20 at 10:30 pm PDT / 1:30 am EDT (05:29:47 UTC).
Next Full Moon is in Aries on Oct. 5 at 11:40 am PDT / 2:40 pm EDT (18:40:02 UTC).
Moon Sign: Moon is in Taurus and enters Gemini on Sept. 11 at 12:29 pm PDT / 3:29 pm EDT (19:29:15 UTC).
Sun Degree: 18-19 Virgo.
Planetary Stations and Sign Changes
Pholus stations direct at 5:12 am PDT / 8:12 am EDT (12:12:27 UTC).
Interesting Selected Aspects | Data by Serennu
— Venus sextile Asbolus at 12:13 am PDT / 3:13 am EDT (07:12:42 UTC).
— Sun square Varda at 4:14 am PDT / 7:14 am EDT (11:14:37 UTC), and Asbolus at 9:31 am PDT / 12:31 pm EDT (16:31:02 UTC).
— Vesta square Pholus at 9:06 am PDT / 12:06 pm EDT (16:05:41 UTC).
— Mars trine Juno at 10:37 am PDT / 1:37 pm EDT (17:37:26 UTC).
— Venus square Ceto at 1:40 pm PDT / 4:40 pm EDT (20:39:56 UTC).
Subscribe to Planet Waves — sign up here | Visit Our Website at this link
If Your Birthday is Sept. 10
(The Day of Private Goals) | Virgo Birthday Reading | All Other Signs
You are rediscovering who you are, in a new and bold way. However, who you are changes continuously, and being stuck in one identity or self-concept is an illusion. Give yourself permission to be more than you might ordinarily believe, and more freedom to move freely than you typically would. Rather than ask permission, inform people of your plans.
Written in the Planets
Mars in early Virgo forming a trine to Juno in Capricorn poses the question of service. In the present environment, there are many possible options when it comes to supporting other people, or making a difference in your community. Giving yourself in service to a cause is a wonderful way to create a lasting positive effect. If you're not sure where to begin, start with what sparks your passion for justice almost autonomically.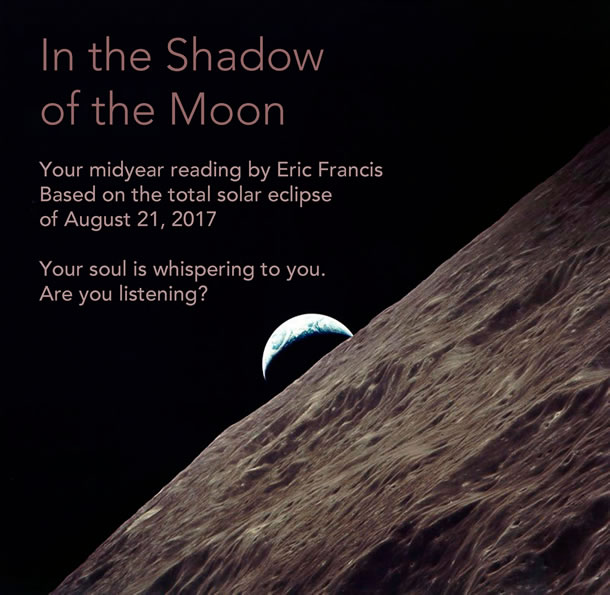 In the Shadow of the Moon, the exciting 2017 Midyear Reading by Eric Francis, is now published. The video readings for all 12 signs cover the Great American Eclipse of Aug. 21 and well beyond. We'll be increasing the price again very soon, so don't hesitate to
order your copy here
. You can also now choose your
individual signs here
.
How will you activate your potential and passion to grow and become? You can start by pre-ordering your Virgo Birthday Reading — at the lowest price we offer: just $33 for some of the clearest, most immediately useful astrology you can find on the internet, designed for anyone with a Virgo Sun, Virgo rising or Virgo Moon.