The Only Thing Missing From This Almanac Is Your Daily Horoscope
Every day, you read the Four Winds report, to get a sense of the current energies. There's just one thing missing — your daily horoscope. Written for you, every day of the week, your Planet Waves daily horoscope is designed to give you the clue you need, that little edge to make your life go smoother.
One well-placed line from an astrologer can make all the difference in your life. We now have two editions of the Four Winds Report — one with, and one without your daily reading. You may be one of the readers who've waited for years for me to offer you this — and now you can have it. Horoscope Lover membership gets you direct mailing of each day's reading, plus the weekly reading on Sunday night, and the monthly reading the last Thursday of the month. Sign up at this link.
with love,


Today is Tuesday, Oct. 3, 2017
Hebrew date is 13 Tishrei 5778
Islamic date is 12 Muharram 1439
Mayan Tzolk'in Day is 9 Manik'
Mayan Long Count is 13.0.4.15.7
Julian Day is 2458030
Today's Birthdays: Eleonora Duse (1858-1924), Pierre Bonnard (1867-1947), Sophie Treadwell (1885-1970), Ray Stark (1915-2004), Harvey Kurtzman (1924-1993), Gore Vidal (1925-2012), Chubby Checker (1941), John Perry Barlow (1947), Lindsey Buckingham (1949), Kathryn D. Sullivan (1951), Al Sharpton (1954), Gwen Stefani (1969), Neve Campbell (1973), Lena Headey (1973), India Arie (1975), Seann William Scott (1976), Jake Shears (1978), Alicia Vikander (1988).
"I do believe the (Democratic) party has moved far to the right. I do believe that the party has a bunch of elephants running around in donkey clothes."
— Al Sharpton
This Week's Horoscope for Libra by Eric Francis Coppolino
If a relationship seems to be manifesting in some exaggerated form, it's probable that the seeming issue has nothing to do with what's actually going on. It will certainly be convincing that what you think you see, or think you feel, is the real thing. There will be clues that something else is going on, including the projection of gender roles. You might hear yourself describe the way that women act generally, or that men act; you might in some other way see these qualities as being outside of yourself. What you are being called to do is experience them as inside yourself, and own your own perceptions, ideas and judgments as interior realities, and not project them onto anyone or anything. This may be one of the greatest challenges of consciousness, since so much seems to exist outside of ourselves. As A Course in Miracles suggests, projection makes perception.
You may read all 12 signs here.
Moon Phase: Moon is in Waxing Gibbous phase and enters Full phase on Oct. 5 at 11:40 am PDT / 2:40 pm EDT (18:40:02 UTC).
Next Full Moon is in Aries on Oct. 5 at 11:40 am PDT / 2:40 pm EDT (18:40:02 UTC).
Corresponding New Moon in Libra is on Oct. 19 at 12:12 pm PDT / 3:12 pm EDT (19:11:58 UTC).
Moon Sign: Moon is in Pisces and enters Aries on Oct. 4 at 1:39 pm PDT / 4:39 pm EDT (20:39:31 UTC).
Sun Degree: 11-12 Libra.
Planetary Stations and Sign Changes
No changes today.
Interesting Selected Aspects | Data by Serennu
— Mercury square Juno at 11:19 am PDT / 2:19 pm EDT (18:18:54 UTC).
— Venus trine Pluto at 12:09 pm PDT / 3:09 pm EDT (19:09:04 UTC).
— Mars square Asbolus at 3:13 pm PDT / 6:13 pm EDT (22:12:59 UTC), and Varda at 4:37 pm PDT / 7:37 pm EDT (23:36:46 UTC).
Subscribe to Planet Waves — sign up here | Visit Our Website at this link
If Your Birthday is Oct. 3
(The Day of the Trendsetters) | Libra Birthday Reading | All Other Signs
You must be realistic where work-related matters are concerned, and take a sober, organized and structured approach. You have plenty of imagination, and even more inspiration. Yet in order to manifest any of your goals, the secret ingredients will be focus and follow-through. Where health matters are concerned, your emotional life is the place to focus your efforts at wellness.
Written in the Planets
Are you communicating fairly about your longstanding relationship needs? That is to say, what seems to be driving you more: the desire for harmony and understanding, or the need to feel emotionally validated regarding something with deep roots in the past? The two positions need not be mutually exclusive — but Mercury in Libra making a square to Juno in Capricorn today is pushing you to figure out how to actively integrate it all. Meanwhile, Venus in Virgo trine Pluto in Capricorn intensifies love and sexual desire — grounding the mind and emotions firmly in the body, thanks to the earth signs involved. Notice and embrace what your inner depths are revealing to you about your relationships; bonus points if you can channel it into making art.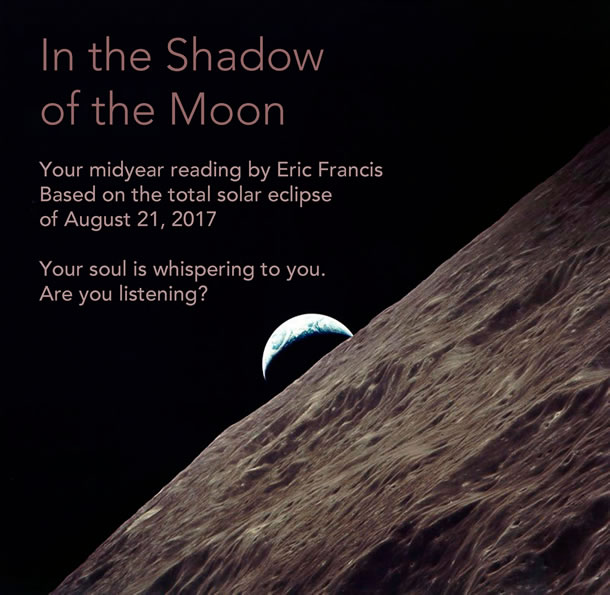 In the Shadow of the Moon, the exciting 2017 Midyear Reading by Eric Francis, is now published. Although the video readings for all 12 signs use the Great American Eclipse of Aug. 21 as a starting point,
Eric develops the themes through some of the most important astrological events you'll encounter in the remainder of 2017 and beyond
. We'll be increasing the price again very soon, so don't hesitate to
order your copy here
. You can also choose your
individual signs here
.
Order your Libra audio reading today. Please use this link.