The Only Thing Missing From This Almanac Is Your Daily Horoscope
Every day, you read the Four Winds report, to get a sense of the current energies. There's just one thing missing — your daily horoscope. Written for you, every day of the week, your Planet Waves daily horoscope is designed to give you the clue you need, that little edge to make your life go smoother.
One well-placed line from an astrologer can make all the difference in your life. We now have two editions of the Four Winds Report — one with, and one without your daily reading. You may be one of the readers who've waited for years for me to offer you this — and now you can have it. Horoscope Lover membership gets you direct mailing of each day's reading, plus the weekly reading on Sunday night, and the monthly reading the last Thursday of the month. Sign up at this link.
with love,


Today is Sunday, Oct. 1, 2017
Hebrew date is 11 Tishrei 5778
Islamic date is 10 Muharram 1439
Mayan Tzolk'in Day is 7 Chikchan
Mayan Long Count is 13.0.4.15.5
Julian Day is 2458028
Today's Birthdays: Luigi Guido Grandi (1671-1742), Charles Cros (1842-1888), Annie Besant (1847-1933), Cliff Friend (1893-1974), Ted Healy (1896-1937), Irwin Kostal (1911-1994), Walter Matthau (1920-2000), Richard Harris (1930-2002), Julie Andrews (1935), Donny Hathaway (1945-1979), Andre Rieu (1949), Earl Slick (1952), Youssou N'Dour (1959), Zach Galifianakis (1969), Sarah Drew (1980), Beck Bennett (1984), Brie Larson (1989).
"The true Mystic, realising God, has no need of any Scriptures, for he has touched the source whence all Scriptures flow."
— Annie Besant
Planet Waves Daily Oracle for Oct. 1, 2017
Today's Oracle takes us to the Gemini monthly for May 2010.
You may be aware of how you would live boldly in a perfect world, rather than the edgy, competitive place we find ourselves at the moment. You are suited for leadership in a place that honors the softer aspects of human nature; that makes space for the hidden life we all possess; that is less concerned with profits than it is with embracing love and peace. Chiron in Pisces is here to awaken you to the fact that whatever state the world may be in, your life needs to be oriented on these subtler attributes of existence. In particular, the work you do every day would benefit from harmonizing with the spiritually or creatively oriented energy of Pisces.
The chances are you already have a vision for a professional life that would be something like this, but you don't necessarily say anything about it. Part of you may be too cynical to believe it's possible. In your belief system, it may not be possible all at once, but it's something you'll be steadily growing toward over the next 10 years, as you move from a kind of active dream state to enacting concrete ideas. Here is an image: Imagine you live near a river, in a time when rivers were safe and clean. Every day you go to the river and gather water and bring it to where you live. Then one day you figure out that you can build a pipe and divert a little of that water on a constant basis, and have it transported to where you need it.
The Oracle is a daily mini-reading divined from our extensive Horoscope Archive. You can research any Planet Waves horoscope published since 1999 at the Horoscope Archive and Oracle.
Moon Phase: Moon is in First Quarter phase and enters Waxing Gibbous phase tonight at 8:24 pm PDT / 11:24 pm EDT (03:24:34 Oct. 2 UTC).
Next Full Moon is in Aries on Oct. 5 at 11:40 am PDT / 2:40 pm EDT (18:40:02 UTC).
Corresponding New Moon in Libra is on Oct. 19 at 12:12 pm PDT / 3:12 pm EDT (19:11:58 UTC).
Moon Sign: Moon is in Aquarius and enters Pisces on Oct. 2 at 7:26 am PDT / 10:26 am EDT (14:26:10 UTC).
Sun Degree: 9-10 Libra.
Planetary Stations and Sign Changes
No changes today.
Interesting Selected Aspects | Data by Serennu
— Mercury sextile Ceres at 2:37 am PDT / 5:37 am EDT (09:36:55 UTC).
— Venus square Great Attractor at 8:15 am PDT / 11:15 am EDT (15:14:49 UTC).
— Mercury conjunct Logos at 4:07 pm PDT / 7:07 pm EDT (23:07:29 UTC), and Makemake at 4:11 pm PDT / 7:11 pm EDT (23:11:13 UTC).
— Mars trine Pluto at 4:36 pm PDT / 7:36 pm EDT (23:36:21 UTC).
Subscribe to Planet Waves — sign up here | Visit Our Website at this link
If Your Birthday is Oct. 1
(The Day of the Top Dog) | Libra Birthday Reading | All Other Signs
The best way to work out emotional challenges, anxiety or self-doubt is through some form of creative expression. Art is not a luxury any more than breathing is. Your mind needs to process your feelings in a way that transcends language and intellect. This is not about proving your talent, but rather allowing your soul the space to heal, feel and grow.
Written in the Planets
Pluto has only recently stationed direct and today Mars in Virgo makes a trine aspect to it. A trine is traditionally considered harmonious; though if there is volatility in the air — especially with Mars' recent opposition to Neptune — it might not be altogether easy to ground. Mercury's aspects imply that communicating clearly and honestly may be of considerable use, along with ensuring you understand your own position fully. All this said, Mars trine Pluto is great for getting large-scale projects or changes going.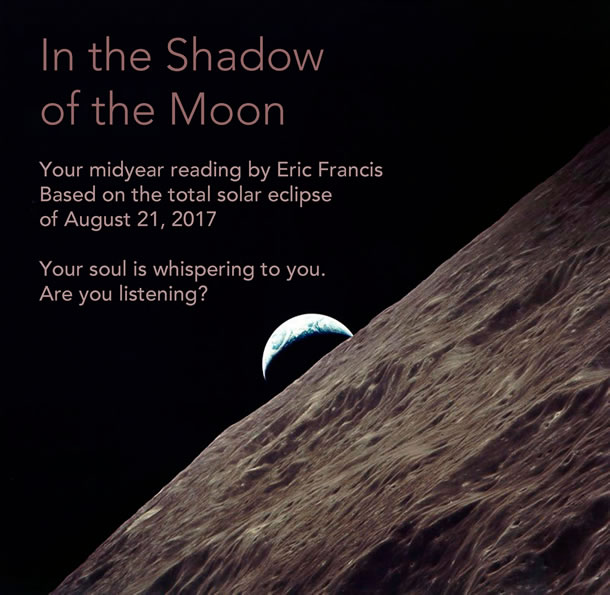 In the Shadow of the Moon, the exciting 2017 Midyear Reading by Eric Francis, is now published. Although the video readings for all 12 signs use the Great American Eclipse of Aug. 21 as a starting point,
Eric develops the themes through some of the most important astrological events you'll encounter in the remainder of 2017 and beyond
. We'll be increasing the price again very soon, so don't hesitate to
order your copy here
. You can also choose your
individual signs here
.
Pre-order your Libra audio reading today. Please use this link.