The Only Thing Missing From This Almanac Is Your Daily Horoscope
Every day, you read the Four Winds report, to get a sense of the current energies. There's just one thing missing — your daily horoscope. Written for you, every day of the week, your Planet Waves daily horoscope is designed to give you the clue you need, that little edge to make your life go smoother.
One well-placed line from an astrologer can make all the difference in your life. We now have two editions of the Four Winds Report — one with, and one without your daily reading. You may be one of the readers who wait for years for me to offer you this — and now you can have it. Horoscope Lover membership gets you direct mailing of each day's reading, plus the weekly reading on Sunday night, and the monthly reading the last Thursday of the month. Sign up at this link.
with love,


Today is Friday, June 30, 2017
Hebrew date is 6 Tamuz 5777
Islamic date is 6 Shawwal 1438
Mayan Tzolk'in Day is 5 Eb'
Mayan Long Count is 13.0.4.10.12
Julian Day is 2457935
Today's Birthdays: Giovanni Maria Sabino (1588-1649), John Gay (1685-1732), Horace Vernet (1789-1863), Joseph Dalton Hooker (1817-1911), Stanley Spencer (1891-1959), Madge Bellamy (1899-1990), Czeslaw Milosz (1911-2004), Dan Reeves (1912-1971), Allan Houser (1914-1994), Susan Hayward (1917-1975), Lena Horne (1917-2010), Ed Yost (1919-2007), Eleanor Ross Taylor (1920-2011), Paul Berg (1926), John Harlin (1935-1966), Nancy Dussault (1936), David Garrison (1952), Mark Waters (1964), Monica Potter (1971), Lizzy Caplan (1982), Michael Phelps (1985), Alicia Fox (1986).
"If I should try to describe the reasons why a man becomes a revolutionary I would be neither eloquent nor restrained enough. I admit that I have too much admiration for those who fight evil, whether their choice of ends and means be right or wrong. I draw the line, however, at those intellectuals who adapt themselves, although the fact that they are adapted and not genuine revolutionaries in no way diminishes their newly acquired zeal and enthusiasm."
— Czelsaw Milosz (The Captive Mind), Nobel Prize Laureate
---
Empathy, Honesty and Power Struggles
Dear Friend and Reader:
As you head into the weekend (for many U.S. readers, a long holiday), you'll want to know that the astrology has some things to say about power struggles and confrontations. Mercury and Mars, both in Cancer, are opposing Pluto in Capricorn. At their best, this pair of oppositions can be leveraged to get beneath the surface of things.
Mercury opposite Pluto, exact at 8:36 pm EDT tonight (00:36 UTC Friday), is especially good for deep research into a topic or uncovering a secret. With the sign Cancer involved, this could easily mean getting to the underlying emotions that are driving an interpersonal situation or reaction.
In its most productive expression, Mars opposite Pluto (exact July 2 at 8:02 am EDT / 12:02 UTC) can be used to make positive, creative changes in your life.
Again, with Cancer involved, that might mean giving yourself an 'attitude adjustment' if your emotional reactivity has been swinging to extremes. What's really bothering you?
Or it could relate to overdue updates to your actual home environment, just as one example. The main idea is to use the energy constructively and consciously in some way, so that it does not end up using you.
---
Moon Phase: Moon is in Waxing Crescent phase and enters First Quarter phase today at 5:51 PDT / 8:51 EDT (00:51:01 July 1 UTC).
Next Full Moon is in Capricorn on July 8-9 at 9:06 pm PDT / 12:06 am EDT (04:06:30 UTC).
Next New Moon is in Leo on July 23 at 2:45 am PDT / 5:45 am PDT (09:45:30 UTC).
Moon Sign: Moon is in Virgo and enters Libra today at 12:02 am PDT / 3:02 am EDT (07:01:57 UTC).
Sun Degree: 9-10 Cancer.
Planetary Stations and Sign Changes
Moon enters Libra at 12:02 am PDT / 3:02 am EDT (07:01:57 UTC).
Interesting Selected Aspects | Data by Serennu
— Venus square True Node at 9:37 am PDT / 12:37 pm EDT (16:37:10 UTC).
— Sun opposite Amycus at 4:03 pm PDT / 7:03 pm EDT (23:02:40 UTC).
— Mercury conjunct Cyllarus at 4:05 pm PDT / 7:05 pm EDT (23:04:40 UTC).
Subscribe to Planet Waves — sign up here | Visit Our Website at this link
If Your Birthday is June 30
(The Day of Motivation) | Cancer Birthday Reading | All Other Signs
Most people spend the bulk of their time out of the house. Go against that trend. Spend time at home, and invest energy into improving it. Keep your space clean, organized, and ready for friends to come over. This will provide a focus for your existence, help you ground your unusually busy professional life, and feed your success.
Written in the Planets
With today's first quarter Moon, you may find some natural leverage for building momentum with a project. Having the Moon in Libra means the aesthetics or fairness of that project could be a focal point. That said, Mars in Cancer is moving into its opposition with Pluto in Capricorn (exact July 2). Notice where and with whom a question of power or dominance is beginning to feel like an issue, especially if you're feeling emotionally provoked. If you can keep bullying and manipulation off the table and focus on what's ethically within your control, chances are you'll make better progress.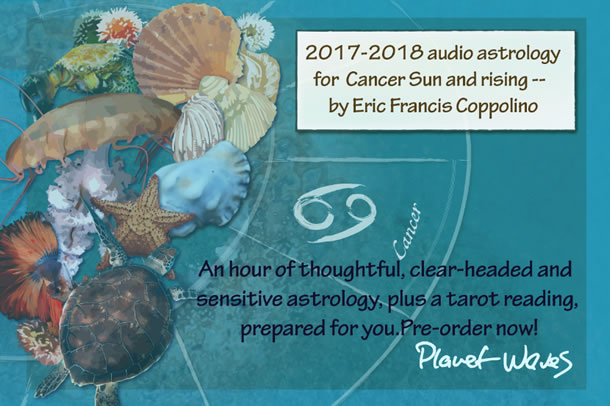 Astrology can help you. In the right hands, astrology can provide you with a new perspective on your life. My readings are designed to help you consider all of your possibilities, your greatest potential, and to help you see your problems in a new light. I'm about to record the Cancer reading for you. If you order now, you'll get the best pre-order price of $33. Shortly before publication, it'll be $44 and then the final price will be $55. These readings condense 22 years of my counseling experience, nonstop reflection on the human condition and lots of excellent astrology. They are in plain talk, easy to follow, and paced gently. They are some of my best work; these readings are an invention. And you can have all the benefits. I plan to do this reading next week — earlier than usual, so get on board before the next two price increases. Here's how to pre-order. If you're seeking a private consultation, here's that link.