The Only Thing Missing From This Almanac Is Your Daily Horoscope
Every day, you read the Four Winds report, to get a sense of the current energies. There's just one thing missing — your daily horoscope. Written for you, every day of the week, your Planet Waves daily horoscope is designed to give you the clue you need, that little edge to make your life go smoother.
One well-placed line from an astrologer can make all the difference in your life. We now have two editions of the Four Winds Report — one with, and one without your daily reading. You may be one of the readers who wait for years for me to offer you this — and now you can have it. Horoscope Lover membership gets you direct mailing of each day's reading, plus the weekly reading on Sunday night, and the monthly reading the last Thursday of the month. Sign up at this link.
with love,


Today is Thursday, June 29, 2017
Hebrew date is 5 Tamuz 5777
Islamic date is 5 Shawwal 1438
Mayan Tzolk'in Day is 4 Chuwen
Mayan Long Count is 13.0.4.10.11
Julian Day is 2457934
Today's Birthdays: Joachim Heinrich Campe (1746-1818), Josef Ressel (1793-1857), Willibald Alexis (1798-1871), Giacomo Leopardi (1798-1837), Celia Thaxter (1835-1894), Julia Lathrop (1858-1932), William James Mayo (1861-1939), Joseph Carl Breil (1870-1926), Robert Laurent (1890-1970), Antoine de Saint-Exupery (1900-1944), Nelson Eddy (1901-1967), Katherine DeMille (1911-1995), Jose Pablo Moncayo (1912-1958), Ruth Warrick (1916-2005), Jean Kent (1921-2013), Jackie Lynn Taylor (1925-2014), Pat Crawford Brown (1929), Egon von Furstenberg (1946-2004), Ian Paice (1948), Tripp Eisen (1965), Lily Rabe (1982).
"And now here is my secret, a very simple secret: It is only with the heart that one can see rightly; what is essential is invisible to the eye."
— Antoine de Saint-Exupery (The Little Prince)
Moon Phase: Moon is in Waxing Crescent phase and enters First Quarter phase on June 30-July 1 at 5:51 PDT / 8:51 EDT (00:51:01 UTC).
Next Full Moon is in Capricorn on July 8-9 at 9:06 pm PDT / 12:06 am EDT (04:06:30 UTC).
Next New Moon is in Leo on July 23 at 2:45 am PDT / 5:45 am PDT (09:45:30 UTC).
Moon Sign: Moon is in Virgo and enters Libra on June 30 at 12:02 am PDT / 3:02 am EDT (07:01:57 UTC).
Sun Degree: 8-9 Cancer.
Planetary Stations and Sign Changes
No changes today.
Interesting Selected Aspects | Data by Serennu
— Venus conjunct Bienor at 10:30 am PDT / 1:30 pm EDT (17:30:13 UTC).
— Mercury opposite Pluto at 5:36 pm PDT / 8:36 pm EDT (00:35:49 June 30 UTC).
— Uranus square Thereus at 7:58 pm PDT / 10:58 pm EDT (02:58:36 June 30 UTC).
Subscribe to Planet Waves — sign up here | Visit Our Website at this link
If Your Birthday is June 29
(The Day of Airborne Dreamers) | Cancer Birthday Reading | All Other Signs
You have the perfect blend of intellect and imagination; of attention to detail and love of what you do. The heavens are sending a message that you're serving the greatest good for all concerned. You're one of the people leading the way with the idea that we must all work together for the common good, and you have plenty to offer.
Written in the Planets
Mercury's opposition to Pluto today may serve as a reminder that there are different forms of strength. Getting through a situation is often as much about adapting as it is about powering through; the complexity of modern life arguably makes a certain sophistication all the more necessary. Don't rush into anything headlong; rather, be cautious and weigh up your options before deciding a path forward.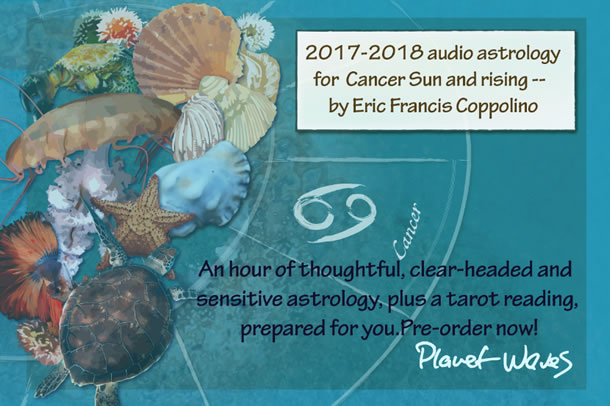 Astrology can help you. In the right hands, astrology can provide you with a new perspective on your life. My readings are designed to help you consider all of your possibilities, your greatest potential, and to help you see your problems in a new light. I'm about to record the Cancer reading for you. If you order now, you'll get the best pre-order price of $33. Shortly before publication, it'll be $44 and then the final price will be $55. These readings condense 22 years of my counseling experience, nonstop reflection on the human condition and lots of excellent astrology. They are in plain talk, easy to follow, and paced gently. They are some of my best work; these readings are an invention. And you can have all the benefits. I plan to do this reading next week — earlier than usual, so get on board before the next two price increases. Here's how to pre-order. If you're seeking a private consultation, here's that link.