The Only Thing Missing From This Almanac Is Your Daily Horoscope
Every day, you read the Four Winds report, to get a sense of the current energies. There's just one thing missing — your daily horoscope. Written for you, every day of the week, your Planet Waves daily horoscope is designed to give you the clue you need, that little edge to make your life go smoother.
One well-placed line from an astrologer can make all the difference in your life. We now have two editions of the Four Winds Report — one with, and one without your daily reading. You may be one of the readers who wait for years for me to offer you this — and now you can have it. Horoscope Lover membership gets you direct mailing of each day's reading, plus the weekly reading on Sunday night, and the monthly reading the last Thursday of the month. Sign up at this link.
with love,


Today is Wednesday, June 28, 2017
Hebrew date is 4 Tamuz 5777
Islamic date is 4 Shawwal 1438
Mayan Tzolk'in Day is 3 Ok
Mayan Long Count is 13.0.4.10.10
Julian Day is 2457933
Today's Birthdays: John Taylor (1704-1766), Etienne Mehul (1763-1817), Luigi Pirandello (1867-1936), Marguerite De La Motte (1902-1950), Maria Goeppert-Mayer (1906-1972), Sandor Weores (1913-1989), Mel Brooks (1926), William C. Campbell (1930), Pat Morita (1932-2005), Klaus von Klitzing (1943), Kathy Bates (1948), Alice Krige (1954), John Cusack (1966), Mary Stuart Masterson (1966), Tichina Arnold (1971), Savage (1981).
"Woe to him who doesn't know how to wear his mask, be he king or pope!"
— Luigi Pirandello
Planet Waves FM: Interview with Chiron Pioneer Melanie Reinhart
This week's Planet Waves FM [play episode here] features an hour-long interview with Melanie Reinhart, author of Chiron and the Healing Journey. This is really the latest installment of a conversation that's been going on for about 19 years, by phone, on Skype, at conferences and by email. Music is by Radiohead.
Moon Phase: Moon is in Waxing Crescent phase and enters First Quarter phase on June 30-July 1 at 5:51 PDT / 8:51 EDT (00:51:01 UTC).
Next Full Moon is in Capricorn on July 8-9 at 9:06 pm PDT / 12:06 am EDT (04:06:30 UTC).
Next New Moon is in Leo on July 23 at 2:45 am PDT / 5:45 am PDT (09:45:30 UTC).
Moon Sign: Moon is in Virgo and enters Libra on June 30 at 12:02 am PDT / 3:02 am EDT (07:01:57 UTC).
Sun Degree: 7-8 Cancer.
Planetary Stations and Sign Changes
No changes today.
Interesting Selected Aspects | Data by Serennu
— Mercury conjunct Mars at 12:50 pm PDT / 3:50 pm EDT (19:50:25 UTC).
— Ceres square Manwe at 4:16 pm PDT / 7:16 pm EDT (23:16:22 UTC).
— Sun trine Nessus at 5:09 pm PDT / 8:09 pm EDT (00:09:35 June 29 UTC).
Subscribe to Planet Waves — sign up here | Visit Our Website at this link
If Your Birthday is June 28
(The Day of Emotional Stimulation) | Cancer Birthday Reading | All Other Signs
You have a perfectionist streak; though use it in measured doses for the best results. Maintain your commitment to doing heartfelt, high-quality work, and don't drive yourself nuts looking for every seeming imperfection. By all means proofread, but trust that the warmth and positive spirit of your message is what comes through loud and clear.
Written in the Planets
A Mercury-Mars conjunction in Cancer today suggests a lot of mental and emotional energy. Focusing it into clear projects will help you use it productively. Yet this is also a setup for getting competitive, emotionally reactive, or overly invested in debate — especially if you're feeling defensive. So, step one is to ask yourself whether you have something real to defend: as in, something like your physical safety or that of a loved one, not your ego. The more closely you identify your sense of 'self' with everything you think and say, the more you might need to remind yourself not to take yourself so seriously.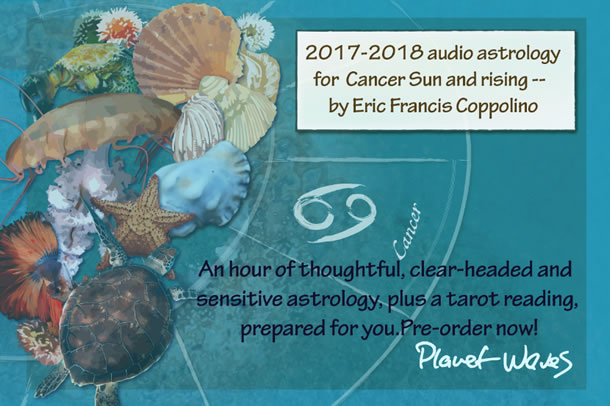 Astrology can help you. In the right hands, astrology can provide you with a new perspective on your life. My readings are designed to help you consider all of your possibilities, your greatest potential, and to help you see your problems in a new light. I'm about to record the Cancer reading for you. If you order now, you'll get the best pre-order price of $33. Shortly before publication, it'll be $44 and then the final price will be $55. These readings condense 22 years of my counseling experience, nonstop reflection on the human condition and lots of excellent astrology. They are in plain talk, easy to follow, and paced gently. They are some of my best work; these readings are an invention. And you can have all the benefits. I plan to do this reading very soon — earlier than usual, so get on board before the next two price increases. Here's how to pre-order. If you're seeking a private consultation, here's that link.