The Only Thing Missing From This Almanac Is Your Daily Horoscope
Every day, you read the Four Winds report, to get a sense of the current energies. There's just one thing missing — your daily horoscope. Written for you, every day of the week, your Planet Waves daily horoscope is designed to give you the clue you need, that little edge to make your life go smoother.
One well-placed line from an astrologer can make all the difference in your life. We now have two editions of the Four Winds Report — one with, and one without your daily reading. You may be one of the readers who wait for years for me to offer you this — and now you can have it. Horoscope Lover membership gets you direct mailing of each day's reading, plus the weekly reading on Sunday night, and the monthly reading the last Thursday of the month. Sign up at this link.
with love,


Today is Thursday, June 22, 2017
Hebrew date is 28 Sivan 5777
Islamic date is 27 Ramadan 1438
Mayan Tzolk'in Day is 10 K'an
Mayan Long Count is 13.0.4.10.4
Julian Day is 2457927
Today's Birthdays: Ernst Ziller (1837-1923), Marguerite De La Motte (1902-1950), Anne Morrow Lindbergh (1906-2001), Kris Kristofferson (1936), Meryl Streep (1949), Elizabeth Warren (1949), Humphrey Ocean (1951), Cyndi Lauper, (1953), Freddie Prinze (1954), Erin Brockovich (1960), Jimmy Somerville (1961), Kei Inoo (1990).
"I must write it all out, at any cost. Writing is thinking. It is more than living, for it is being conscious of living."
— Anne Morrow Lindbergh
Celebrate the Solstice with Your 2017 Cancer Birthday Reading
"Once again, I can't get over how you tick all those boxes, and more. Once again, am bowled over by your extraordinary gifts, preparation and wisdom, dear Eric, and am filled with inspiration, courage and joy by your words."
— Liz Glanville
Dear Reader with a Cancer Sun, Moon or Rising Sign:
Yesterday was the solstice, and Friday is a New Moon in your sign. This is your time: a new cycle, a new season — a new series of opportunities, challenges and unforeseen discoveries about yourself.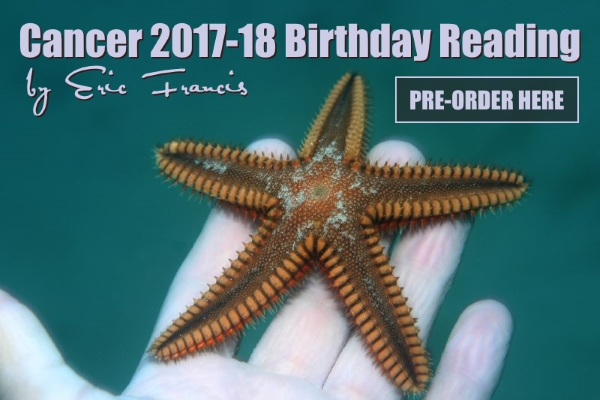 How are you feeling about that? Are you excited, as though the world is your oyster and you're ready to slurp it down? Or are you feeling a little lost at sea, desperate for a lighthouse to show you the way forward?
Wherever you are on that spectrum, know that Eric is designing your 2017 Cancer Birthday Reading specifically to help you find your way, prepare for what's emerging, and then make the most of your potential.
Your reading will include two segments of astrology (at least 30 minutes each), plus a tarot reading for your year ahead. Since we're still in the initial pre-sale phase, you can pre-order your reading at a steep discount — the price will increase before all part of the reading publish, and then will increase again upon publication.
Moon Phase: Moon is in Balsamic (waning crescent) phase and enters New phase on June 23-24 at 7:30 pm PDT / 10:30 pm EDT (02:30:38 UTC).
Next New Moon is in Cancer on June 23-24 at 7:30 pm PDT / 10:30 pm EDT (02:30:38 UTC).
Corresponding Full Moon in Capricorn is on July 8-9 at 9:06 pm PDT / 12:06 am EDT (04:06:30 UTC).
Moon Sign: Moon is in Gemini and enters Cancer on June 23 at 3:06 pm PDT / 6:06 pm EDT (22:06:33 UTC).
Sun Degree: 1-2 Cancer.
Planetary Stations and Sign Changes
No changes today.
Interesting Selected Aspects | Data by Serennu
— Mercury square Logos at 9:16 pm June 21 PDT / 12:16 am EDT (04:16:10 UTC), and Makemake at 11:16 pm June 21 PDT / 2:16 am EDT (06:22:32 UTC).
— Mercury opposite Orius at 10:48 pm June 21 PDT / 1:48 am EDT (05:48:34 UTC).
Mercury square Salacia at 3:44 am PDT / 6:44 am EDT (10:44:22 UTC).
— Venus opposite Deucalion at 6:44 am PDT / 9:44 pm EDT (13:43:44 UTC).
— Mars opposite Chariklo at 5:47 pm PDT / 8:47 pm EDT (00:47:13 June 23 UTC).
Subscribe to Planet Waves — sign up here | Visit Our Website at this link
If Your Birthday is June 22
(The Day of Romantic Exaltation) | Cancer Birthday Reading | All Other Signs
There's a party in the sky right now, and the cake has your name written in bright colors. This is an extraordinary time in your life, and you have the strength, wisdom and energy to accomplish several of your most dearly desired goals. Take care of yourself, be mindful of your relationships, and foster the harmony that helps get work done.
Written in the Planets
Yesterday, both Mercury and the Sun entered the early degrees of Cancer. This offers a unique chance to clear out anything that perhaps no longer has a place in your life, and to embark on something entirely new. The nature of these changes probably reflects something that's been on your mind for a while. Keep in touch with your body and feelings, and make sure your plans are in line with your goals.
---