The Only Thing Missing From This Almanac Is Your Daily Horoscope
Every day, you read the Four Winds report, to get a sense of the current energies. There's just one thing missing — your daily horoscope. Written for you, every day of the week, your Planet Waves daily horoscope is designed to give you the clue you need, that little edge to make your life go smoother.
One well-placed line from an astrologer can make all the difference in your life. We now have two editions of the Four Winds Report — one with, and one without your daily reading. You may be one of the readers who wait for years for me to offer you this — and now you can have it. Horoscope Lover membership gets you direct mailing of each day's reading, plus the weekly reading on Sunday night, and the monthly reading the last Thursday of the month. Sign up at this link.
with love,


Today is Sunday, July 9, 2017
Hebrew date is 15 Tamuz 5777
Islamic date is 15 Shawwal 1438
Mayan Tzolk'in Day is 1 Imix'
Mayan Long Count is 13.0.4.11.1
Julian Day is 2457944
Today's Birthdays: Alexis Piron (1689-1773), Ann Radcliffe (1764-1823), Elias Howe (1819-1867), Jan Neruda (1834-1891), Franz Boas (1858-1942), Satumino Herran (1887-1918), Eddie Dean (1907-1999), Minor White (1908-1976), Basil Wolverton (1909-1978), Guru Dutt (1925-1964), Ben Roy Mottelson (1926), Ed Ames (1927), Mercedes Sosa (1935), David Hockney (1937), Dean Koontz (1945), Tom Hanks (1956), Kelly McGillis (1957), Jack White (1975), Jun Hori (1977), Aimer (1990).
"I am a bunch of holy things, mixed with human things, as I explain to you…worldly things."
— Mercedes Sosa
From the Archives | The Pluto Mission and the Iran Nuke Treaty
In this edition of Planet Waves FM [play episode here] from July 2015, Eric considered the synchronicity between the New Horizons mission reaching Pluto within hours of the nuclear accord reached with Iran. He also discussed jealousy and compersion, which prompted a good few comments on the main Planet Waves site.
Moon Phase: Moon is in Full phase and enters Disseminating (waning gibbous) phase on July 12-13 at 8:07 pm PDT / 11:07 pm EDT (03:07:35 UTC).
Next New Moon is in Leo on July 23 at 2:45 am PDT / 5:45 am PDT (09:45:30 UTC).
Corresponding Full Moon in Aquarius is on Aug. 7 at 11:10 am PDT / 2:10 pm EDT (18:10:33 UTC).
Moon Sign: Moon is in Capricorn and enters Aquarius tonight at 10:35 pm PDT / 1:35 am July 10 EDT (05:34:42 UTC).
Sun Degree: 18-19 Cancer.
Planetary Stations and Sign Changes
Rhadamanthus stations direct at 1:57 pm PDT / 4:57 pm EDT (20:57:37 UTC).
Interesting Selected Aspects | Data by Serennu
— Mercury square 1992 QB1 at 9:24 am PDT / 12:24 pm EDT (16:23:43 UTC).
— Mercury opposite Crantor at 1:20 pm PDT / 4:20 pm EDT (20:20:24 UTC).
— Saturn opposite Chaos at 2:05 pm PDT / 5:05 pm EDT (21:04:41 UTC).
Subscribe to Planet Waves — sign up here | Visit Our Website at this link
If Your Birthday is July 9
(The Day of Wonder) | Cancer Birthday Reading | All Other Signs
Relationships take on a new depth of importance, and will seem to be influenced by twists and turns of fate. That might be the feeling that the situation as meant to be. Remember that what's really changing is that you are opening up to deeper levels of intimacy, which is something you've wanted and needed to do for a long time.
Written in the Planets
Today is the long-anticipated Capricorn Full Moon conjunct Pluto. As Amanda Painter wrote in Thursday's full edition, this aspect symbolizes "deep emotional transformation." More than anything, our human world needs an extra shot of humanity — and of integrity and truth. We start by applying this in our own lives and on our own turf. Try to catch yourself if you find that, especially on social media or in real-life public spaces, you're performing a part as opposed to being yourself. Life isn't about winning, coming out on top or even pleasing others. It's about fulfilling your ultimate potential, doing what really drives you, and being true to your most profound ideals.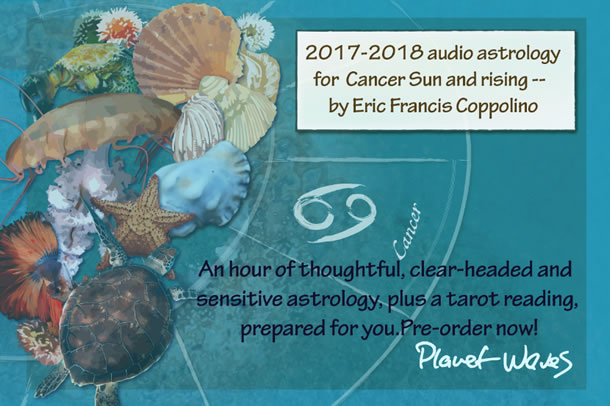 I've completed your Cancer reading in time for the Capricorn Full Moon. The reading is infused with the energy of the Full Moon conjunct Pluto. I describe this in detail, taking it back to the beginning of Pluto in Capricorn. As the reading developed organically, it built up an intensity I was not expecting, ultimately describing the relationship between you and the very wide world that surrounds you.
The reading consists of two, 35-minute downloadable sessions. They can also be played on any device, or added to iTunes.
The reading is still available at the pre-order price of $44. You will get instant access. Today's reading will be followed by a tarot card reading sometime in the next week to month. Here is an audio sample.
Thank you for trusting me as your astrologer.
lovingly,