The Only Thing Missing From This Almanac Is Your Daily Horoscope
Every day, you read the Four Winds report, to get a sense of the current energies. There's just one thing missing — your daily horoscope. Written for you, every day of the week, your Planet Waves daily horoscope is designed to give you the clue you need, that little edge to make your life go smoother.
One well-placed line from an astrologer can make all the difference in your life. We now have two editions of the Four Winds Report — one with, and one without your daily reading. You may be one of the readers who wait for years for me to offer you this — and now you can have it. Horoscope Lover membership gets you direct mailing of each day's reading, plus the weekly reading on Sunday night, and the monthly reading the last Thursday of the month. Sign up at this link.
with love,


Today is Wednesday, July 5, 2017
Hebrew date is 11 Tamuz 5777
Islamic date is 11 Shawwal 1438
Mayan Tzolk'in Day is 10 kab'an
Mayan Long Count is 13.0.4.10.17
Julian Day is 2457940
Today's Birthdays: Sarah Siddons (1755-1831), George Borrow (1803-1881), Herbert Spencer Gasser (1888-1963), Andre Lhote (1885-1962), Jean Cocteau (1889-1963), John Howard Northrop (1891-1987), Marcel Achard (1899-1974), Yoshimaro Yamashina (1900-1989), Milburn Stone (1904-1980), Smiley Lewis (1913-1966), Babe Paley (1915-1978), Nanos Valaoritis (1921), Diana Lynn (1926-1971), Warren Oates (1928-1982), Shirley Knight (1936), Bill Watterson (1958), Susan Wojcicki (1968), RZA (1969), Jason Wade (1980).
"If people sat outside and looked at the stars each night, I'll bet they'd live a lot differently."
— Bill Watterson
Planet Waves FM: Interview with Don Oscar Miro-Quesada Solevo
This week's edition of Planet Waves FM [play episode here] features a rare interview with don Oscar Miro-Quesada Solevo, a Peruvian medicine man. Eric's conversation with don Oscar covers three topics: the total solar eclipse of Aug. 21, 2017; the internet; and the nature and meaning of sex. Eric also examines several charts approaching the Great American Eclipse.
Moon Phase: Moon is in Waxing Gibbous phase and enters Full phase on July 8-9 at 9:06 pm PDT / 12:06 am EDT (04:06:30 UTC).
Next Full Moon is in Capricorn on July 8-9 at 9:06 pm PDT / 12:06 am EDT (04:06:30 UTC).
Next New Moon is in Leo on July 23 at 2:45 am PDT / 5:45 am PDT (09:45:30 UTC).
Moon Sign: Moon is in Sagittarius and enters Capricorn on July 7 at 10:44 am PDT / 1:44 pm EDT (17:44:28 UTC).
Sun Degree: 14-15 Cancer.
Planetary Stations and Sign Changes
Moon enters Sagittarius at 10:08 pm July 4 PDT / 1:08 am EDT (05:07:50 UTC).
Mercury enters Leo at 5:19 pm PDT / 8:19 pm EDT (00:19:35 July 6 UTC).
Interesting Selected Aspects | Data by Serennu
— Mercury conjunct Thereus at 10:12 pm July 4 PDT / 1:12 am EDT (05:12:35 UTC).
— Mercury trine Chiron at 2:32 am PDT / 5:32 am EDT (09:32:16 UTC).
— Mercury conjunct Varuna at 11:20 am PDT / 2:20 pm EDT (18:20:19 UTC).
— Mars conjunct Cyllarus at 12:15 pm PDT / 3:15 pm EDT (19:14:48 UTC).
— Sun trine Neptune at 5:46 pm PDT / 8:46 pm EDT (00:45:58 July 6 UTC).
— Sun square Jupiter at 7:44 pm PDT / 10:44 pm EDT (02:43:42 July 6 UTC).
Subscribe to Planet Waves — sign up here | Visit Our Website at this link
If Your Birthday is July 5
(The Day of the Showman) | Cancer Birthday Reading | All Other Signs
Keep your interests local. It's fine having far-flung pen pals, but you want your friends and love interests near you. That means an easy walk or drive, with frequent in-person meetings possible. Do business and spend your money locally as well, for maximum value, mutual benefit and prosperity. Keep your world small and simple, and you'll be happier.
Written in the Planets
It's a busy day, astrologically speaking. Overnight into this morning, Venus entered Gemini. Then late tonight into Thursday, Mercury enters Leo. On one level, this is an image of very social astrology. Additional aspects suggest you do your best to roll with unexpected events. In fact, if you have a bold new idea or an urge to do things differently, you may feel happiest if you give yourself the freedom to pursue it. Use your imagination to see the possibilities, and stay sensitive to the needs of others. That will likely serve the greater good better than if you get caught up in ambition, exaggeration or anything less than truthfulness to pursue your agenda.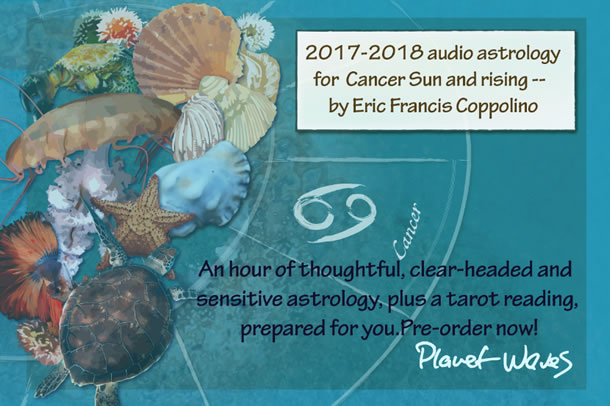 Astrology can help you. In the right hands, astrology can provide you with a new perspective on your life. My readings are designed to help you consider all of your possibilities, your greatest potential, and to help you see your problems in a new light. I'm about to record the Cancer reading for you. If you order now, you'll get the best pre-order price of $33. Shortly before publication, it'll be $44 and then the final price will be $55. These readings condense 22 years of my counseling experience, nonstop reflection on the human condition and lots of excellent astrology. They are in plain talk, easy to follow, and paced gently. They are some of my best work; these readings are an invention. And you can have all the benefits. I plan to do this reading very soon — so get on board before the next two price increases. Here's how to pre-order. If you're seeking a private consultation, here's that link.