The Only Thing Missing From This Almanac Is Your Daily Horoscope
Every day, you read the Four Winds report, to get a sense of the current energies. There's just one thing missing — your daily horoscope. Written for you, every day of the week, your Planet Waves daily horoscope is designed to give you the clue you need, that little edge to make your life go smoother.
One well-placed line from an astrologer can make all the difference in your life. We now have two editions of the Four Winds Report — one with, and one without your daily reading. You may be one of the readers who wait for years for me to offer you this — and now you can have it. Horoscope Lover membership gets you direct mailing of each day's reading, plus the weekly reading on Sunday night, and the monthly reading the last Thursday of the month. Sign up at this link.
with love,


Today is Monday, July 31, 2017
Hebrew date is 8 Av 5777
Islamic date is 8 Zul-Qi'dah 1438
Mayan Tzolk'in Day is 10 Ak'b'al
Mayan Long Count is 13.0.4.12.3
Julian Day is 2457966
Today's Birthdays: Alessandro Algardi (1598-1654), Vasily Sleptsov (1836-1878), Peter Rosegger (1843-1918), Ignacio Cervantes (1847-1905), Mary Vaux Walcott (1860-1940), Whitney Young (1921-1971), Stephanie Kwolek (1923-2014), Peter Nichols (1927), Don Murray (1929), John Searle (1932), Susan Flannery (1939), Geraldine Chaplin (1944), Ian Beck (1947), Richard Griffiths (1947-2013), Faye Kellerman (1952), Stanley Jordan (1959), Wesley Snipes (1962), J.K. Rowling (1965), Dean Cain (1966), Ahmad Adbarpour (1970), Will Champion (1978), Jeff DaRosa (1982), Jessica Williams (1989).
"The Potter books in general are a prolonged argument for tolerance, a prolonged plea for an end to bigotry, and I think it's one of the reasons that some people don't like the books, but I think that it's a very healthy message to pass on to younger people that you should question authority and you should not assume that the establishment or the press tells you all of the truth."
— J.K. Rowling
---
Lunar Eclipse Preparation: Organizing to Shine
In one week and one day, we'll experience the first of two eclipses: the Aug. 7 Aquarius Full Moon and partial lunar eclipse. That will open the door to the Aug. 21 total solar eclipse in Leo. These are the key midyear events; so you'll want to notice whatever happens in your life this week, and the coinciding astrology, and use it to prepare yourself and get pointed in a direction that's best for you.
Consider for a moment the Sabian symbols for the Full Moon eclipse degrees (the Sabians are a series of channeled symbols for each zodiac degree). For the Sun at 16 Leo, we get: "The storm ended, all nature rejoices in brilliant sunshine," with the keynote, "The surge of life and love after a major crisis."
Meanwhile, the symbol for the Moon at 16 Aquarius reads: "A big businessman at his desk," with the keynote, "The ability to organize the many aspects of an enterprise involving a large group of human beings." This pair of symbols, taken together, seem to speak of both the new space that opens up between eclipses for vibrant change and growth, and the clear need to get organized (within oneself and with others) to facilitate that.
If you've felt a little too overcommitted, distracted or overwhelmed with self-doubt to begin getting focused on your desired trajectory, it's possible that the inherent energy peak of the Full Moon and partial lunar eclipse might come with some tension or sense of deadlock. As that comes to a head, it could offer some useful clarity.
---
Moon Phase: Moon is in First Quarter phase and enters Waxing Gibbous phase on Aug. 3 at 10:42 am PDT / 1:42 pm EDT (17:42:00 UTC).
Next Full Moon is in Aquarius on Aug. 7 at 11:10 am PDT / 2:10 pm EDT (18:10:33 UTC).
Next New Moon is in Leo on Aug. 21 at 11:30 am PDT / 2:30 pm EDT (18:30:06 UTC).
Moon Sign: Moon is in Scorpio and enters Sagittarius on Aug. 1 at 5:01 am PDT / 8:01 am EDT (12:01:12 UTC).
Sun Degree: 9-10 Leo.
Planetary Stations and Sign Changes
Venus enters Cancer at 7:54 am PDT / 10:54 am EDT (14:53:42 UTC).
Interesting Selected Aspects | Data by Serennu
— Mercury square Child at 12:14 am PDT / 3:14 am EDT (07:14:18 UTC).
— Venus opposite Orius at 10:44 am PDT / 1:44 pm EDT (17:43:57 UTC).
— Venus sextile Rhiphonos at 12:31 pm PDT / 3:31 pm EDT (19:30:54 UTC).
Subscribe to Planet Waves — sign up here | Visit Our Website at this link
If Your Birthday is July 31
(The Day of the Human Portrait) | Leo Birthday Reading | All Other Signs
The only change that matters is what happens inside you. External circumstances have only limited value or impact. Your inner reality is the one you live with from moment to moment every day of your life. The most significant changes you experience will be on the deepest emotional level, which will bring growth, maturity and confidence.
Written in the Planets
Venus enters Cancer today; this may bring up themes of caring, nurturing and empathy, within relationships and beyond. In particular, this transit would seem to ask how far we can expand our spheres of compassion or love. This might simply mean someone outside of your immediate milieu is in need of help you can best provide. Another possibility is that a close friend or family member could open up your understanding of a specific issue on a wider scale. Whatever the permutation, a growth opportunity such as this is usually well worth taking.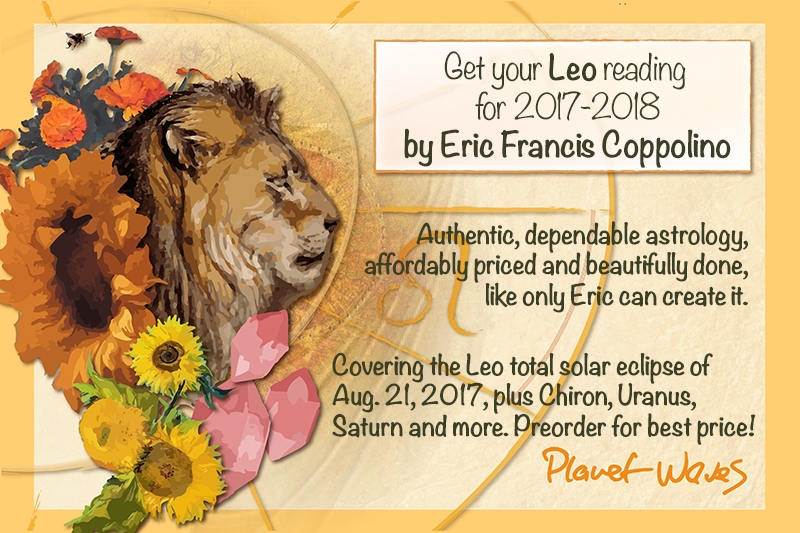 "Ah Eric — just listened to your reading. I was moved to tears by your closing words. Your passion, deep care and love always shine through; and you have the gift of all great teachers, of making one feel that one is being personally addressed, respected and taken care of."
— Liz Glanville
This is a seminal year for Leo Sun, rising and Moon, with two New Moons in your sign, the second one a potent solar eclipse. All the more reason to take hold of the reins and steer this dynamic energy in the direction that works for you.
Your 2017-18 Leo Birthday Reading by Eric Francis will be exactly the support you need to navigate through these exciting transits. It's now available for pre-order at the lowest price of just $33, so be sure to grab a copy — whether for yourself or the Leo you love — before that increases.
"Thanks for reassuring this Leo, who is having a year 'for the books'! You get to the core of things."
— Barbara Peaslee, on a previous Leo reading