The Only Thing Missing From This Almanac Is Your Daily Horoscope
Every day, you read the Four Winds report, to get a sense of the current energies. There's just one thing missing — your daily horoscope. Written for you, every day of the week, your Planet Waves daily horoscope is designed to give you the clue you need, that little edge to make your life go smoother.
One well-placed line from an astrologer can make all the difference in your life. We now have two editions of the Four Winds Report — one with, and one without your daily reading. You may be one of the readers who wait for years for me to offer you this — and now you can have it. Horoscope Lover membership gets you direct mailing of each day's reading, plus the weekly reading on Sunday night, and the monthly reading the last Thursday of the month. Sign up at this link.
with love,


Today is Sunday, July 30, 2017
Hebrew date is 7 Av 5777
Islamic date is 7 Zul-Qi'dah 1438
Mayan Tzolk'in Day is 9 Ik'
Mayan Long Count is 13.0.4.12.2
Julian Day is 2457965
Today's Birthdays: Emily Bronte (1818-1848), Buddy Guy (1936), Eleanor Smeal (1939), Frances de la Tour (1944), Francoise Barre-Sinoussi (1947), Duck Baker (1949), Ken Olin (1954), Anita Hill (1956), Soraida Martinez (1956), Kate Bush (1958), Laurence Fishburne (1961), Alton Brown (1962), Vivica A. Fox (1964), Christopher Nolan (1970), Kenton Cool (1973), Hilary Swank (1974), Graham Nicholls (1975), Kate Starbird (1975), Aml Ameen (1985), Katie Cecil (1993).
"With wide-embracing love
Thy Spirit animates eternal years,
Pervades and broods above,
Changes, sustains, dissolves, creates, and rears."
— Emily Bronte
Recently on Democracy Now!
In a stinging defeat for the Republican Party and Donald Trump, the Senate voted by a slim margin — 49 to 51 — against the repeal of the Affordable Care Act. As the bill was defeated, protesters outside the Capitol cheered and chanted "Yes, we did!"
View this and other Democracy Now! posts here. We feature this informative show as part of our affiliation with the Pacifica Network.
Moon Phase: Moon is in Waxing Crescent and enters First Quarter phase today at 8:23 am PDT / 11:23 am EDT (15:23:01 UTC).
Next Full Moon is in Aquarius on Aug. 7 at 11:10 am PDT / 2:10 pm EDT (18:10:33 UTC).
Next New Moon is in Leo on Aug. 21 at 11:30 am PDT / 2:30 pm EDT (18:30:06 UTC).
Moon Sign: Moon is in Scorpio and enters Sagittarius on Aug. 1 at 5:01 am PDT / 8:01 am EDT (12:01:12 UTC).
Sun Degree: 8-9 Leo.
Planetary Stations and Sign Changes
No changes today.
Interesting Selected Aspects | Data by Serennu
— Venus square Chiron at 12:45 am PDT / 3:45 am EDT (07:45:15 UTC).
— Venus sextile Uranus at 1:04 am PDT / 4:04 am EDT (08:03:44 UTC).
— Mercury trine Juno at 11:18 am PDT / 2:18 pm EDT (18:17:47 UTC).
— Venus opposite Quaoar at 11:21 am PDT / 2:21 pm EDT (18:21:35 UTC).
— Mars square 1992 QB1 at 2:44 pm PDT / 5:44 pm EDT (21:44:05 UTC).
— Sun square Pelion at 4:07 pm PDT / 7:07 pm EDT (23:06:57 UTC).
Subscribe to Planet Waves — sign up here | Visit Our Website at this link
If Your Birthday is July 30
(The Day of Tangible Presence) | Leo Birthday Reading | All Other Signs
There comes a time when everyone must confront the past, so they can move on to the future that they want. For you, that time has arrived. Fortunately, what we call the past exists only in memory, which includes the patterns you live by. You will wake up before many around you. Don't let anyone hold you back from the experiences and the love you want.
Written in the Planets
Venus in late Gemini continues to make interesting aspects, today squaring Chiron and forming a sextile with Uranus. This speaks of the revolution inherent in healing. Part of that is knowing which areas of your life to wind up in order to move forward. Initiating change is almost always accompanied by some level of fear of risk; working through that fear facilitates healing and feeds back into the cycle of growth. Affirming your intentions in some way might add to your determination and courage.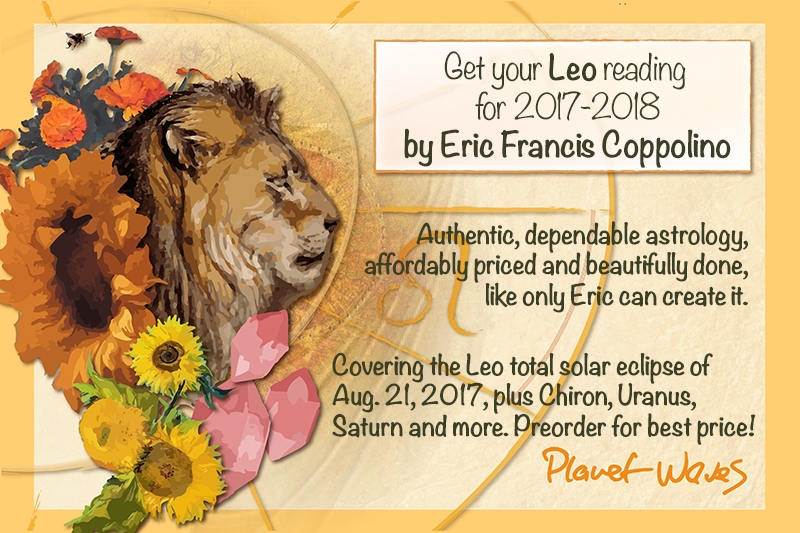 "Ah Eric — just listened to your reading. I was moved to tears by your closing words. Your passion, deep care and love always shine through; and you have the gift of all great teachers, of making one feel that one is being personally addressed, respected and taken care of."
— Liz Glanville
This is a seminal year for Leo Sun, rising and Moon, with two New Moons in your sign, the second one a potent solar eclipse. All the more reason to take hold of the reins and steer this dynamic energy in the direction that works for you.
Your 2017-18 Leo Birthday Reading by Eric Francis will be exactly the support you need to navigate through these exciting transits. It's now available for pre-order at the lowest price of just $33, so be sure to grab a copy — whether for yourself or the Leo you love — before that increases.
"Thanks for reassuring this Leo, who is having a year 'for the books'! You get to the core of things."
— Barbara Peaslee, on a previous Leo reading