The Only Thing Missing From This Almanac Is Your Daily Horoscope
Every day, you read the Four Winds report, to get a sense of the current energies. There's just one thing missing — your daily horoscope. Written for you, every day of the week, your Planet Waves daily horoscope is designed to give you the clue you need, that little edge to make your life go smoother.
One well-placed line from an astrologer can make all the difference in your life. We now have two editions of the Four Winds Report — one with, and one without your daily reading. You may be one of the readers who wait for years for me to offer you this — and now you can have it. Horoscope Lover membership gets you direct mailing of each day's reading, plus the weekly reading on Sunday night, and the monthly reading the last Thursday of the month. Sign up at this link.
with love,


Today is Monday, July 3, 2017
Hebrew date is 9 Tamuz 5777
Islamic date is 9 Shawwal 1438
Mayan Tzolk'in Day is 8 Men
Mayan Long Count is 13.0.4.10.15
Julian Day is 2457938
Today's Birthdays: Li Shizhen (1518-1593), Sophia Magdalena of Denmark (1743-1813), Ferdinand Didrichsen (1814-1887), Charlotte Perkins Gilman (1860-1935), Albert Gottschalk (1866-1906), Ralph Barton Perry (1876-1957), Ramon Gomez de la Serna (1888-1963), Mississippi John Hurt (1893-1966), Doris Lloyd (1896-1968), Ruth Crawford Seeger (1901-1953), M.F.K. Fisher (1908-1992), Fitz Kasparek (1910-1954), Dorothy Kilgallen (1913-1965), Susan Peters (1921-1952), Evelyn Anthony (1928), Tommy Tedesco (1930-1997), Fontella Bass (1940-2012), Gloria Allred (1941), John Verity (1949), Tom Cruise (1962), Joanne Harris (1964), Matt Papa (1983), Roy Kim (1993).
"There are some people who still feel threatened by strong women. That's their problem. It's not mine."
— Gloria Allred
---
Celebrating 'Independence', Pluto-Style
Although this week begins with a major holiday in the U.S., the real fireworks — astrologically speaking — won't show up until the end of the week: the Capricorn Full Moon on Sunday, July 9. Eric has written your weekly horoscopes specifically about this event; on our way there, the sky will be busy.
First, a quick note about the July 4 astrology for U.S. readers. The main thing to keep in mind is that Mercury in Cancer will be square Uranus in Aries. Given that Independence Day tends to involve activities like driving, boating, drinking and fireworks — often in crowded situations — Mercury-Uranus emphasizes the need to stay grounded and focused, while also staying flexible enough to respond to surprises and sudden changes of thoughts or plans.
We also have two 'personal' planets changing sign this week. Venus moves into Gemini later on Tuesday; and Mercury enters Leo Wednesday night into Thursday. See if you notice a shift in your mental and emotional tone, especially in social situations.
That said, the real driver of interpersonal relations looks to be this building Full Moon in one week. It's quite a chart: the Cancer Sun opposite the Moon in Capricorn, exactly one degree away from Pluto — the god of change and power. Mars in Cancer is in the picture (it's separating from the Sun and Pluto, but the Moon will be applying to Mars). And all four of those bodies are within range to pick up on Uranus and Eris in Aries, via square aspect.
---
Moon Phase: Moon is in First Quarter phase and enters Waxing Gibbous phase on July 4-5 at 6:35 pm PDT / 9:35 pm EDT (01:34:40 UTC).
Next Full Moon is in Capricorn on July 8-9 at 9:06 pm PDT / 12:06 am EDT (04:06:30 UTC).
Next New Moon is in Leo on July 23 at 2:45 am PDT / 5:45 am PDT (09:45:30 UTC).
Moon Sign: Moon is in Scorpio and enters Sagittarius on July 4-5 at 10:08 pm PDT / 1:08 am EDT (05:07:50 UTC).
Sun Degree: 12-13 Cancer.
Planetary Stations and Sign Changes
No changes today.
Interesting Selected Aspects | Data by Serennu
— Sun opposite Chariklo at 1:12 am PDT / 4:12 am EDT (08:11:55 UTC).
— Ceres opposite Galactic Center at 6:41 am PDT / 9:41 am EDT (13:41:25 UTC).
— Venus sextile Chiron at 4:15 pm PDT / 7:15 pm EDT (23:14:41 UTC).
— Mercury square Rhadamanthus at 8:15 pm PDT / 11:15 pm EDT (03:15:04 July 4 UTC).
Subscribe to Planet Waves — sign up here | Visit Our Website at this link
If Your Birthday is July 3
(The Day of the Commemorator) | Cancer Birthday Reading | All Other Signs
Get your momentum going on the erotic front, and you'll keep it going throughout the year. Your birthday chart talks about the kinds of pleasures that you experience in the moment, without the need for attachment. Yet those experiences will build bonds of union based on empathy and caring, which can lead to productive and nourishing relationships.
Written in the Planets
Today would seem to be an excellent day for practicing a little kindness, including to yourself. The ongoing tense situation in the sky may be slightly less, with Venus making a welcome sextile to Chiron, among other aspects. It could well be worth using this period of relative calm to analyze, process and heal; particularly if you've felt certain buttons being pressed. You'll want to understand what's up and why.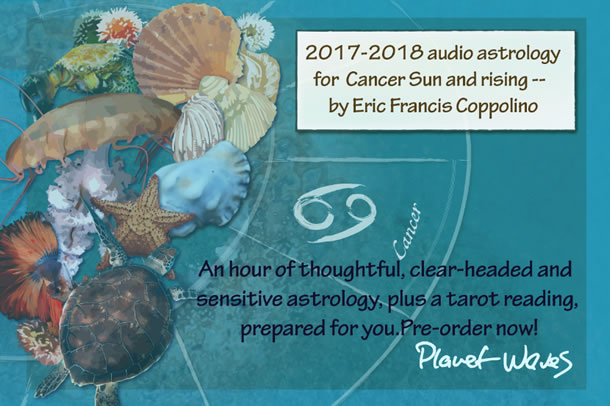 Astrology can help you. In the right hands, astrology can provide you with a new perspective on your life. My readings are designed to help you consider all of your possibilities, your greatest potential, and to help you see your problems in a new light. I'm about to record the Cancer reading for you. If you order now, you'll get the best pre-order price of $33. Shortly before publication, it'll be $44 and then the final price will be $55. These readings condense 22 years of my counseling experience, nonstop reflection on the human condition and lots of excellent astrology. They are in plain talk, easy to follow, and paced gently. They are some of my best work; these readings are an invention. And you can have all the benefits. I plan to do this reading very soon — so get on board before the next two price increases. Here's how to pre-order. If you're seeking a private consultation, here's that link.