The Only Thing Missing From This Almanac Is Your Daily Horoscope
Every day, you read the Four Winds report, to get a sense of the current energies. There's just one thing missing — your daily horoscope. Written for you, every day of the week, your Planet Waves daily horoscope is designed to give you the clue you need, that little edge to make your life go smoother.
One well-placed line from an astrologer can make all the difference in your life. We now have two editions of the Four Winds Report — one with, and one without your daily reading. You may be one of the readers who wait for years for me to offer you this — and now you can have it. Horoscope Lover membership gets you direct mailing of each day's reading, plus the weekly reading on Sunday night, and the monthly reading the last Thursday of the month. Sign up at this link.
with love,


Today is Friday, July 28, 2017
Hebrew date is 5 Av 5777
Islamic date is 5 Zul-Qi'dah 1438
Mayan Tzolk'in Day is 7 Ajaw
Mayan Long Count is 13.0.4.12.0
Julian Day is 2457963
Today's Birthdays: Judith Leyster (1609-1660), Gerard Manley Hopkins (1857-1889), Beatrix Potter (1866-1943), Lucy Burns (1879-1966), Stefan Filipkiewicz (1879-1944), Marcel Duchamp (1887-1968), Albert Namatjira (1902-1959), Shirley Ann Grau (1929), Richard Wright (1943), Jim Davis (1945), Sally Struthers (1947), Simon Kirke (1949), Terry Fox (1958-1981), Lori Loughlin (1964), Dustin Milligan (1985).
"I remember I used to half believe and wholly play with fairies when I was a child. What heaven can be more real than to retain the spirit-world of childhood, tempered and balanced by knowledge and common-sense?"
— Beatrix Potter
---
The Fulcrum, the Venturi and the Cycle of Fire
Dear Friend and Reader:
We're now in the final weeks before the total solar eclipse of Aug. 21, 2017. For those who are uncertain of whether astrology has any validity, this is a good time to pay attention. Eclipses are one of the very best laboratory-of-life ways to observe astrology. You would just need to associate what you notice with the eclipses.
A solar eclipse is an exact alignment of the Moon and the Sun, at the New Moon. Usually at the New Moon, the Moon will pass a little above or below the Sun, from our viewpoint on Earth. There is a shadow cast, but it extends into space, and we don't see it. When a solar eclipse happens, the Moon's shadow is cast on the Earth.
It may sound like superstition to "believe" that this might "mean" something, though I suggest going beyond both belief and meaning, and observing what's actually happening. See if you notice the acceleration effect of an eclipse, even set amidst our light-speed world. Notice the sense of unusual pressure that people are not readily admitting to. Feel the sensation that change is imminent. Notice the strange events that are not easily explained.
One distinction of this eclipse is that the shadow is cast not just on Earth but also directly over the United States, touching both coasts and peaking over Missouri. This has never happened in American history; neither have many other things we're seeing happen, or have witnessed the past two years. The path of totality extends from south of Portland, Oregon, to Charleston, South Carolina. The rest of the country on either side of the path of totality will experience a partial solar eclipse.
---
Moon Phase: Moon is in Waxing Crescent and enters First Quarter phase on July 30 at 8:23 am PDT / 11:23 am EDT (15:23:01 UTC).
Next Full Moon is in Aquarius on Aug. 7 at 11:10 am PDT / 2:10 pm EDT (18:10:33 UTC).
Next New Moon is in Leo on Aug. 21 at 11:30 am PDT / 2:30 pm EDT (18:30:06 UTC).
Moon Sign: Moon is in Libra and enters Scorpio on July 29-30 at 5:23 pm PDT / 8:23 pm EDT (00:22:53 UTC).
Sun Degree: 6-7 Leo.
Planetary Stations and Sign Changes
No changes today.
Interesting Selected Aspects | Data by Serennu
— Venus trine Rhadamanthus at 7:47 am PDT / 10:47 am EDT (14:47:14 UTC).
— Venus opposite Pholus at 11:49 am PDT / 2:49 pm EDT (18:49:27 UTC), and the Galactic Core at 7:25 pm PDT / 10:25 pm EDT (02:24:49 July 29 UTC).
— Sun opposite Crantor at 3:24 pm PDT / 6:24 pm EDT (22:23:52 UTC).
Subscribe to Planet Waves — sign up here | Visit Our Website at this link
If Your Birthday is July 28
(The Day of the Winner) | Leo Birthday Reading | All Other Signs
Mars and the Sun aligning on your anniversary says you must assert yourself and make a point of going for what you want. This is not trendy, though you will find happiness by standing apart from the crowd and rising above the fear that's consuming the planet. You are one of the courageous and the sincere. Claim your space in the world.
Written in the Planets
What do you do when your pleasure-seeking comes face-to-face with its unintended consequences? On the other side of the coin, if your soul's growth or dharma has a single ultimate trajectory, yet you have two or more sets of values that you're living by, how do you negotiate between those two sides? As Venus in Gemini opposes the centaur Pholus and the Galactic Core in Sagittarius today, you may feel like you have to make a choice. Consider what it might mean if you choose a path of integration.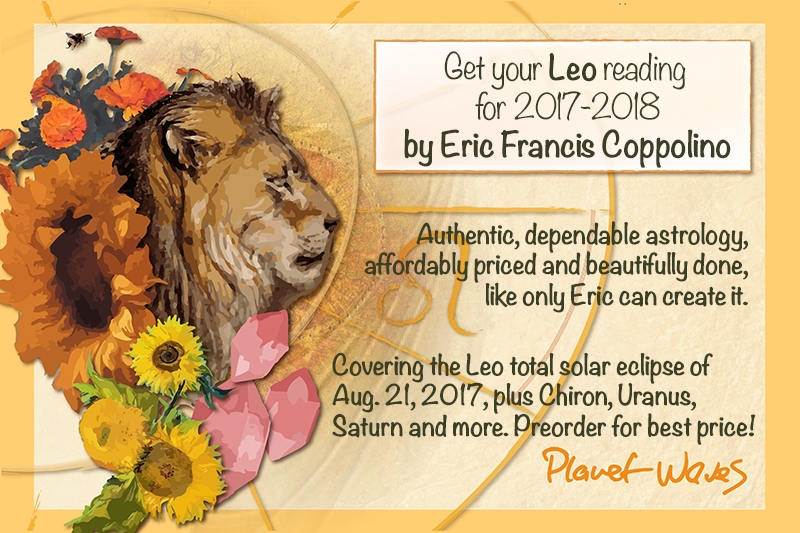 "Ah Eric — just listened to your reading. I was moved to tears by your closing words. Your passion, deep care and love always shine through; and you have the gift of all great teachers, of making one feel that one is being personally addressed, respected and taken care of."
— Liz Glanville
This is a seminal year for Leo Sun, rising and Moon, with two New Moons in your sign, the second one a potent solar eclipse. All the more reason to take hold of the reins and steer this dynamic energy in the direction that works for you.
Your 2017-18 Leo Birthday Reading by Eric Francis will be exactly the support you need to navigate through these exciting transits. It's now available for pre-order at the lowest price of just $33, so be sure to grab a copy — whether for yourself or the Leo you love — before that increases.
"Thanks for reassuring this Leo, who is having a year 'for the books'! You get to the core of things."
— Barbara Peaslee, on a previous Leo reading