The Only Thing Missing From This Almanac Is Your Daily Horoscope
Every day, you read the Four Winds report, to get a sense of the current energies. There's just one thing missing — your daily horoscope. Written for you, every day of the week, your Planet Waves daily horoscope is designed to give you the clue you need, that little edge to make your life go smoother.
One well-placed line from an astrologer can make all the difference in your life. We now have two editions of the Four Winds Report — one with, and one without your daily reading. You may be one of the readers who wait for years for me to offer you this — and now you can have it. Horoscope Lover membership gets you direct mailing of each day's reading, plus the weekly reading on Sunday night, and the monthly reading the last Thursday of the month. Sign up at this link.
with love,


Today is Wednesday, July 26, 2017
Hebrew date is 3 Av 5777
Islamic date is 3 Zul-Qi'dah 1438
Mayan Tzolk'in Day is 5 Etz'nab'
Mayan Long Count is 13.0.4.11.18
Julian Day is 2457961
Today's Birthdays: John Field (1782-1837), George Catlin (1796-1872), Justin Holland (1819-1887), George Bernard Shaw (1856-1950), Carl Jung (1875-1961), Aldous Huxley (1894-1963), Edwin Albert Link (1904-1981), James Lovelock (1919), Jan Berenstain (1923-2012), Stanley Kubrick (1928-1999), Mick Jagger (1943), Betty Davis (1945), Helen Mirren (1945), Roger Taylor (1949), Kevin Spacey (1959), Sandra Bullock (1964), Olivia Williams (1968), Kate Beckinsale (1973), Eve Myles (1978).
"I'm afraid of losing my obscurity. Genuineness only thrives in the dark. Like celery."
— Aldous Huxley
Planet Waves FM: Introducing the Oregon Lorax; Eclipse Countdown
Today's edition of Planet Waves FM [play episode here] takes us one step closer to the total solar eclipse of Aug. 21. We begin with some thoughts about how the world has never been quite the way that it is today. As the electric age has dawned, and morphed into the nuclear age, things have grown increasingly insane — and fast. Eric also looks at the Sun and Mars in Leo. Music is by Talking Heads.
Moon Phase: Moon is in New phase and enters Waxing Crescent phase today at 12:44 pm PDT / 3:44 pm EDT (19:43:42 UTC).
Next Full Moon is in Aquarius on Aug. 7 at 11:10 am PDT / 2:10 pm EDT (18:10:33 UTC).
Next New Moon is in Leo on Aug. 21 at 11:30 am PDT / 2:30 pm EDT (18:30:06 UTC).
Moon Sign: Moon is in Virgo and enters Libra on July 27 at 8:37 am PDT / 11:37 am EDT (15:36:51 UTC).
Sun Degree: 4-5 Leo.
Planetary Stations and Sign Changes
No changes today.
Interesting Selected Aspects | Data by Serennu
— Venus sextile Eris at 11:45 pm July 25 PDT / 2:45 am EDT (06:44:58 UTC).
— Pallas conjunct Pelion at 2:16 am PDT / 5:16 am EDT (09:15:41 UTC).
— Venus opposite Ixion at 6:54 am PDT / 9:54 am EDT (13:54:36 UTC).
— Sun conjunct Mars at 5:57 pm PDT / 8:57 pm EDT (00:56:51 July 27 UTC).
Subscribe to Planet Waves — sign up here | Visit Our Website at this link
If Your Birthday is July 26
(The Day of the Symbolic Herald) | Leo Birthday Reading | All Other Signs
A Mars-Sun meeting on your birthday reveals that you are in rare form and ready to conquer the world. Remember, though, that discretion is the better part of valor. Fortunately, your solar chart describes you as thoughtful and careful in your planning, and sensitive to all sides of any issue. Those will be assets worth keeping at the ready. You will need them.
Written in the Planets
Today's Sun-Mars conjunction in Leo is all about energy; so get active to feel good. The more physical, constructive, creative and personally rewarding your task or goal, the better. That said, if you're harboring doubts, fears or insecurities of some sort (especially related to what you desire or to your self-image), you could find all this energy challenging to handle productively. That doesn't mean it's impossible; it just means you might want to start with manageable and very clearly defined tasks first, or enlist a friend to act as a sounding board. However you're feeling, keep in mind that Venus in Gemini opposes Ixion in Sagittarius today. Anyone is capable of anything — including behaving unethically, and that includes you. Keep your Sun-Mars vigor on the right side of the tracks, no matter how many sides of the story feel valid.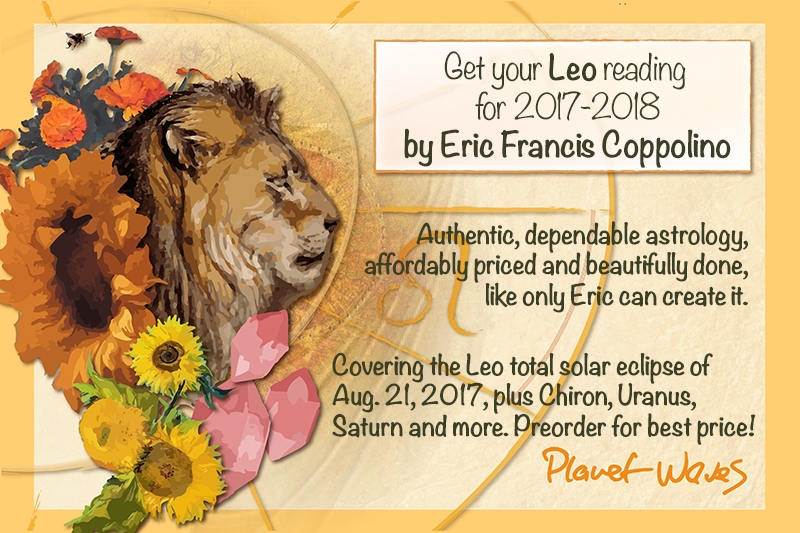 "Ah Eric — just listened to your reading. I was moved to tears by your closing words. Your passion, deep care and love always shine through; and you have the gift of all great teachers, of making one feel that one is being personally addressed, respected and taken care of."
— Liz Glanville
This is a seminal year for Leo Sun, rising and Moon, with two New Moons in your sign, the second one a potent solar eclipse. All the more reason to take hold of the reins and steer this dynamic energy in the direction that works for you.
Your 2017-18 Leo Birthday Reading by Eric Francis will be exactly the support you need to navigate through these exciting transits. It's now available for pre-order at the lowest price of just $33, so be sure to grab a copy — whether for yourself or the Leo you love — before that increases.
"Thanks for reassuring this Leo, who is having a year 'for the books'! You get to the core of things."
— Barbara Peaslee, on a previous Leo reading