The Only Thing Missing From This Almanac Is Your Daily Horoscope
Every day, you read the Four Winds report, to get a sense of the current energies. There's just one thing missing — your daily horoscope. Written for you, every day of the week, your Planet Waves daily horoscope is designed to give you the clue you need, that little edge to make your life go smoother.
One well-placed line from an astrologer can make all the difference in your life. We now have two editions of the Four Winds Report — one with, and one without your daily reading. You may be one of the readers who wait for years for me to offer you this — and now you can have it. Horoscope Lover membership gets you direct mailing of each day's reading, plus the weekly reading on Sunday night, and the monthly reading the last Thursday of the month. Sign up at this link.
with love,


Today is Tuesday, July 25, 2017
Hebrew date is 2 Av 5777
Islamic date is 2 Zul-Qi'dah 1438
Mayan Tzolk'in Day is 4 kab'an
Mayan Long Count is 13.0.4.11.17
Julian Day is 2457960
Today's Birthdays: Hawks Gadarn (1291-1353), George Peele (1556-1596), Maria Weston Chapman (1806-1885), Thomas Eakings (1844-1916), Masaharu Anesaki (1878-1949), Ruth Krauss (1901-1993), Lila Lee (1901-1973), Elias Canetti (1905-1994), Jane Frank (1918-1986), Rosalind Franklin (1920-1958), Estelle Getty (1923-2008), Nicole Farhi (1946), Rita Marley (1946), Steve Goodman (1948), Iman (1955), Thurston Moore (1958), Matt LeBlanc (1967), Conor Casey (1981).
"One should tell oneself how fruitful misunderstandings are. One shouldn't despise them. One of the wisest people was a collector of misunderstandings."
— Elias Canetti
Moon Phase: Moon is in New phase and enters Waxing Crescent phase on July 26 at 12:44 pm PDT / 3:44 pm EDT (19:43:42 UTC).
Next Full Moon is in Aquarius on Aug. 7 at 11:10 am PDT / 2:10 pm EDT (18:10:33 UTC).
Next New Moon is in Leo on Aug. 21 at 11:30 am PDT / 2:30 pm EDT (18:30:06 UTC).
Moon Sign: Moon is in Leo and enters Virgo today at 3:32 am PDT / 6:32 am EDT (10:32:17 UTC).
Sun Degree: 3-4 Leo.
Planetary Stations and Sign Changes
Moon enters Virgo at 3:32 am PDT / 6:32 am EDT (10:32:17 UTC).
Mercury enters Virgo at 4:41 pm PDT / 7:41 pm EDT (23:40:59 UTC).
Interesting Selected Aspects | Data by Serennu
— Venus conjunct Chaos at 8:52 am PDT / 11:52 am EDT (15:52:23 UTC).
— Mercury conjunct Rhiphonos at 9:27 am PDT / 12:27 pm EDT (16:27:30 UTC).
— Mercury conjunct Eurydike at 8:18 pm PDT / 11:18 pm EDT (03:18:33 July 26 UTC).
This Week's Horoscope for Leo by Eric Francis Coppolino
Sunday there was the first of two New Moons in your birth sign, both of which are extraordinary events, and are here to deliver a message. At this stage of your life, you have little choice but to stand in your power. This is not a state of mind or a mood; it's not a thing you do. It's a property of who you are, though perhaps the more accurate word is influence. You cannot control the world around you, and you cannot force anything to happen. But you can influence the flow of events, in ways large and small. The single most relevant thing you can do is to know what you want, and have some idea why you want it. Don't make assumptions; check yourself, verify your ideas about life, and let curiosity be your guide.
You may read all 12 signs here.
Subscribe to Planet Waves — sign up here | Visit Our Website at this link
If Your Birthday is July 25
(The Day of Quixotic Exploits) | Leo Birthday Reading | All Other Signs
Self-esteem is the key to happiness, and your primary learning project for this solar year. It's often said that Leos always feel good about themselves, though to others, your doubts may not be as obvious as they are to you. Self-esteem is about respect, which you cultivate like a garden. It's about taking a balanced view of yourself, and spotting your judgments.
Written in the Planets
Plan your work, and work your plan. Tomorrow's Sun-Mars conjunction in Leo is offering energy now and the impulse to get moving on something. With both the Moon and Mercury entering Virgo today, notice if your attention shifts to the details — especially what's most practical or logical. Bear in mind, that's not the same as being critical of everything. Finding fault only gets you so far in solving a problem; solutions take some heart, optimism and willingness to give things a try.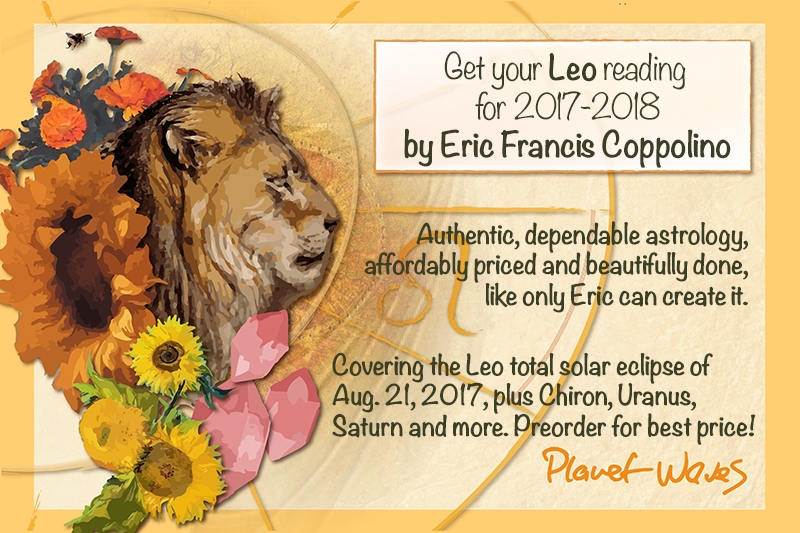 "Ah Eric — just listened to your reading. I was moved to tears by your closing words. Your passion, deep care and love always shine through; and you have the gift of all great teachers, of making one feel that one is being personally addressed, respected and taken care of."
— Liz Glanville
This is a seminal year for Leo Sun, rising and Moon, with two New Moons in your sign, the second one a potent solar eclipse. All the more reason to take hold of the reins and steer this dynamic energy in the direction that works for you.
Your 2017-18 Leo Birthday Reading by Eric Francis will be exactly the support you need to navigate through these exciting transits. It's now available for pre-order at the lowest price of just $33, so be sure to grab a copy — whether for yourself or the Leo you love — before that increases.
"Thanks for reassuring this Leo, who is having a year 'for the books'! You get to the core of things."
— Barbara Peaslee, on a previous Leo reading