The Only Thing Missing From This Almanac Is Your Daily Horoscope
Every day, you read the Four Winds report, to get a sense of the current energies. There's just one thing missing — your daily horoscope. Written for you, every day of the week, your Planet Waves daily horoscope is designed to give you the clue you need, that little edge to make your life go smoother.
One well-placed line from an astrologer can make all the difference in your life. We now have two editions of the Four Winds Report — one with, and one without your daily reading. You may be one of the readers who wait for years for me to offer you this — and now you can have it. Horoscope Lover membership gets you direct mailing of each day's reading, plus the weekly reading on Sunday night, and the monthly reading the last Thursday of the month. Sign up at this link.
with love,


Today is Saturday, July 22, 2017
Hebrew date is 28 Tamuz 5777
Islamic date is 28 Shawwal 1438
Mayan Tzolk'in Day is 1 Ix
Mayan Long Count is 13.0.4.11.14
Julian Day is 2457957
Today's Birthdays: Margaret Mary Alacoque (1647-1690), Emma Lazarus (1849-1887), Edward Hopper (1882-1967), Selman Waksman (1888-1973), Rose Kennedy (1890-1995), Stephen Vincent Benet (1898-1943), Margaret Whiting (1924-2011), Louise Fletcher (1934), Geraldine Claudette Darden (1936), Alex Trebek (1940), George Clinton (1941), Danny Glover (1946), Don Henley (1947), Emily Sailers (1963), Bonnie Langford (1964), David Spade (1964), Richard B. Poore (1965), Lauren Booth (1967), Rhys Ifans (1968), Andreas Ulvo (1983), Selena Gomez (1992).
"I am interested primarily in the vast field of experience and sensation which neither literature nor a purely plastic art deals with."
— Edward Hopper
Planet Waves Daily Oracle for July 22, 2017
You're under a lot of psychological pressure at the moment, and you may feel like you need to back away from the world. It may seem like you need a year living in a cave that hides you from the past; but a real weekend with no responsibilities, including commitments to family and friends, would do you a world of good right now. No other person has the ability to understand quite what you are feeling, or what is happening in the depths of your psyche. They don't need this kind of understanding, because what is healing in you goes beyond words, and will reach into the outer world even as its miracles happen within you.
The Oracle is a daily mini-reading divined from our extensive Horoscope Archive. You can research any Planet Waves horoscope published since 1999 at the Horoscope Archive and Oracle.
Moon Phase: Moon is in Balsamic (waning crescent) phase and enters New phase on July 23 at 2:45 am PDT / 5:45 am EDT (09:45:30 UTC).
Next New Moon is in Leo on July 23 at 2:45 am PDT / 5:45 am EDT (09:45:30 UTC).
Corresponding Full Moon in Aquarius is on Aug. 7 at 11:10 am PDT / 2:10 pm EDT (18:10:33 UTC).
Moon Sign: Moon is in Cancer and enters Leo on July 23 at 1:33 am PDT / 4:33 am EDT (08:33:28 UTC).
Sun Degree: 30 Cancer-1 Leo.
Planetary Stations and Sign Changes
Sun enters Leo at 8:15 am PDT / 11:15 am EDT (15:15:16 UTC).
Interesting Selected Aspects | Data by Serennu
— Mercury square Bienor at 11:43 pm July 21 PDT / 2:43 am EDT (06:43:16 UTC).
— Sun conjunct Varuna at 7:07 am PDT / 10:07 am EDT (14:06:54 UTC).
— Pallas sextile Nessus at 9:53 am PDT / 12:53 pm EDT (16:53:12 UTC).
— Saturn square Borasisi at 10:42 am PDT / 1:42 pm EDT (17:42:06 UTC).
— Sun conjunct Thereus at 12:20 pm PDT / 3:20 pm EDT (19:20:23 UTC).
Subscribe to Planet Waves — sign up here | Visit Our Website at this link
If Your Birthday is July 22
(The Day of Occupational Fluctuation) | Birthday Readings: Cancer | Leo | Others
Invest your energy wrapping up old business. Start immediately with a list of incomplete projects. Divest yourself from that task, or bring it to closure. Do this for the next month or two and you'll clear the way for many exciting developments that need open space and an uncluttered mind. You will feel better with these elements of the past safely behind you.
Written in the Planets
Today the Sun enters Leo: the heart of the current season. That it does so close on the heels of Mars suggests an infusion of energy in what is normally the 'winding down' phase of the lunar cycle (the Leo New Moon is tomorrow). If you need to take the lead in wrapping up some project or other, the Sun and Mars could give you an added boost to do so. Clear the way for starting something new, and let your heart radiate out through your actions and your very presence.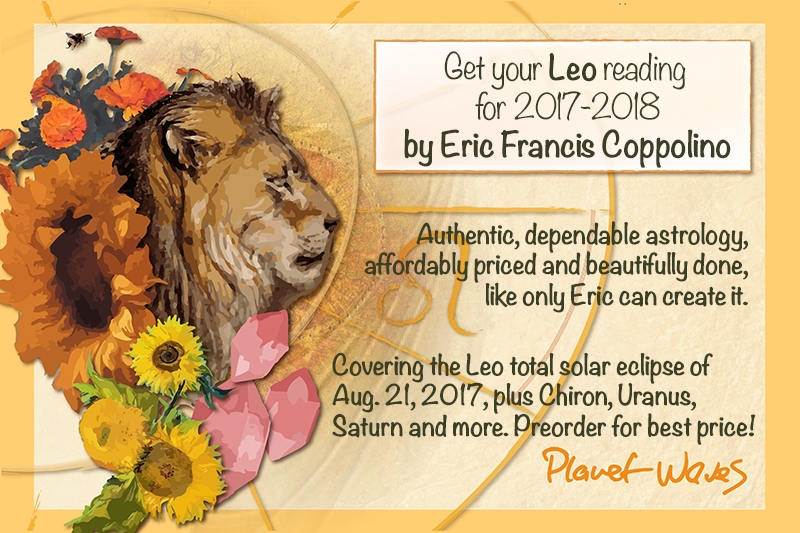 "Ah Eric — just listened to your reading. I was moved to tears by your closing words. Your passion, deep care and love always shine through; and you have the gift of all great teachers, of making one feel that one is being personally addressed, respected and taken care of."
— Liz Glanville
This is a seminal year for Leo Sun, rising and Moon, with two New Moons in your sign, the second one a potent solar eclipse. All the more reason to take hold of the reins and steer this dynamic energy in the direction that works for you.
Your 2017-18 Leo Birthday Reading by Eric Francis will be exactly the support you need to navigate through these exciting transits. It's now available for pre-order at the lowest price of just $33, so be sure to grab a copy — whether for yourself or the Leo you love — before that increases.
"Thanks for reassuring this Leo, who is having a year 'for the books'! You get to the core of things."
— Barbara Peaslee, on a previous Leo reading