The Only Thing Missing From This Almanac Is Your Daily Horoscope
Every day, you read the Four Winds report, to get a sense of the current energies. There's just one thing missing — your daily horoscope. Written for you, every day of the week, your Planet Waves daily horoscope is designed to give you the clue you need, that little edge to make your life go smoother.
One well-placed line from an astrologer can make all the difference in your life. We now have two editions of the Four Winds Report — one with, and one without your daily reading. You may be one of the readers who wait for years for me to offer you this — and now you can have it. Horoscope Lover membership gets you direct mailing of each day's reading, plus the weekly reading on Sunday night, and the monthly reading the last Thursday of the month. Sign up at this link.
with love,


Today is Thursday, July 13, 2017
Hebrew date is 19 Tamuz 5777
Islamic date is 19 Shawwal 1438
Mayan Tzolk'in Day is 5 Chikchan
Mayan Long Count is 13.0.4.11.5
Julian Day is 2457948
Today's Birthdays: John Dee (1527-1609), John Clare (1793-1864), Margaret Murray (1863-1963), Johnny Gilbert (1924), Naomi Shemer (1930-2004), Earl Lovelace (1935), Paul Prudhomme (1940-2015), Patrick Stewart (1940), Harrison Ford (1942), Cameron Crowe (1957), Rhonda Vincent (1962), Charlie Hides (1964), Eileen Ivers (1965), Jena Irene Asciutto (1996).
"The message is that all things are connected. We have animal aspects, anthropological aspects, plant-animal aspects."
— John Dee
Recently on Democracy Now! | Trump White House in Crisis
The White House is in disarray following revelations that Donald Trump Jr. supported an effort by the Russian authorities to share information incriminating Hillary Clinton in an attempt to help Trump win the election.
View this and other Democracy Now! posts here on Planet Waves. We feature this informative show as part of our affiliation with the Pacifica Network.
Moon Phase: Moon is in Disseminating (waning gibbous) phase and enters Last Quarter phase on July 16 at 12:25 pm PDT / 3:25 pm EDT (19:25:34 UTC).
Next New Moon is in Leo on July 23 at 2:45 am PDT / 5:45 am PDT (09:45:30 UTC).
Corresponding Full Moon in Aquarius is on Aug. 7 at 11:10 am PDT / 2:10 pm EDT (18:10:33 UTC).
Moon Sign: Moon is in Pisces and enters Aries on July 14 at 4:52 pm PDT / 7:52 pm EDT (23:52:04 UTC).
Sun Degree: 21-22 Cancer.
Planetary Stations and Sign Changes
No changes today.
Interesting Selected Aspects | Data by Serennu
— Mercury square Isis at 9:19 am PDT / 12:19 pm EDT (16:18:52 UTC).
— Venus conjunct Requiem at 6:04 pm PDT / 9:04 pm EDT (01:04:31 July 14 UTC).
— Mercury sesquiquadrate Chiron at 7:13 pm PDT / 10:13 pm EDT (02:12:54 July 14 UTC).
Subscribe to Planet Waves — sign up here | Visit Our Website at this link
If Your Birthday is July 13
(The Day of Taken Opportunity) | Cancer Birthday Reading | All Other Signs
To be effective, spirituality must have a practical approach. It has to be about more than an ideal. That said, you are feeling a calling to go beyond your current beliefs, and to understand your connection to the greater whole. To do that, you will need to forget many things you were taught in the past, and take a more creative approach. Travel will open many doors.
Written in the Planets
Today's skies are relatively uneventful, suggesting you have an opportunity to digest the more potent astrology of recent days, and to take a little space to breathe and heal. The Sun and Moon are both in water signs, aiding this process. Give yourself room to acknowledge — and then release — any less-than-elevating emotions you may have encountered during the Full Moon, such as petulance or jealousy. These are a normal part of the human condition; yet Pluto has shaken something loose, enabling you to pursue a different course.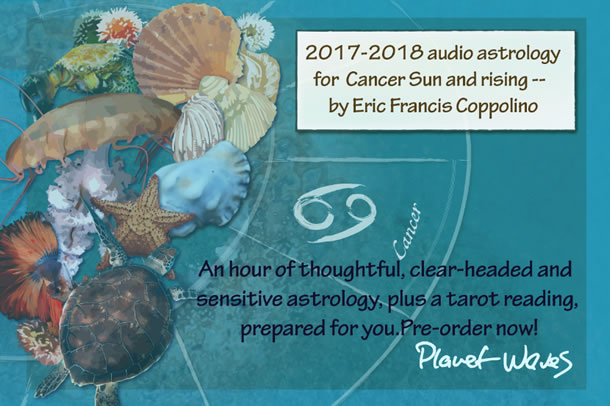 I've now completed your Cancer reading, which is infused with the energy of the Full Moon conjunct Pluto. I describe this in detail, taking it back to the beginning of Pluto in Capricorn. As the reading developed organically, it built up an intensity I was not expecting, ultimately describing the relationship between you and the very wide world that surrounds you.
The reading consists of two, 35-minute downloadable sessions. They can also be played on any device, or added to iTunes.
You will get instant access when you order this reading, which will be followed by a tarot card reading sometime in the next week to month. Here is an audio sample.
Thank you for trusting me as your astrologer.
lovingly,