The Only Thing Missing From This Almanac Is Your Daily Horoscope
Every day, you read the Four Winds report, to get a sense of the current energies. There's just one thing missing — your daily horoscope. Written for you, every day of the week, your Planet Waves daily horoscope is designed to give you the clue you need, that little edge to make your life go smoother.
One well-placed line from an astrologer can make all the difference in your life. We now have two editions of the Four Winds Report — one with, and one without your daily reading. You may be one of the readers who wait for years for me to offer you this — and now you can have it. Horoscope Lover membership gets you direct mailing of each day's reading, plus the weekly reading on Sunday night, and the monthly reading the last Thursday of the month. Sign up at this link.
with love,


Today is Monday, July 10, 2017
Hebrew date is 16 Tamuz 5777
Islamic date is 16 Shawwal 1438
Mayan Tzolk'in Day is 2 Ik'
Mayan Long Count is 13.0.4.11.2
Julian Day is 2457945
Today's Birthdays: Jean Herauld Gourville (1625-1703), Camille Pissarro (1830-1903), Marcel Proust (1871-1922), Sergey Konenkov (1874-1971), Mary McLeod Bethune (1875-1955), Ima Hogg (1882-1883), Mildred Benson (1905-2002), Salvador Espriu (1914-1992), John Schuster (1914-1992), Jeff Donnell (1921-1988), Eunice Kennedy Shriver (1921-1922), G.A. Kulkami (1923-1987), Fred Gynee (1926-1993), Robert Pine (1941), Arlo Guthrie (1947), Sofia Vergara (1972), Ahn Ji-hyun (1992).
"If a little dreaming is dangerous, the cure for it is not to dream less but to dream more, to dream all the time."
— Marcel Proust
---
What We Do When Provoked
The dust has barely begun to settle on last night's Capricorn Full Moon. Whether it was a stressful event for you or clearly opened an exciting new door through which to walk (or was surprisingly subtle or ambiguous), there's a good chance you'll continue to work with whatever came up as this week progresses.
Mainly this is because the Sun is still making aspects to important planets that were directly involved in the Full Moon chart, and will do so through the rest of this week. Of particular note: the Cancer Sun opposes Pluto in Capricorn, exact today (Monday) at 12:35 am EDT (4:35 UTC); and the Sun squares Eris in Aries, exact July 16 at 1:06 am EDT (5:06 UTC).
Also in the mix: Mars in Cancer squares Eris in Aries today at 8:44 pm EDT (00:44 UTC Tuesday).
The squares from Mars and the Sun in Cancer are a direct reminder of how chaotic, provocative and often self-centered our current environment is.
Can you let it spur you to creative, caring action without letting its provocations feel like a threat to your ego? The ego tends to experience every threat as life-or-death, whether it is or not. But generally speaking, emotional reactivity is not constructive. Taking action to care for others (and taking care of yourself) is.
---
Moon Phase: Moon is in Full phase and enters Disseminating (waning gibbous) phase on July 12-13 at 8:07 pm PDT / 11:07 pm EDT (03:07:35 UTC).
Next New Moon is in Leo on July 23 at 2:45 am PDT / 5:45 am PDT (09:45:30 UTC).
Corresponding Full Moon in Aquarius is on Aug. 7 at 11:10 am PDT / 2:10 pm EDT (18:10:33 UTC).
Moon Sign: Moon is in Aquarius and enters Pisces on July 12 at 8:51 am PDT / 11:51 am EDT (15:51:17 UTC).
Sun Degree: 19-20 Cancer.
Planetary Stations and Sign Changes
Moon enters Aquarius at 10:35 pm July 9 PDT / 1:35 am EDT (05:34:42 UTC).
Ceres enters Cancer at 4:44 am PDT / 7:44 am EDT (11:44:12 UTC).
Interesting Selected Aspects | Data by Serennu
— Sun opposite Pluto at 9:35 pm July 9 PDT / 12:35 am EDT (04:35:21 UTC).
— Mercury square Pelion at 12:10 am PDT / 3:10 am EDT (07:10:23 UTC).
— Vesta square Sedna at 12:22 am PDT / 3:22 am EDT (07:21:55 UTC).
— Mars square Eris at 5:44 pm PDT / 8:44 pm EDT (00:43:41 July 11 UTC).
Subscribe to Planet Waves — sign up here | Visit Our Website at this link
If Your Birthday is July 10
(The Day of Passive-Active Duality) | Cancer Birthday Reading | All Other Signs
No matter how deep a certain partnership becomes, make sure you maintain an active social life. You need a diversity of people around you. Not only do you need to be meaningful to one person, you need to be one among equals. Assert yourself among people you respect for the best results. Don't wait for others to come to you. Be bold and go to them.
Written in the Planets
Things may still feel a little chaotic following yesterday's potent Full Moon, as the Sun now opposes Pluto while Mars arrives square Eris. Take everything one step at a time; it would probably help if you find constructive ways to process strong emotions. If you have a creative interest, that's one possibility. In fact, today might well bring a sudden inspiration or insight, along with the energy necessary to act on it.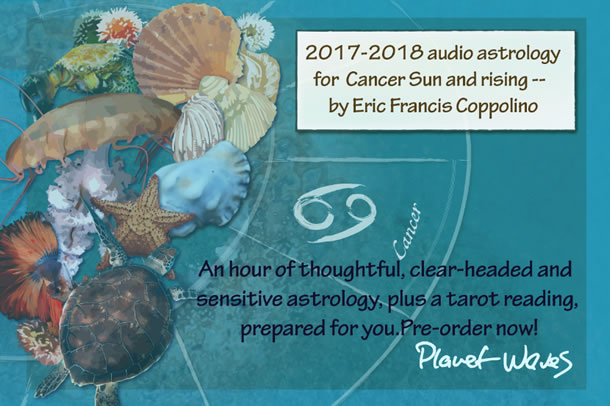 I've completed your Cancer reading in time for the Capricorn Full Moon. The reading is infused with the energy of the Full Moon conjunct Pluto. I describe this in detail, taking it back to the beginning of Pluto in Capricorn. As the reading developed organically, it built up an intensity I was not expecting, ultimately describing the relationship between you and the very wide world that surrounds you.
The reading consists of two, 35-minute downloadable sessions. They can also be played on any device, or added to iTunes.
The reading is still available at the pre-order price of $44. You will get instant access. Today's reading will be followed by a tarot card reading sometime in the next week to month. Here is an audio sample.
Thank you for trusting me as your astrologer.
lovingly,