Hello Planet Waves Reader
— We'll post this daily almanac here each morning. If you would like to get on board, you may
sign up at this link
. Please share this newsletter with your friends. Thank you! — the PW Editors
Today is Saturday, Feb. 25, 2017
Hebrew date is 29 Shevat 5777
Islamic date is 28 Jumada-I 1438
Mayan Tzolk'in Day is 10 Manik'
Mayan Long Count is 13.0.4.4.7
Julian Day is 2457810
Today's Birthdays: Maria Margarethe Kirch (1670-1720), Pierre-Auguste Renoir (1841-1919), Enrico Caruso (1873-1921), Anthony Burgess (1917-1993), George Harrison (1943-2001), Elkie Brooks (1945), Foster Sylvers (1962), Lee Evans (1964), Tea Leoni (1966), Sean Astin (1971), Divya Bharti (1974-1993), Tunde Adebimpe (1975), Rashida Jones (1976), James and Oliver Phelps (1986).
"There is something in painting which cannot be explained, and that something is the essential. You come to Nature with your theories, and she knocks them all flat."
— Pierre-Auguste Renoir
---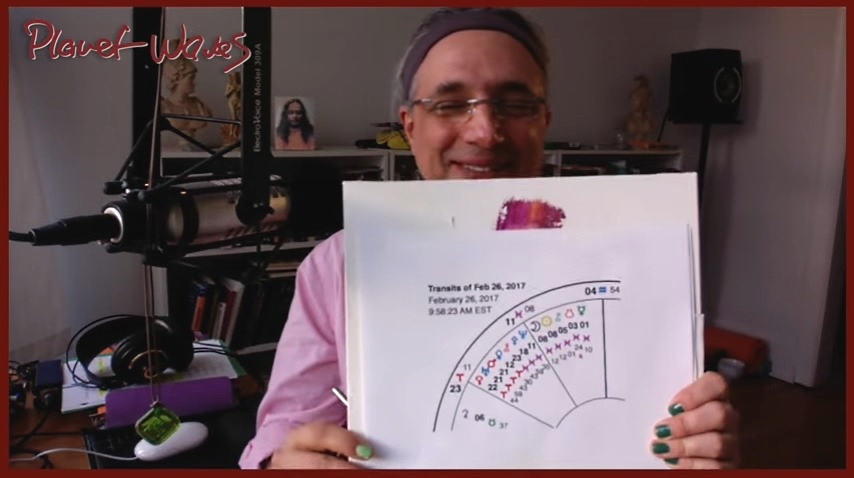 Planet Waves TV: Misty Eclipse in Pisces, Rad Conjunction in Aries
In this Season 3 premier of Planet Waves TV [click to play], Eric explores the forthcoming eclipse of the Sun in Pisces. This coincides with Mars getting mixed up in the Uranus-Eris conjunction.
---
Moon Phase: Moon is in Balsamic (waning crescent) phase and enters New phase on Feb. 26 at 6:58 am PST / 9:58 am EST (14:58:19 UTC).
Next New Moon is in Pisces on Feb. 26 at 6:58 am PST / 9:58 am EST (14:58:19 UTC), and is an annular solar eclipse.
Corresponding Full Moon in Virgo is on March 12 at 6:54 am PST / 9:54 am EST (14:53:43 UTC).
Moon Sign: Moon is in Aquarius and enters Pisces tonight at 4:24 pm PST / 7:24 pm EST (00:24:18 Feb. 26 UTC).
Sun Degree: 7-8 Pisces.
Planetary Stations and Sign Changes
Mercury enters Pisces at 3:07 pm PST / 6:07 pm EST (23:07:16 UTC).
Moon enters Pisces at 4:24 pm PST / 7:24 pm EST (00:24:18 UTC).
Eros enters Taurus at 8:43 pm PST / 11:43 pm EST (04:43:20 UTC).
Interesting Selected Aspects | Data by Serennu
— Jupiter opposite Echeclus at 1:32 am PST / 4:32 am EST (09:32:39 UTC).
— Mercury sextile Pholus at 6:28 am PST / 9:28 am EST (14:28:07 UTC).
— Pelion opposite Typhon at 8:06 am PST / 11:06 am EST (16:06:38 UTC).
— Pallas sextile Pluto at 10:57 am PST / 1:57 pm EST (18:57:29 UTC).
Subscribe to Planet Waves — sign up here | Visit Our Website at this link
If Your Birthday is Feb. 25
(The Day of the Higher Cause) | Pisces Birthday Reading | All Other Signs
As your instincts and overall sensitivity get a boost later today or tonight, remind yourself to take a broad view of any situation you meet. It might seem like there's only one very narrowly defined way to make a particular relationship work. But is that really true? Probably not. The planets are currently emphasizing your visionary potential. Put it to use, and see if you can imagine a more creative way of relating.
Written in the Planets
Today Mercury enters Pisces, followed by the Moon overnight into Sunday. That will temporarily make eight planets and points in Pisces as we approach Sunday's Pisces New Moon and partial solar eclipse. Have you been taking your swimming lessons these last couple weeks since the lunar eclipse? Clearly there's a suggestion here to go with the flow. But that does not mean abandoning all authority over your life, or your responsibility for making choices. You have some ability to direct the flow, which is not the same as trying to push the river or forcing your will. Pay careful attention to what your environment is offering you in terms of options, and notice how they mesh with your desires — even if only tangentially. Look where you want to be, and you may find it easier to ride the currents.